By Leigh O'Connor.
"I first met Nicola when he walked into my Sydney restaurant Ormeggio looking for a job. He had an unmistakable Italian presence and an obvious passion for food – a passion I could see in his eyes and hear in his voice. I employed him right away and it wasn't long before I saw how his love for food was expressed on the plate." – Alessandro Pavoni.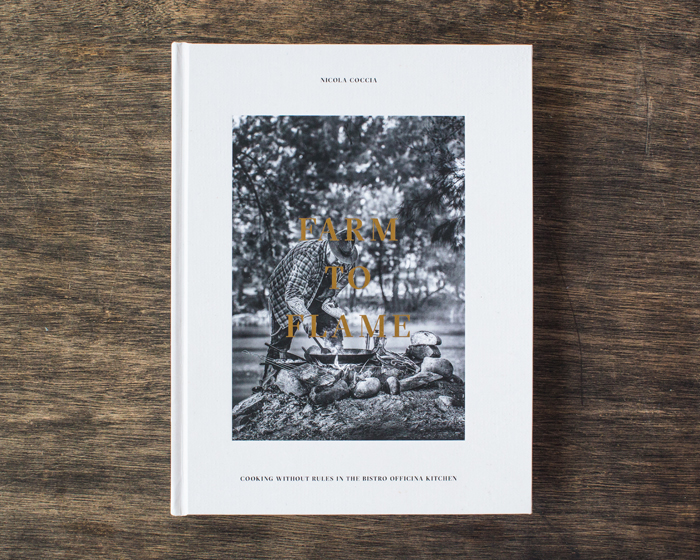 Food is seared into Nicola Coccia's childhood memories, growing up in Naples in a large Italian family. He woke up every morning to the smell of the wood stove and the sound of Nonna Carolina in the kitchen.
"I would walk downstairs and while I was still rubbing my eyes, she would hand me a piece of hot bread, fresh ricotta on top, covered with oil – breakfast – I was the happiest person in the world," he reminisces.
"In an Italian family, food isn't something you analyse. We don't sit and talk about how important it is in our lives and how it influences who we are. It's just there, it's always there and it's for everyone."
In his new book Farm to Flame, the former owner and Chef of Bistro Officina in Bowral presents recipes cooked using only fire as fuel. Moving to the Southern Highlands in 2014 was a turning point for Nicola, opening his own restaurant and cooking with a wood oven, grill and smoker showed him the versatility of flame-based recipes.
"There are no rules with fire, you can't just turn it down – you have to listen to it, learn from it and trust it. It's raw and it's real. It gives you things you can't get from an induction cooktop or a water bath. It has personality, it's alive and always changing. No two plates are ever the same," he explains.
"Everything had brought me to this point. In Italy, as a child, I fell in love with food and I made it my life. I cooked in Europe for a decade, then moved across the world. I found myself a new life in a new place that reminded me of home. The moment was here, I felt relaxed, ready and at peace with my choices.
"Time to cook. My restaurant, my food, my fire… no rules."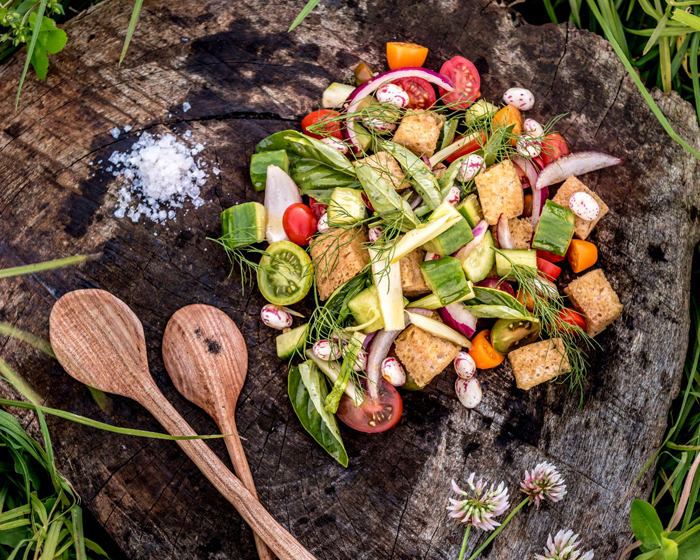 Charred, smoked and wood roasted, the recipes in Farm to Flame alternate between signature restaurant dishes to meals shared with family and friends using leftovers. None more so than Nicola's Panzanella– Tuscan bread and tomato salad – which is made from stale bread and leftover vegetables.
"At home, we would never waste anything, you can always make something delicious," he says.
Sourdough is charred on a hot grill, placed in a bowl and soaked with apple cider vinegar and water, then set aside for a couple of minutes, before removing it and cutting into chunks. The vegetables are mixed together and tossed with olive oil and then added to the bread, to serve the salad is garnished with fennel fronds, basil leaves and drizzled with the remaining bread soaking liquid.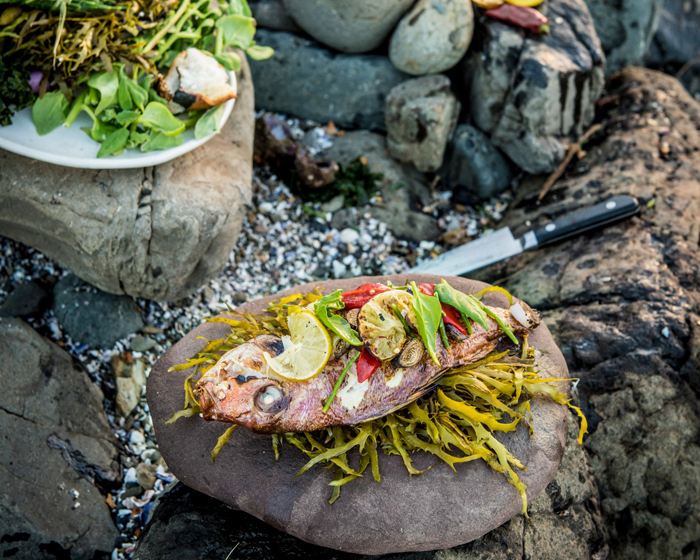 Nothing tastes better than freshly caught fish, grilled on a fire at the beach and served with charred vegetables and beach greens. To cook Nicola's South Coast Snapper, first you need to build a hot fire and let it burn for about an hour to create hot embers – the fish is placed in a basket and cooked on each side for about seven minutes.
"When we were kids, we'd spend the whole Summer on the coast with the family, fishing and grilling our catch on the fire," he explains.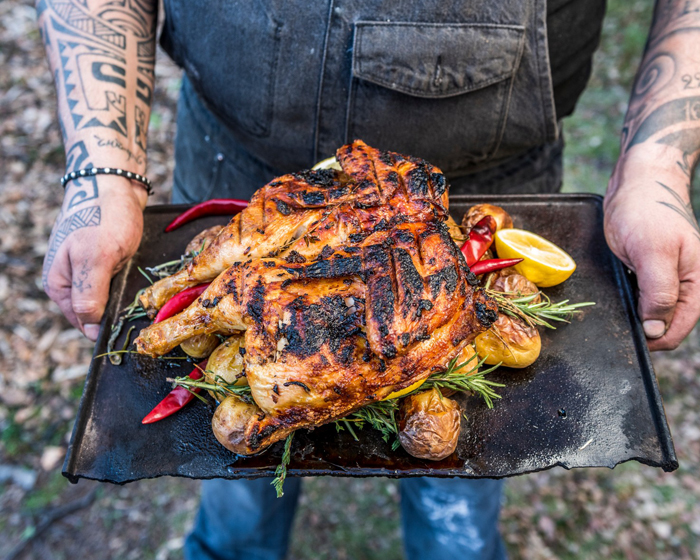 While most Australians just roast whole chicken in the oven, Nicola's favourite way to eat it is with a spicy marinade and wood grilled, just like his recipe for Pollo alla Diavola. He notes that when grilling chicken this way, it needs to be covered with a large steel bowl or pot, to keep the heat inside and prevent burning.
"If you don't have a wood grill, you can roast the potatoes in the oven and cook the chicken on a hot barbeque."
This book uses great quotes and stunning photography to convey Nicola's cooking philosophy and outlook on family life and is sure to find a welcome place in kitchens around the country. My favourite quote is:
'When you cook, you should always be thinking of someone, otherwise, you are just preparing a meal.'
I couldn't agree more…