By Julie Fison.
Sand, surf, beards and kale – there's nowhere quite like Byron Bay.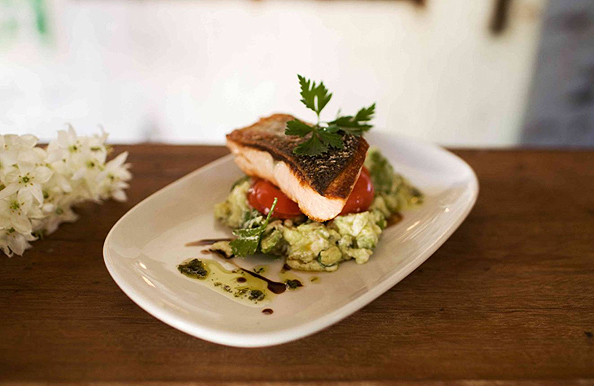 I've just arrived in the beautiful coastal town and I'm already feeling the Byron vibe at Bayleaf. The café in Marvell Street with its whitewashed walls, intricately decorated waiters and bearded baristas oozes hipster style. I'm told it also has Byron's best coffee. But I've walked ten kilometres this morning so I chose an iced tea and a breakfast burrito, packed with spicy chorizo and topped with scrambled egg. My walking buddies opt for the breakfast greens (with kale, of course). It's every kid's nightmare but the ladies are thoroughly impressed.
After lunch it's back to the beach to burn off our lunch. The sun is hanging in a perfect winter sky over Mount Warning, and just offshore dolphins are chasing a school of fish and I don't think I ever want to leave.
I have to admit that Byron and I have been through a rough patch these past few years. Every time I've been to visit it's poured, the wind has howled and I've been left wondering why I didn't go to Noosa.
Now I'm on a three-day walk organised by Girls Trekking Adventures and I realise what I've been missing.
Our guides do a brilliant job of showing us the best of Byron – leading us on a trek along Tallow Beach, assembling an al fresco lunch at Broken Head, and nudging us through a pre-dawn walk to Byron's iconic lighthouse to watch the first rays of sunlight peaking over the horizon. I may be a little bit grumpy about heading off in the darkness but the sunrise is totally worth the effort.
We enjoy a home-cooked meal at our lovely accommodation - Byron Cove Beach House, one night, and hit the town on the second night for cocktails and tapas at St Elmo's. The food is modern Spanish and delicious. My favourites are the Pato Confitado – crispy confit duck with jamon, shiitake and poached egg, and the lusciously refreshing Jalisco iced tea – a long cocktail with lychees and coriander.
On our last day we head for the hinterland to Harvest Café in the tiny village of Newrybar. The restaurant is situated in a restored Federation house with wrap- around verandahs, a country chic feel and award winning food – an ideal place for a long lazy lunch and the perfect way to finish off the weekend.
As the old saying goes - If you want to walk fast, walk alone; if you want to walk far, go together.
And if you want to eat well along the way, head for Byron Bay.