By Leigh O'Connor.
A quiet achiever - who has spent a lifetime immersed in not only wine making but also viticulture, education and research - 2017 was a break out year for Mike Hayes of Symphony Hill Wines.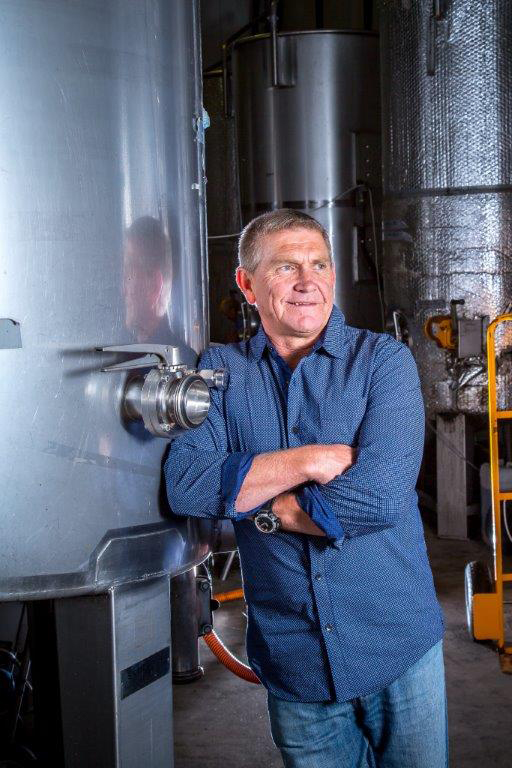 Mike Hayes.
Mike was named Australian Society of Viticulture and Oenology Winemaker of the Year for his work at Symphony, considered one of the Queensland Granite Belt's premier vineyards. He was also awarded the USQ Professional Alumnus of the Year, putting an emphatic stamp on more than 38 years' experience in the industry.
Steadfast in his belief the future success of Queensland's wine industry will be based on the development of alternate varietals, Mike has promoted planting varieties suited to changing climatic conditions and innovative winemaking practices for the past decade, at both Symphony Hill and his many other clients.
With a passion and love for all things wine, Mike (54) is currently involved in researching lower alcohol vintages for changing Australian cuisine and designing vineyards around the country, as well as consulting at 15 wineries and mentoring new industry employees and enthusiasts.
Having received 36 National Gold medals, six national trophies combined with gold medals for 23 different wine grape varieties, he is on a mission to expand his own knowledge and to share that within the industry.
Mike has initiated alternative variety masterclasses to educate consumers on food and wine matching, presented at numerous industry forums and led practical viticulture workshops instructing growers on how to graft new varieties.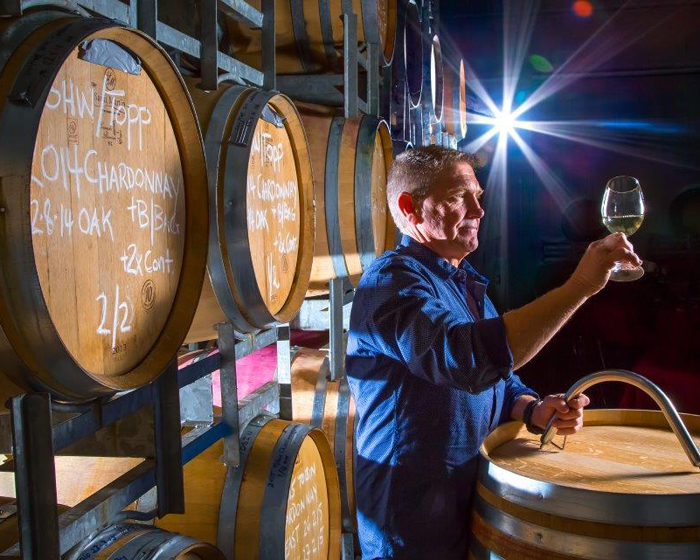 Mike Hayes inspecting Symphony Hill Wines Chardonnay.
In addition, he is also establishing small plot alternative variety vineyards in schools throughout southern Queensland.
As Autumn approaches and we seek solace in comfort food and heartier drops, AGFG asked Mike to recommend his two best wines for the coming season. From sparkling Chardonnay to Viognier, Gewurztraminer and Nebbiolo, Symphony produces an extensive range of wines available online and from the cellar door.
"My favourite wine is a red Lagrein, in particular 2015 Reserve Lagrein. It reminds me of a woman, sensual, sophisticated, intelligent and beautiful," Mike says.
"Lagrein is an Alto Ardige wine grape indigenous to Northern Italy. Dark chocolate aromas enhance the surreal, spicy satsuma plum nuances, delicately woven together by maraschino cherry flavours and superbly backed by rich, red fruit flavours supported by silkworm tannins and balanced acidity.
"The tannins again remind me of a woman's skin – soft, silky smooth and vibrant."
Lagrein pairs well with smoked pork, beef, olives, pasta dishes and food cooked by braising and slow cooking, alongside any sharp cheese.
As for a white wine, Mike prefers German variety Gewurztraminer, because it is alluring and profound with an abundance of intellect.
"Aromas of Turkish Delight, musk, lychee and lavender deliver whiffs from the Garden of Eden. The palate is vibrant and mystical with a freshness of mountain air, combined with the poise of Mother Nature," he says.
A Gewurztraminer is best enjoyed with spicy dishes featuring duck, chicken, pork, bacon, prawns and crab, while cheese pairings include delicately flavoured soft cow's milk cheese and dried fruit.
So, pick up a bottle of red or white, settle in front of the fireplace with a good movie and enjoy the colourful, seasonal change Autumn brings with shorter days, crisp mornings and cool evenings.