Get your heart racing
Western Australia's wide land and immense coastline make for a playground full of outdoor activity, so what better way to get your heart racing than by means of extreme sport. Whether it's by air land or sea, Western Australia has an extreme sport to suit everyone.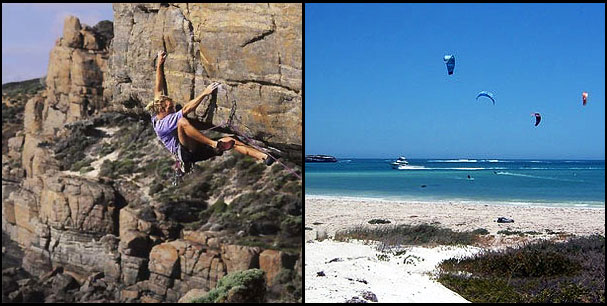 What are some extreme sports undertaken in Western Australia?
Kite surfing is a popular extreme sport undertaken in Western Australia, due to the large coastline providing an assortment of swells, waves and breaks for surfers to tackle whilst trying their luck at aerial jumps and flips. Many Perth beaches are ideal kite surfing destinations for either professionals or amateurs, complete with sea breezes to get the waves rolling in. Further north, Augusta has relatively flat waters for intermediate or professionals looking for a flat surface challenge, with Port Denison in the Mid West the home of the state's annual kite surfing festival.
The state's South West is home to magnificent rock walls, granite domes and soaring cliffs, making it an ideal destination to give your legs a workout with rock climbing. West Cape Howe is remote climbing territory in the Great Southern Region, where large, experienced groups are encouraged. Torndirrupa National Park, Wilyabrup and the Stirling and Ponongurup ranges are also located around the same area, with an assortment of challenging granite climbs to choose from. To cool off, white water rafting on the Western Australia waterways is a popular adrenaline activity for those wanting to explore the spectacular tall timbers of the South West or the dense woodlands of the Frankland River.
Exciting but not too extreme, stand up paddle boarding is an ideal family style activity for Western Australia's calmer waters, an exciting way to explore the waterways at your own pace. Paddle past Western Australia's teeming bird and marine life and enjoy the company of dolphins and seals at your side.
For more extreme sports in Australia, read up on v8 racing in Australia