My swimsuit told me to go to the gym today, but my sweatpants were like…'Nah girl, you're good'.
We all have one of those days when sometimes you get up, attempt to go about your life as usual, but just don't have it in you. The thought of getting all dressed up in a suit and tie, or high heels makes you want to crawl back into bed.
Luckily there is a day dedicated to this occasional mood – International Sweatpants Day on Friday, January 21 - so if you know how it feels to just want to spend the day lounging around in comfortable sweatpants this is the day for you.
The first pair of sweatpants was introduced in the 1920s by the founder of Le Coq Sportif – simple knitted grey jersey pants to allow athletes to stretch and run comfortably. Since then, they have gone from typically being ash-grey to all colours of the rainbow, making them more attractive but still as comfortable as the original ones.
International Sweatpants Day was created to show that wearing sweatpants doesn't have to be embarrassing – life is too short to be wearing right clothing all the time.
What better way to celebrate than visiting your fave burger or pizza joint? Here are four of our suggestions:
Indulge in a chicken parma, chips and a pot of beer for just $16 on Friday and every other day of the week in the Sports Bar at
The Dava Hotel
on Esplanade in Mount Martha. Soak up spectacular views of Port Phillip Bay at this newly refurbished establishment, located on the picturesque Mornington Peninsula.
Boasting a vibrant family-friendly bistro restaurant with modern décor, a rooftop deck with bay vistas and sports bar to catch all the live sports action; join mates for an icy ale and pub classics like char-grilled Porterhouse steak, roasted garlic and rosemary potatoes and greens.
Delivering the highest quality burger ingredients in a box straight to your door is the aim of Melbourne food and beverage company
Goldieboy
. Also a pop-up restaurant with events held at various locations around the city, Goldieboy has been cooking cult burgers for more than a decade and now you can get your hands on them at home, meaning you don't have to get out of your sweats.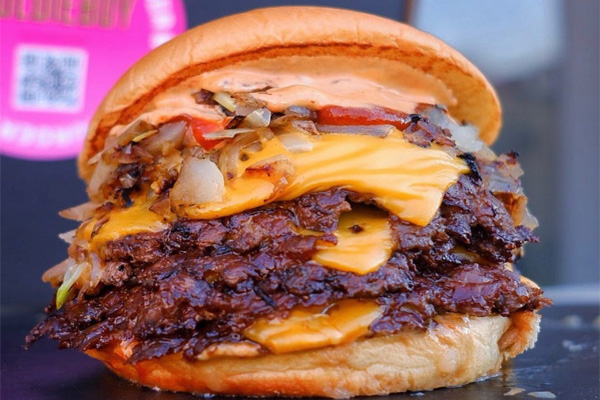 Burgers delivered to the door from Goldieboy mean staying in your sweats all day.
Expect world-famous Martin's potato buns, special blend Peter Bouchier burger patties, thick-cut American cheese, the kind of onions that make you cry and secret sauce; there's also a Plantboy version, with Beyond Meat patty, cheese, Adobo Kewpie, mustard, tomato sauce and grilled onions on a buttery potato bun.
The only way to eat pizza is in your sweats! McLaren Vale diners seeking true Neapolitan-style pizza head to
Pizzateca
on Chalk Hill Road, where the dough is handmade the traditional way with no rolling pins to create a soft and airy crust, then fired in the wood oven made in Napoli.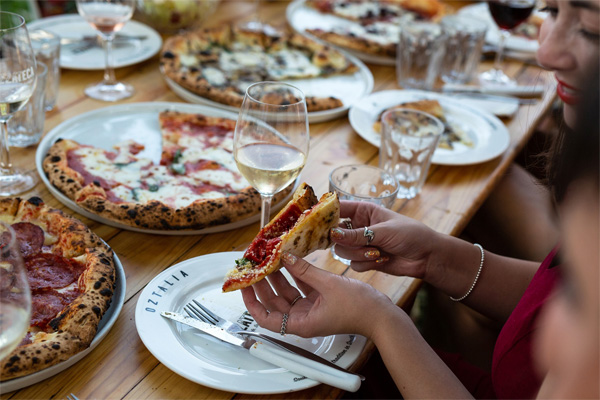 Head to Pizzateca for true Neapolitan-style pizza and tiramisu.
The Mitolo family uses techniques passed down from generation to generation, using locally-sourced South Australian ingredients - you'll even find Nonna working her magic in the kitchen to create authentic tiramisu every week.
The devil is in the details at
The Devil's Own Ice Creamery
on Lawrence Street in Launceston. Expect artisan premium ice cream and sorbet, carefully handcrafted from as much locally sourced Tasmanian produce as possible, using rich, creamy and award-winning organic Jersey milk from Elgaar Farm.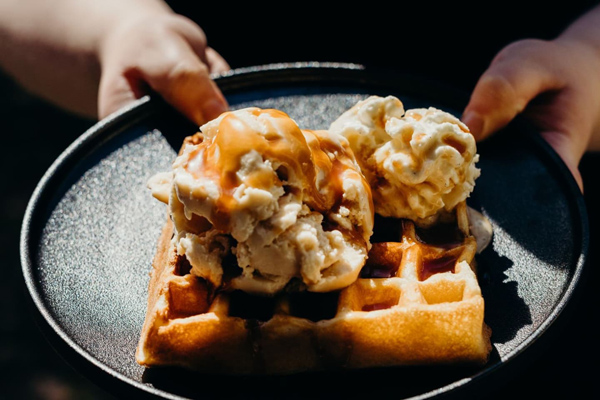 Decadent desserts await at The Devil's Own Ice Creamery.
Grab a scoop of your favourite flavour, go the whole ice cream hog with a sundae, lashings of whipped cream, housemade wafer, choice of sauce and toasted watermelon seeds; or indulge in mud cake, infused with whiskey and served with vanilla bean ice cream, whipped cream and raspberry sauce.
What better way to celebrate a day for pants that were created for exercise and used as the exact opposite!