Australia's famous boulders
Up there with the famous Australian rocks of Uluru and the Olgas, the Devils Marbles are situated in the centre of the Northern Territory 110 kilometers south of Tennant Creek. A collection of huge, red, round boulders, this outback attraction is a photographer's dream, one that everyone wants to visit, try to push over, and moreover, admire.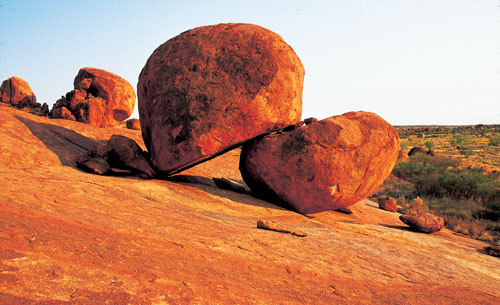 About the Devils Marbles
The Devils Marbles are as impressive in sight as they are in size, varying from 50 centimeters up to 6 metres, some propped on top of each other, balanced in a seemingly tenuous manner. Formed some 1700 million years ago with a mixture of magma deposits and erosion, the marbles are a sacred site owned by the Aboriginal people, who have their own dreamtime beliefs of how the marbles were formed.
Situated within the Devils Marbles Conservation Park, camping is also permitted within the conservation area, with picnic, barbecue and toilet facilities available. Sunset is the best time to see the Devils Marbles glow, with many informal walking tracks throughout the area.
For more information on Australia's famous rock formations, read up on Uluru-Ayers Rock