By Michelle Tchea from My Little SoHo Kitchen.
Take a slight detour to Dunkeld, rural Victoria and see what the fuss is all about at one of Australia's best Restaurants.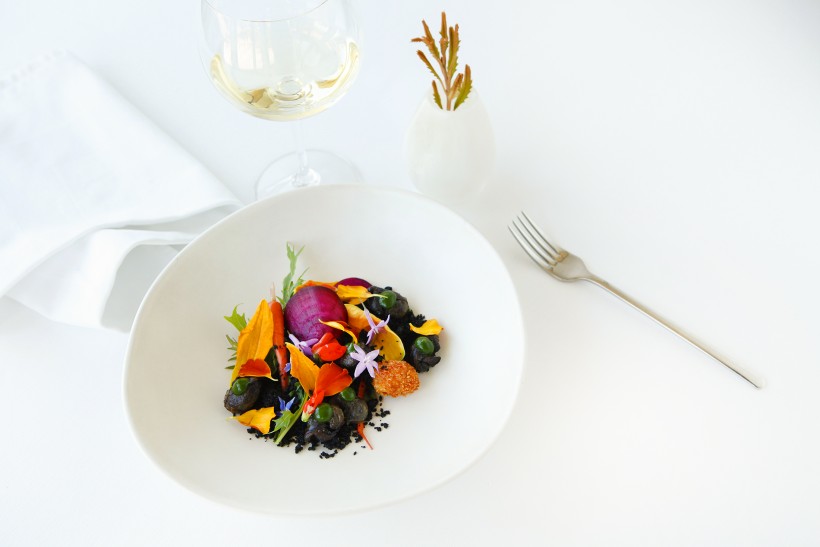 Snails in natural habitat – Royal Mail Hotel (Restaurant).
Royal Mail Hotel, Rural VIC
We all know what goes on behind the scenes in a professional kitchen - morning preparations, gathering fresh produce and of course developing the menu to feed hungry guests. But with the latest farm-to-table movement hitting restaurants, I decided to see exactly what happens from the very beginning – in the garden.
If you haven't heard: big time chefs are opting out of the hustle and bustle of city dwelling and moving … to the 'sticks!' If you're on your way to Adelaide and visiting the Barossa Valley, going skiing at Horsham, or simply trying your luck at pining for gold in Ballarat – definitely make a slight detour and head to Royal Mail Restaurant and Hotel in Dunkeld.
Right in the middle of country Victoria is an unassuming, but highly visited location for gastronomes and other self-professed food critics. With new chef, Robin Wickens, the food fits well into the art-sy walls from surrounding towns like Hamilton where most well-known artists reside for inspiration.
In between planting seedlings, Robin taught me a thing or two about working in the new Farm-to-Table era of cooking.
How did you get started as a Chef?
After a time in London kitchens, I moved to Melbourne in 2000 and worked as Andrew McConnell's Sous Chef before opening my own Melbourne restaurant Interlude in 2004.
I won The Age Young Chef of the Year award in 2005 before moving to Apollo Bay with my wife to open Wickens Provedore and Deli in the bayside town's main street.
What are your plans for the Royal Mail Restaurant?
I'm enjoying developing the Royal Mail Hotel farm to table philosophy. We are introducing more and more initiatives – the kitchen garden extension, our own lamb – to become more self sustainable than ever before. In Summer, up to 80% of our menu is made from our own produce. You won't see anything on the Royal Mail Hotel dining room that we can't grow, and anything we don't have we source from local producers.
Following in the footsteps of being [one of the] best restaurant in Aus – how will you keep up with your fans' expectations?
Because our daily menu is dependent on kitchen garden produce, it is constantly evolving, which makes it unique.
We have no choice but to follow the seasons, even more than just the seasons it depends on the weather and how the garden is growing. For example if it turns spring we can't just put asparagus or broad beans on the menu we have to wait until they are actually ready to harvest. Because of this, our regular diners get to enjoy a range of different and exciting dishes throughout the year.
How would you describe your cooking / philosophy in the kitchen?
While it can be difficult, I enjoy the daily challenge of adapting a menu around the kitchen garden and available produce.
How do you cope in rural VIC, while running such a innovative kitchen?
Again, it's thanks to our team here that play such a massive role in maintaining the kitchen garden to allow the kitchen team to produce the renowned food that we do.
What are the benefits of cooking with a fresh garden?
The reality of having a kitchen garden that does entirely dictate the menus, is that it requires amazing resources and time, it would be much easier for us to rely on vegetable suppliers rather than try and produce it ourselves. However, what it does give us is complete control over the produce we use and menus that reflect what is in the garden at that time.
What are you growing?
Wild mushroom season is about to start so we will be out foraging for mushrooms for the next few months.
And your garden?
The garden is completely organic, we don't do too much to the produce to prepare for eating.
What can we expect from you and your team?
We are looking forward to growing even more of our own produce to include beef and lamb and other proteins. We are always hiring new members for the kitchen team, so the influences that arise from others skills, backgrounds and techniques means we are constantly evolving.
---words by Michelle, edited by AGFG. Opinions are of the author.