At Airlie Beach
By Liz Bond from This Magnificent Life.
It's official. Airlie Beach is no longer just for backpackers. The summer all-year-long playground now offers so much more than budget thrill-seeker holidays, backpacker hostels and $10 Chicken Parm and a pot at the pub. These days the Airlie Beach Hotel offers 'Whitsunday Food Trail Tours' where you can meet the growers and producers surrounding Airlie followed by a three-course dinner showcasing the produce.
The cultural shift started when resorts like 'At Waters Edge', 'Peppers' and 'Pinnacles Resort' appeared on the scene. With boutique accommodation comes the need for better dining options and Airlie now offers that and so much more.
Relaxed sophistication would best describe the Airlie dining scene. With some of Australia's best seafood and beef on its doorstep, chefs in Airlie have great local produce to work with.
Mr Bones is perfectly positioned near the very popular Lagoon. Culinary gems are served up from nine till nine, five days a week. The simple exposed brick and polished concrete interior contradicts the exciting and innovative dishes coming from the open kitchen.
Start with lots of 'finger bones' (the Mr Bones take on entrees) and share a pizza. The menu changes regularly but don't miss the crumbed eggplant 'chips' – crunchy on the outside and luscious and smoky on the inside.
Perhaps opt for the oven baked prawns with haloumi, tomato, olives, garlic & oregano. Pizzas are 12" with crispy, thin and with just the right amount of char and topped with garlicky chilli prawns, aioli and rocket. Try the tomato and slow cooked mushrooms with goats cheese and a delicious touch of truffle oil.
Greg Devine (former chef to Queensland Governor Quentin Bryce and now G.G.) heads up the effortlessly chic 'Tides' at 'Peppers Resort'. This is modern Australian fare with more than a nod to Asia.
'Four Tastes of the Sea' is a great place to start – mini prawn cocktail with a traditional (some might say retro) marie-rose dressing on baby cos; Grilled ½ shell Hervey Bay scallops with light as a feather champagne mornay, Coffin Bay Oysters with vanilla cucumber noodles and a tempura of soft-shell crab, ponzu dressing and salt and pepper prawns more than satisfies the seafood cravings.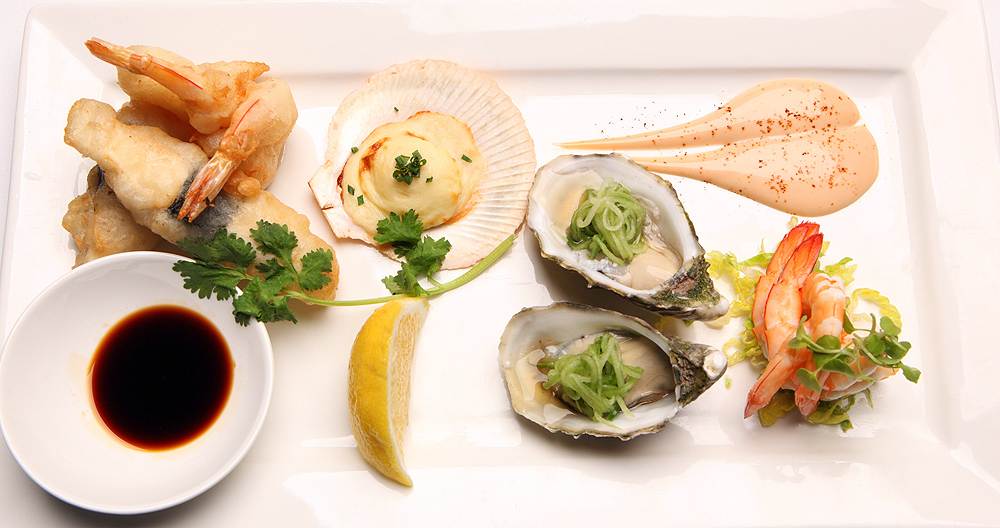 Greg and his kitchen team are masters of the char grill and the menu lists the origin, feed, aging and portion size of each magnificent piece of beef. The ethereal 350g Wagyu doesn't come with a provenance but it does come with a 6+ marble score and triple cooked hand cut mega chips and a dish of red wine and brown onion jus. Served exactly as ordered. The perfect accompaniment: a mixed leaf salad of organic rocket and grana padano.
This is a menu that has been carefully created and tended by a chef who knows that great produce doesn't need to be tortured. If anything the food has been 'devined'.
Which brings us to dessert and the current chocolate dessert plate for two includes 'looks too good to be true' Valrhona chocolate cake, ice cream, pot, crumble and brandy snap basket with berries. Or if you're not both chocoholics, the white chocolate sponge cake with raspberry ripple ice cream is a perfect way to cap off a sensational meal.
Another wistful Whitsundays day and another lunch; not just any lunch, it's the 'Déjà vu' long lunch.It's spoken with such reference in these parts you wonder if it might be an urban myth. No, it's legendary for a reason.
'Déjà Vu' faces the Coral Sea at 'Waters Edge Resort'. You can take a lazy five hours or so taking in the view, turquoise Coral Sea and cornflower clear skies – all the while blissfully sipping on a sensational pinot grigio and supping on a 8 course set menu perfect for a warm day in the tropics.
Starting with antipasto of Mediterranean dips, charcuterie, frittata and breads, you meander on to perfect lemon pepper calamari, salad, pizza, roast lamb or Thai beef salad and so much more. The pretty as a picture dessert was one of the finest pannacotta's this reviewer has ever encountered - coconut dressed with a gingered syrup of dragonfruit.
At $44.50 per person (drinks extra) the 'Déjà Vu' long lunch is incredible value and is a must do if you're lucky enough to be in Airlie on a Sunday. With chef Patrice Duverger and Sarah Duverger (also a chef) front of house, you can safely put your palate in the hands of experts with their fuss-free finely tuned menu.
The 'Coral Sea Resort' boasts 'Clippers' restaurant positioned perfectly to take in the cooling sea breeze. The resort could be described as faux Mediterranean but that only adds to its charm. There is even a gazebo perched on the waters edge for six diners offering privacy for that special occasion.
Unable to contemplate the six-course degustation after the long lunch, we bravely worked our way through mains and a shared dessert purely in the interests of the readers. The a la carte menu sports some of the same dishes in the innovative degustation including a prosciutto wrapped chicken breast all dressed up with a little chorizo pie. But I had the pan roasted duck breast squarely in my sights with its quince potatoes, a petit pois of sweet peas and gem lettuce with a quince jus.
Winner of the greatest bit of theatricality was the show-stopping dessert plate for two: oh so yummy salted popcorn parfait, ruby red strawberry candy floss, strawberry sherbet, sangria wine gums, tingly toffee apple sorbet, pecan nougat 'lollipop' and little rhubarb and custard milk shakes. It was more than enough for three very satisfied diners.
Airlie Beach is no longer just a gateway to Whitsunday Islands. It is fast gaining a reputation as a culinary hot spot with other restaurants like 'Fish D'vine', 'Denman Cellars' and 'La Tabella' all highly recommended by tourists and locals alike. Airlie is a destination in its own right with incredible food at great prices. With so much delectable food on offer, plan a lot of exercise to work up an appetite and work off those desserts.