By David Ellis.
A just-released Shaw Vineyard Estate 2017 Riesling is a classic drop from this maker's Murrumbateman vineyard in the Canberra premium cool climate wine region, and made all the more classic with a touch of botrytis that's helped concentrate sugars, fruit acids and wonderful passionfruit and tropical fruit flavours to more than usual prominence.
It's little wonder that Owner/ Winemaker Graeme Shaw is quick to offer how this one's drawing enthusiastic response from visitors both at cellar door tastings, and over meals in the winery's Olleyville Restaurant.
"We sourced the grapes from low yielding spur-pruned vines," Graeme says, "and we harvested in the cool of night to ensure fruit was delivered at temperatures of less than 20 degrees, contributing greatly to the unique character of this wine."
The weather was on side too, Graeme adds, with heavy Spring rains followed by a reasonably average Summer that was not too hot, and came with just the right amount of rain.
"The result is that this is a Riesling that lives up to the acclaim of previous vintages of our Estate label, and punches well above its $30 price point," he said.
Enjoy with salmon or scallops if you like your seafood, or equally with spicy stir-fries and curries if they're more to your fancy.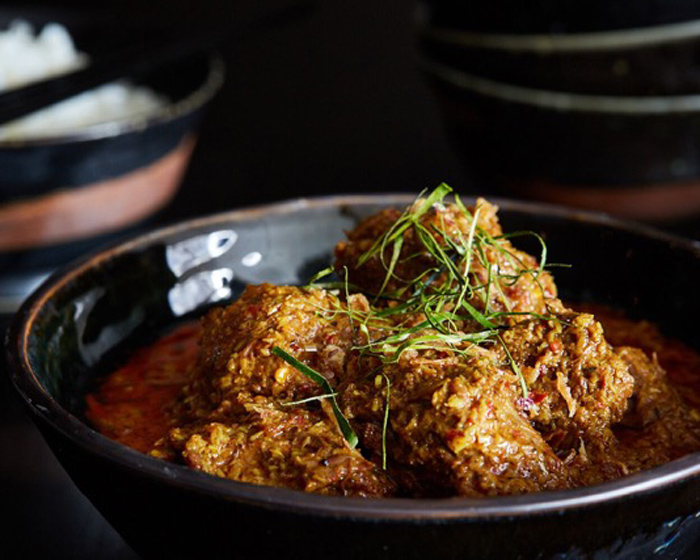 AGFG suggests this Coconut Beef Rendang thanks to The Malaya restaurant.
One to Note: Rymill have been making Gewurztraminer for over thirty years now, drawing on fruit from a single vineyard they planted back in 1985.
So, you would be right in presuming they've got it right when it comes to growing the vines, harvesting the fruit, and making the wine, their recently-released 2017 proving, you'll find, that it'll be a true lip-smacker for enjoyment chilled on upcoming hot Summer's days.
Winemaker Sandrine Gimon says this now-available 2017 gt (as Gewurztraminer is generally referred to) is clean, crisp and exquisite, and equally perfect for entertaining large numbers, or to complement fine foods – think Asian or all manner of duck, chicken, pork, seafood or roast vegetable dishes – at more intimate dinner parties.
With suggestions of cumquats and lychees to the forefront on the palate, it's also got undertones of turmeric and butterscotch and is nicely priced at $20.
Vale Wayne Stehbens: the industry and buffs of Katnook Estate wines are mourning the sudden passing on November 5 of the Estate's long-time senior winemaker, Wayne Stehbens. He was 62.
In his youth Wayne worked in his school holidays, alongside his father Ray who was then Katnook's General Manager, before he went on to study winemaking at Charles Sturt University, and returned to Katnook as its winemaker in 1979 – winning 49 wine show awards for the company in his first year.
He is survived by his wife Michelle who is Katnook's Cellar Door Manager, and family.