Country-Style Christmas Celebrations
Come Christmas there's nothing better than enjoying time off and relaxing. Intertwining the holidays with our kitchen love, the key to hosting at this time of year is selecting simple recipes. That way you can cook to your heart's content, entertaining family and friends, all the while enjoying their company relatively stress free.
Holiday Cooking with Maggie Beer
Since relocating from the city to the picturesque Barossa in 1970, Maggie Beer has embodied the spirit of country cooking. Today the recipes she shares and her eponymous brand –including over 50 products– encourage you to follow the rhythm of the seasons and allow you access to her fail safe, top quality ingredients.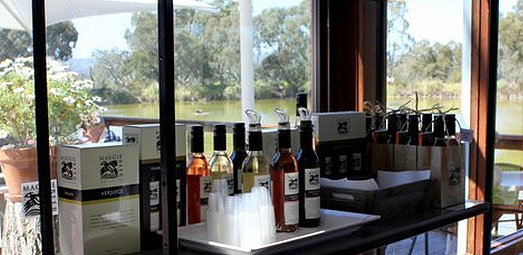 Christmas Recipes & Maggie Beer Ingredients
Pick up 'Maggie's Verjuice Cookbook' and you'll discover that her gentle flavour enhancing, not-so-secret ingredient can be used in absolutely everything. Verjuice is the juice of unripe grapes that acts as a subtle acidulant in your cooking compared to lemon juice, vinegar and wine.
For starters, set you inhibitions aside and seek out robust, locally grown lentils combined with fresh Extra Virgin Olive Oil and golden brown verjuice onions, to make an unforgettable lentil salad with pale green celery.
Another option to begin with is Maggie Beer's green bean salad, based off a traditional Nicoise recipe. Here she entices you to incorporate her aged red-wine vinegar. Alternatively, you may opt to try this dish the day after your big Christmas lunch or dinner, when you'll be tempted to add-in leftover eggs and proteins (though this recipe officially calls for thick tuna steaks).
Australia's Favourite Christmas Day Recipe
A quick and easy lamb roast is an ideal main for any special Christmas meal. However, as lamb can be on the expensive side – or if you're shopping last minute… possibly unavailable – there are always other options.
Maggie Beer's braised chicken is a convenient one-pot dish and a definite tried and true 'family and friends pleaser'. If you opt not to make your own golden chicken stock, it's readily available for you to purchase. This simmering dish will enliven your celebration with its figs and cinnamon, verjuice and lemon zest.
Sharing your table with everyone at Christmas time, you likely have favourite holiday foods – particularly dessert – anticipated year after year. If you haven't already, purchase Maggie Beer's verjuice once and for all then try her fruit mince in verjuice syrup with ice cream. With apples, sweet sherry, nutmeg and cloves combined with dried fruits that you love, make this one once and it's likely to become generational.
Christmas Chocolate Gifts to Eat All Day
Because we know a major Christmas highlight is indulging in fine chocolate, we have selected an array of colourfully wrapped Fardoulis chocolates for you to choose from in the AGFG Shop.
Maggie's Christmas:
Your perfect accompaniment this Christmas, check out "Maggie's Christmas"a recipe book that has everything you would ever need at Christmas time.
Try Maggie's Frittata or Apricot, Almond and Rosemary Clafoutis.