By Leigh O'Connor. Photography by Kate Scott.
Growing up on a small farm in Nimbin, Richard Kerr learned respect and care for all animals, understanding that one day they would be on the dinner plate.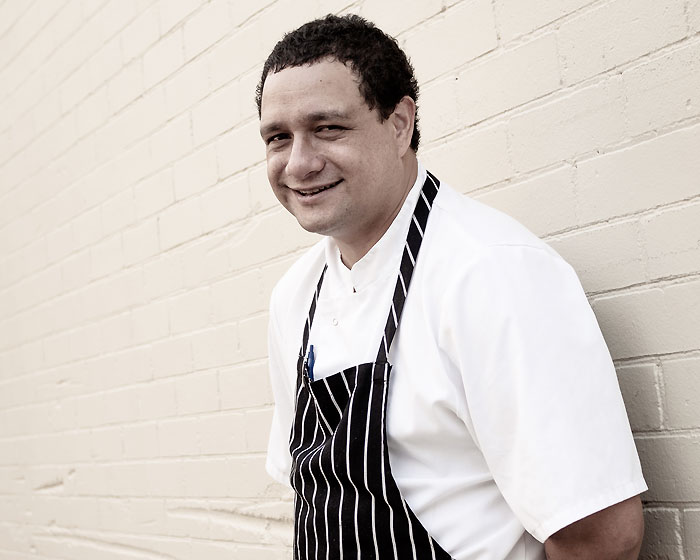 Years later, he finds himself at the helm of Chef-hatted Lismore establishment The Loft and nothing has changed. His memories have influenced his mentality to cooking and his menu embraces using wild caught fish, local pasture-raised chicken and locally farmed beef.
"All of these have had the best possible life before becoming food," he says. "I also train my staff well on how to prepare, care and cook these items, as they once were a living animal. We must show respect and not overcook or waste them.
"Wherever possible, I choose to use local fruit and vegetables as they are mostly grown in the beautiful soil that we have in the Northern Rivers region and not grown super-fast in greenhouses or hydroponics. I think you can taste a big difference!"
Richard believes the whole paddock-to-plate philosophy has gained so much momentum in recent years because diners want to know where their food has come from, before being served on the plate.
"People are getting sick (literally) of eating food that has been pumped full of antibiotics or sprayed with harsh pesticides."
Leaving home at 16 to embark on an apprenticeship in Sydney with no family for support was a huge step and although a shock, it was a rewarding experience which saw him work for several city restaurants. Then the dream of working in the UK and Europe kicked in and led him to Marco Pierre White's one-star Michelin Restaurant, Mirabelle.
"It was such a great experience for me, I loved that it was a big venue with a huge kitchen and plenty of modern equipment," he recalls. "I was used to not having enough space and equipment always breaking. Staff were so professional and took pride in what they did, whether they were a food runner for front of house, or Head Chef - everyone did their best in whatever job they had.
"The food was all new and exciting to me as I had never worked in a French restaurant. I used ingredients I had not seen before, like foie gras and trompette mushrooms, to name a couple. I learned so much."
Returning to Australia, Richard went back to his Nimbin roots after a stint in Cairns, buying the family farm when it was up for sale. With limited job opportunities in the area, he accepted a position at The Bank Café in Lismore, where after a couple of years the owner could see he was getting tired of cooking eggs and BLATs.
The Loft was purchased and under the ownership of Kate Scott and Brad Rickard, Richard took charge of the kitchen and the rest as they say is history.
"These days I am enjoying the creative side of things, trying new combinations and new ingredients. What I enjoy most is coming up with a new dish and being blown away by how good it is (it doesn't happen very often, so it's all the more special when it does)."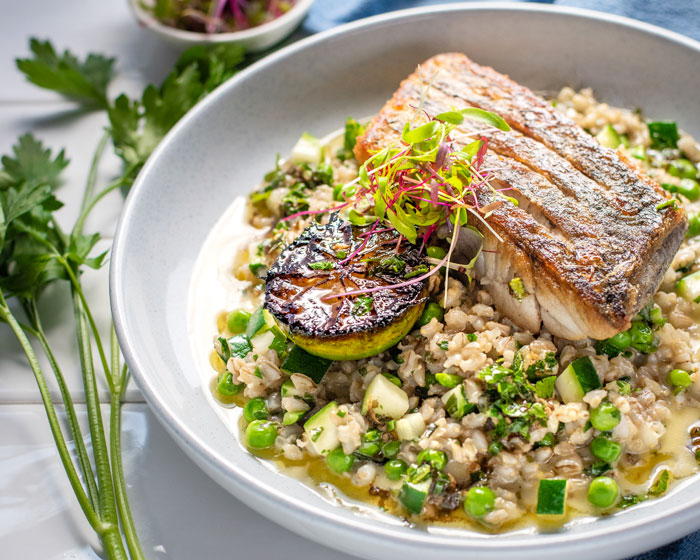 Richard's dish of pan-fried wild barramundi fillet with pearl barley risotto, zucchini, green peas, mixed herbs and beurre noisette is a super tasty, simple recipe that we can all cook at home, perfectly suited to Autumn and Winter.
A real comfort-style meal, the fish has a crispy skin from cooking in a smoking hot pan, skin side down, before being finished in the oven. The pearl barley forms the base for the risotto, combined with zucchini, green peas and grated Parmesan, while the rich, nutty beurre noisette sauce adds a classic French twist to the dish.
So where will this Chef be in five years' time? Richard dreams of having a paddock-to-plate food business on his own property, where he cooks using his homegrown produce.