Saddle up for a taste of true Australian life on the land
If you wish to not only experience country life, but live it, then a cattle muster is for you. Early mornings, the smell of saddle leather and dust and a panorama of red earth amidst a desert horizon are all parts of the big adventure awaiting. Placed in the saddle amongst professional drovers, a cattle muster leaves you with the task of herding cattle along the dusty, gritty and sometimes muddy Australian outback, chatting with your fellow droving tem, followed by an evening back at camp, complete with campfire, cold beers and a sausage or two. A hands -on Australian holiday experience, a cattle muster will take you back to basics, showing you what life is like for the true blue Australian stockman.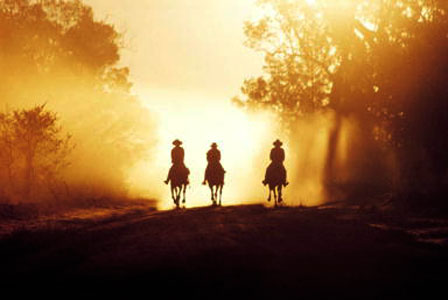 Where are cattle musters undertaken in Australia?
The majority of cattle musters in Australia are conducted in the Top End beginning in the dry season of April through to September. A long and sometimes dangerous job, mustering in Australia is also a common occurrence on vast cattle stations located near the Great Dividing Range of New South Wales, Queensland and Victoria. Sometimes undertaken on four wheel motorbikes, the main transport method during a cattle muster is via horseback.