By Leigh O'Connor.
What do you call cheese that isn't yours? Nacho cheese!
Okay a little corn chippy, but that's what you get when you are celebrating International Nachos Day, on Friday November 6.
Did you know nachos are actually named after a guy called Nacho - the maître d' who came up with the dish was called Ignacio 'Nacho' Anaya?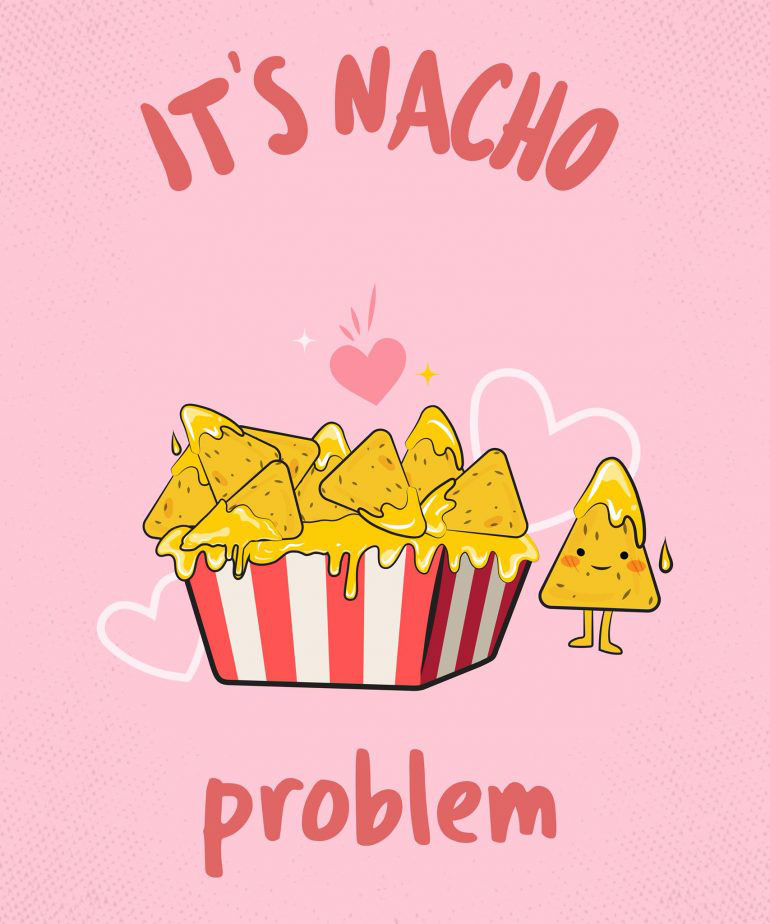 Here are four more delicious nacho facts and five places to chow down on this Tex Mex classic dish:
•Nachos were invented in Mexico when wives of US soldiers stationed in Eagle Pass, Texas crossed the border on a shopping trip and arrived at a restaurant after closing. The maître d' whipped them up – you guessed it – nachos. The year was 1943 and the city was Piedras Negras.
•Nachos were almost trademarked - although Anaya never tried to copyright the recipe, his son contacted a lawyer in 1960 about trademarking. Unfortunately, almost two decades after their creation, he was told it was too late.
•According to the Guinness Book of Records, the largest nachos ever made were at the University of Kansas football stadium. It took 80 people to assemble 390kg of nacho cheese, 390kg of beef, 545kg of beans, 142kg of jalapenos and 272kg of tortilla chips.
•The original recipe for nachos was super simple – freshly fried tortilla chips, shredded cheese and sliced pickled jalapenos. That's it…no beans and no meat.
Guac this way to
Alma Avalon
on Old Barrenjoey Road in Sydney's Northern Beaches to don a sombrero and say hola to fresh and vibrant Mexican fare. This trendy restaurant turns heads with a casual dining vibe in keeping with the coastal lifestyle, as guests delve into locally sourced seafood and organic wines; making it the ideal place for a nacho celebration.
Freshly smashed guac at Alma Avalon.
No South of the Border meal should be started without chips and guac – smashed avocado topped with pico de gallo, toasted pepitas, housemade spice mix and house pressed corn chips – washed down with a jalapeno Margarita. For a taco fix, try the hard-shell salmon sashimi, served in a crispy wonton wrapper with avocado, red onion, black sesame seeds, jalapeno and lime dressing.
Nachos for dessert? Surely that's just plain loco we hear you say – but not at
Cactus Jack's Bar & Grill
on Palmer Street in South Townsville. Look out chocolate nachos, there's a new flavour in town with these cinnamon sugar crispy tortillas, swimming in salted caramel sauce and topped with Juliette's Popcorn Gelato.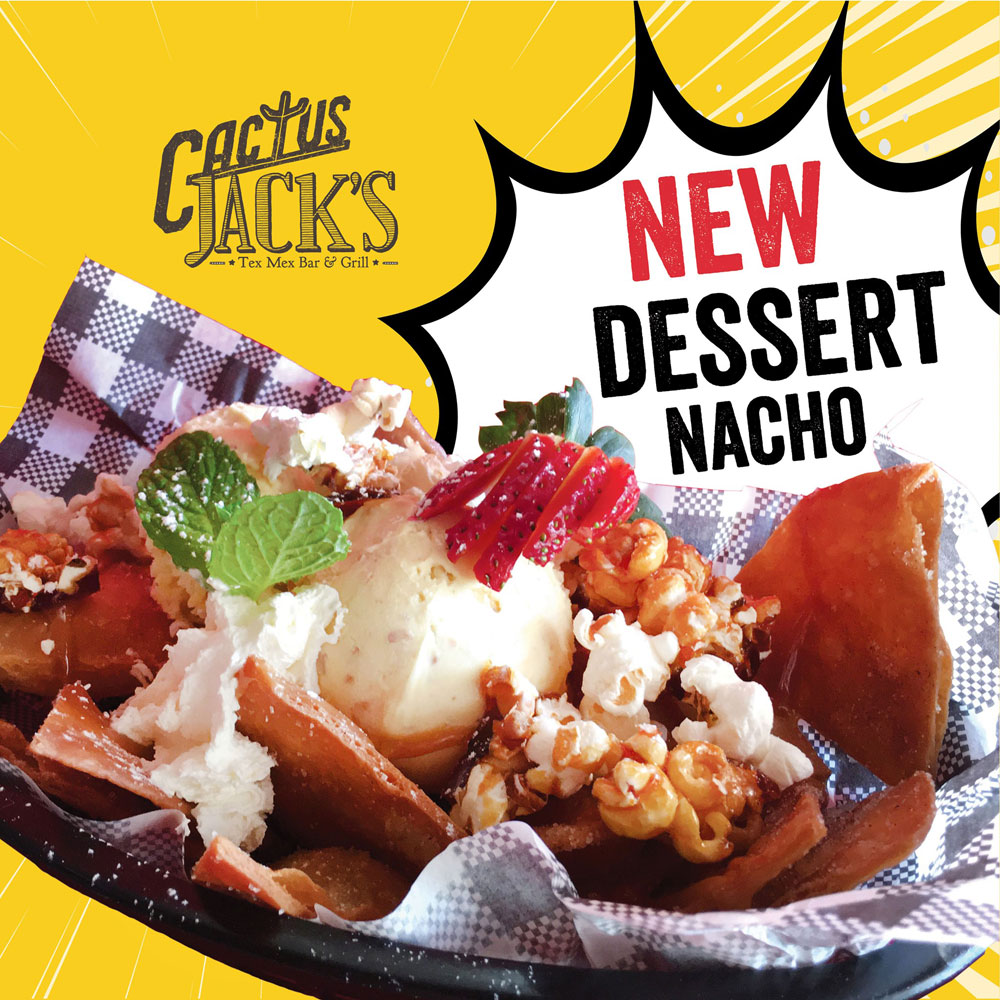 Dessert Nachos at Cactus Jack's.
Before indulging in this sweet treat, chow down on slow-braised beef ribs, American mild chipotle BBQ sauce, corn cob and Idaho potatoes; or Mexican pork chimichangas, with guacamole, sour cream, ranchero salsa, rice and salad, enjoyed with glass of red wine Sangria.
Load up your takeaway nachos with chicken, black beans, pulled jerk pork, chilli con carne, or pulled jackfruit from Cali-Mex hideaway
Ladygreen
on New Street in Brighton. While not open for dining in during Melbourne's COVID lockdown, this eatery has been serving up a fiesta of flavours for pick-up and delivery, including crunchy El Cielo chips, Mexican cheese, tomato salsa and vegan lime aioli.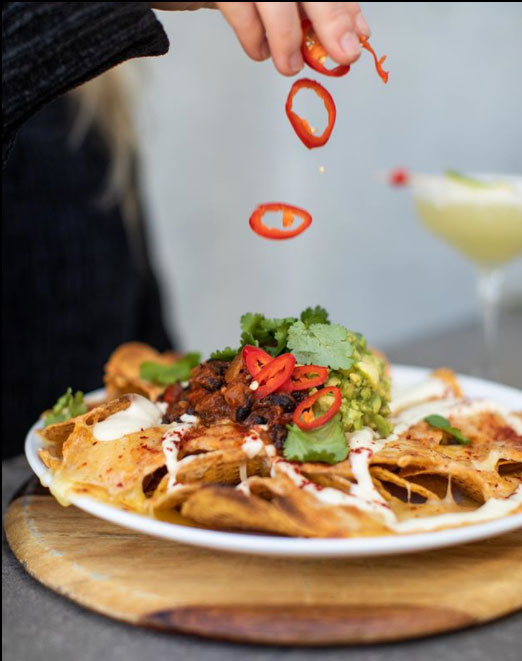 Take your nachos away from Brighton's Ladygreen.
Wrap your hands around a Casino Royale burger of premium Wagyu, ancho chilli and guacamole, lettuce, Yucatan pickles and cheese; or taco it to the next level, with tequila cured salmon, sticky beetroot, guac, lettuce and sides of chunky chips, charred corn, vegan lime aioli and salted ricotta.
Go loco for the flavours of Mexico at Victor Harbor cantina
Loco Mexican
on Ocean Street. Located on the upstairs level of Harbor Mall, this fun and funky hot spot radiates warm and lively colours from red and orange statement wallpaper to burnt orange tables; while a window gives diners a sneak-peek into kitchen creations.
From smoked meats to pickled vegetables, spice mixes and sauces, as much as possible is prepared from scratch in house; including smoked pulled pork, or achiote chicken nachos, topped with Jacks cheese, pico de gallo, drunken beans, sour cream, guacamole and cilantro. Don't go past Mexican doughnuts, spiced sugar, chipotle coconut caramel and vanilla ice cream to finish.
There's more than just nachos on the takeaway menu at
Los Hermanos Mexican Taqueria
on Victoria Street in Brunswick. This modern-day taqueria of tacos and tequila, like other Melburnian restaurants, has pivoted to pick-up or delivery during the Corona Virus lockdown; offering specials like a salad of cactus strips, marinated in lime juice, tomato, onion, oregano, feta and coriander.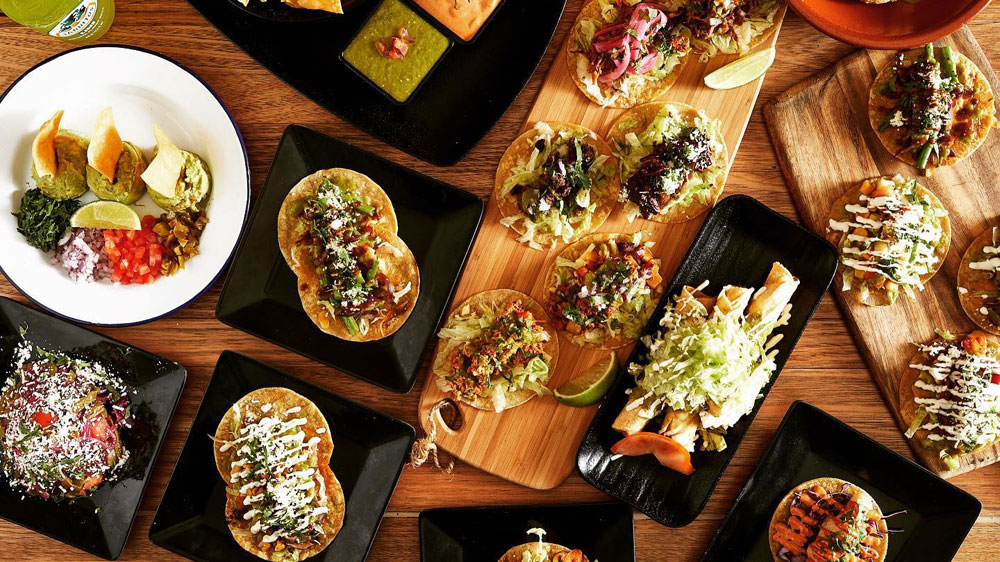 Mexican feast at Los Hermanos.
For a fiesta on the taste buds, say arriba to beer-battered fish tacos, on a bed of red cabbage, with chipotle mayo, fresh coriander and lemon; or slow-cooked leg of lamb on an open tortilla, with lettuce, onion, coriander and salsa borracha, perfectly paired with an icy cold Cerveza.
Get your nachos on at a Mexican restaurant
near you
!