Live your passion, chase the dream, eat sweet and stay sweet - Adriano Zumbo.
Well, if we were to completely live life full of passion, we'd do it while holding (and devouring) one of Adriano's Zonuts, a deliciously light, sweet, fluffy and playful croissant-donut creation.
The Zumbo Files certainly doesn't come across as the younger sibling of Adriano's cook book collection, as it's one of Adriano's most ambitious creations yet. Inviting you into a Willy Wonka world of ideas with an enticing cover of a eucalyptus, thyme, honey and lemon Chouxmaca (choux pastry – macaron hybrid), you know you're about to embark on a journey you'll never be able to forget.
Win a copy of The Zumbo Files!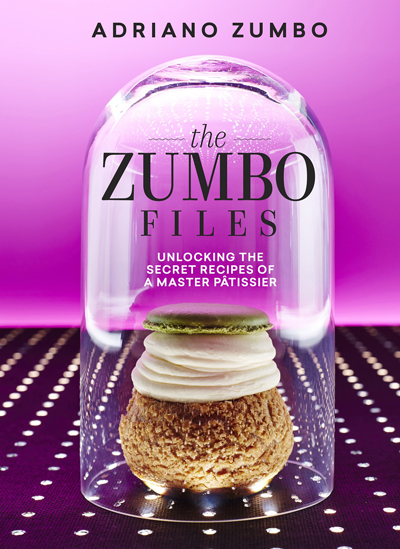 For a seasoned home chef or baker, The Zumbo Files will be a fun and creative journey, while those looking to amplify their understanding of pastry will be lead down a path of bewilderment, amazement and accomplishment. The Zumbo Files includes a glossary of terms along with a number of basic recipes to build your confidence before tackling a Zumbo master recipe.
Adriano steps you through five elaborately decorated doors of separate master recipes, with photographic step-by-step instructions that lay the base for more complicated and flavoursome recipes to come. The master recipes are a true highlight to this book and set it apart from the other Celebrity Chef cook books on the shelf it adds a very personal touch to an otherwise disconnected medium - and if this were multimedia it would already be the perfect recipe series for your phone.
Although The Zumbo Files may be a bit daunting to the average home cook, don't be swayed by the delicate trimmings and glossy photos as the recipes have been tailored for the home baker. With a collection of 50 new recipes, you will be spoilt for choice on where to start as Adriano's famed recipes are complemented by a chapter of savoury pastries that will round out your pastry repertoire – we suggest trying the Earl Grey and Lemon Sausage Rolls.
If you have always wanted to bake like a master patissier, this is definitely the book for you.
Recipe and images from The Zumbo Files by Adriano Zumbo (Murdoch Books) $49.99 available now in all good bookstores and online.