Jottings & Recipes by Belinda Jeffery
Belinda Jeffery's fourth book 'The Country Cookbook' is an exceptional read, especially for those who enjoy gardening as well as cooking; as the name suggests, it reflects country life. Reading as a journal, where snippets of her life and daily habits are categorized by month, the recipes are written in for each season and complimented by pastoral photography by Rodney Weidland. For the first time, Belinda reveals her story about contracting breast cancer and while this is a brief inclusion, it sets the scene for the unraveling of her favourite country recipes.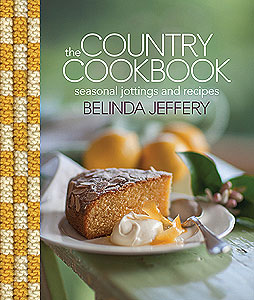 Her illness guided the Jefferys to leave city life behind; Belinda and her husband opting to set up shop in a small rural community – this book is dedicated to her darling Clive. 'The Country Cookbook' reads candidly, building a relationship with you along the way; cooking with her recipes, it's as if she's standing right beside you in the kitchen while you're cooking. From her career in television working on Better Homes and Gardens, her soft and soothing voice can be heard in your head as you read, and you can envision her well-manicured hands flipping the pages and pointing at specific notes.
She always includes a paragraph before her method, outlining helpful tips such as how many people the recipe will feed and suggestions about what you can do with the leftovers (though I can attest leftovers are scarce when it comes to cooking Belinda's recipes). For instance, her Parmesan Crisps with Avocado, Lime and Chilli are light and tasty, yet you find they've disappeared before you have time to serve them, meaning more time is spent in the kitchen than expected, but it is well worth it!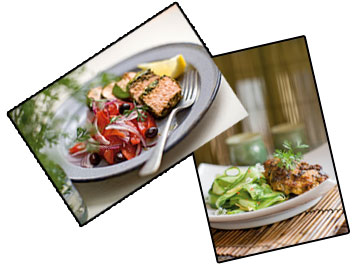 The inclusion of Weidland's photographs of wildlife, lush gardens and the overall rural setting helps to bring the book together. The visuals compliment her journal, which is an integral addition and underlying force for her recipes. Most of her recipes include the use of fresh fruit and vegetables from her garden which inspired me to head down to the local markets with basket in arm, buying as much fresh produce as my budget allowed.
It seems even Belinda Jeffery seeks comfort in wholesome food during winter, using seasonal produce in her recipes for the months of July and August. Some of these include rhubarb, strawberries, silverbeet, sweet potato and fennel, all of which she combines for some tasty winter delights.
Belinda sections her cookbook into monthly recipes and 'jottings', allowing the reader to pick and choose recipes according to the season. For instance, with the coolest month looming, you can easily flip to July and revel in her hearty, warming recipes as she describes how the cool days influence what she intends to cook. Soups, stews, rich tarts and luscious cakes fill the sections for the winter months. Reading her journal entries and recipes in this section help to bring joy to the kitchen and inspires creativity to give the body and soul some much needed comfort from the chill.
A favourite winter dessert of mine was the Poached Rhubarb and Strawberries, which can be found in the Australian Good Food and Travel Guide's Recipe section. What's inspiring about this dish is that while rhubarb can be slightly underrated, it's a versatile seasonal fruit. Served poached with strawberries, the texture of the soft rhubarb goes splendidly with fresh strawberries, and as Belinda mentions, this recipe manages to keep the rhubarb intact instead of turning into a mushy mess.
When embarking on the preparation of recipes, I always find them slightly daunting. At first glance many of them spread over onto another page, leaving the reader wondering whether this was a good idea; also there's no mention of an approximate preparation and cooking time, which I always find helpful. This could attest to the nature of country living, whereas I myself am still rooted in the urban jungle, juggling tasks… Perhaps leave yourself an afternoon to savour cooking with Belinda Jeffery. When you have time constraints and can't afford to attempt a recipe without knowing beforehand roughly how long it may take, you may have to turn elsewhere (unless, of course you've already tried one out).
With this book and her last, 'Mix and Bake', I suggest reading the book cover to cover before attempting her recipes. While you're in for a delightful read, you'll find her unusual way of writing the method for her recipes easier to comprehend and less challenging, as she tends to embellish rather than directly state what needs to be done. Many may find this style of writing recipes a joy, but I tend to prefer recipes which are direct and easy to read.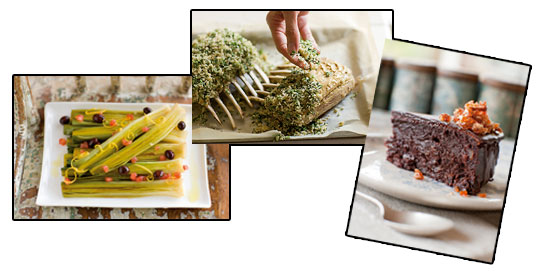 For those who enjoy gardening and growing your own produce, this book is one which will end up splashed with oil, covered in flour and butter with the pages stuck together. I insist on buying two copies; one for the recipes and content, and one to display. Others who would greatly enjoy this book would be a couple considering a lifestyle change, as Belinda and her husband successfully created a rich and fulfilling life for themselves outside the constraints of the city. Overall though, this is the type of book I envisage sat beside an issue of House and Garden on the modern woman's coffee table.
Additional details about this publication are available -
http://www.penguin.com.au/products/9781920989965/country-cookbook-seasonal-jottings-and-recipes
Recipes to try from 'The Country Cookbook':
Flourless Chocolate, Pecan & Prune Truffle Cake
Poached Rubarb with Strawberries
Leeks with Tomatoes, Olives and Lemon
Coconut Chicken with Spicy Cucumber Ribbons
Salmon, Spinach and Chermoula Rolls
Written and compiled by AGFG contributing writer Emma Hancock