Warming Up the Aussie Way
Dreaming of a tropical getaway in the cool of winter, where you're lying on the beach in nothing but a bikini without a care in the world? Well don't sweat it too much; surprisingly, there is a plethora of destinations right here in northern Australia that will provide your summer fix. With temperatures averaging at around 22°C and often times escalating, there is no need to travel above the equator to escape the cold. Tropical North If you're not one of the lucky ones already living in the tropical oasis that is northern Queensland, the doctor has prescribed a prolonged stay this winter. And whilst Cairns and Townsville are perhaps the most visited northern sanctuaries, why not go a little further north to Port Douglas for a laid back atmosphere? Port Douglas is home to some of Australia's beautiful tropical rainforests and beaches including Four Mile Beach where sand, water and trees conquer and civilisation are hidden and forgotten.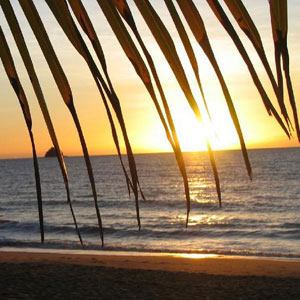 Mali Mali Retreat
is Port Douglas' hidden gem located on 40 acres of hilltop with 360-degree panoramic views from Daintree Rainforest to the Pacific Ocean. Awarded Australian House of the Year, Mali Mali is the ultimate holiday retreat with stylish and luxurious rooms that do not detract from the natural surrounding beauty. This is a place to take time for yourself, experience the peace and magical landscape and when you are ready to come back down to reality the enchanting Port Douglas awaits just a stones throw away. One such enchanting setting is
Salsa Bar and Grill
where palm trees and cocktails are always in abundance. For a very Australian experience try the gingerbread dusted kangaroo loin paired with an exquisite wine. I can't think of a better way to finish off a relaxing day at the beach than with miraculous tasting food. Central Getaway So you want hot, right? Well we have some groundbreaking news for you. Northern Territory temperatures not only reach 25°C but the Northern Territory's Top End is lush, green and tropical, a total contrast to the harsh, arid beauty of The Red Centre. There is no better place than
Katherine
where the tropics meet the outback, with sheer cliffs, hidden natural waterfalls and freshwater beaches. As a haven for wildlife, ancient cliff face aboriginal rock art, bushwalks and the possibility to take a scenic flight over any of the beautiful 13 gorges winter is the season to get your outback adventure started.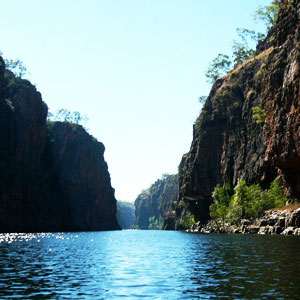 To experience these unbelievable qualities of Northern Territory's Top End, Knotts Crossing Resort is the perfect base. At only a 2-minute walk from the Katherine River and surrounded by tropical gardens, it is the perfect place to enjoy cool beverage and dust off that book you have been dying to read all year. Knotts Crossing Resort is just minutes away from Edith Falls, Cutta Cutta Caves, Elsey National Park and Katherine Gorge.
For the more adventurous, Gecko Canoeing and Trekking offers a great way to discover Kakadu National Park and Katherine River. With Gecko Canoeing and Trekking, you don't have to be a professional as the company offers tours for the experienced and inexperienced adventurer. So pull your hiking boots out of the basement for bushwalking and prepare your arms for all that canoeing down windy rivers.
Western Outback Adventure Winter is one of those seasons that is beautiful and cosy but has a tendency to diminish spirits. With picturesque wilderness, white sands and exquisite rocky scenery, Western Australia is a magnificent place that is sure to have you saying to yourself, "I can't even remember why I was so down about winter." The Kimberley region experiences its peak tourism season in July and August with clear blue dominating the skies and temperatures averaging around 32°C during the day and 15°C in the evening. Renting a 4WD for your time spent in Kimberley will not go unappreciated with the change to explore the abundance of ancient mountain ranges cut through with sandstone and limestone canyons that have appeared due to the extreme monsoonal climate in the summer. Join one of the many experienced 4WD operators or, for the more adventurous, rent one yourself and make your own tracks through the age-old region.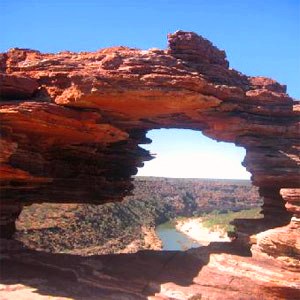 Take a walk on the wild side through Tunnel Creek National Park in Derby, Western Australia's oldest cave system that will have you oo-ing and ah-ing at every possible moment. Walk right through this cave system to the other side of Napier Range all the while wading several permanent pools as well as observing bats and the stalactites that cascade from the roof.
Don't remain cooped up at home this winter wishing the season was over, take advantage of all Australia's north has to offer. From the East to West Coast of Australia, there is something for everyone. Pick your destination, pack your bags and make this winter one to remember!
By AGFG contributing writer Olivia Yacoub