Book by Cherie Bevan and Tass Tauroa.
Try as you might to resist, the exquisite delicacies and mesmerising richness of the sweets, treats and delectable desserts inside The Cook and Baker by Cherie Bevan and Tass Tauroa are near impossible to deny.
Dancing across tastebuds to arouse memories long buried of prized, after-school snacks and your mum and grandmother's favourite delights to create, perhaps a dark rocky road stuffed with fluffy marshmallows or a summer pudding oozing with vibrant, red juice; each dish is sure to leave you longing for a taste. Luckily, just a few simple instructions are all that's needed to re-create these tempting foods at home.
Although only meeting each other for the first time in Sydney in 1994, a childhood in New Zealand and a long-term shared pleasure of food brought Cherie and Tass together in a commercial kitchen and recently inspired them to collaborate in creating their own, increasingly popular Bondi Junction venue of the same name: The Cook and Baker. It is from the demand for delights like baked lemon and rhubarb tarts and a cabinet full of tantalising pastries that they collaborate on again through the pages of this charming recipe book.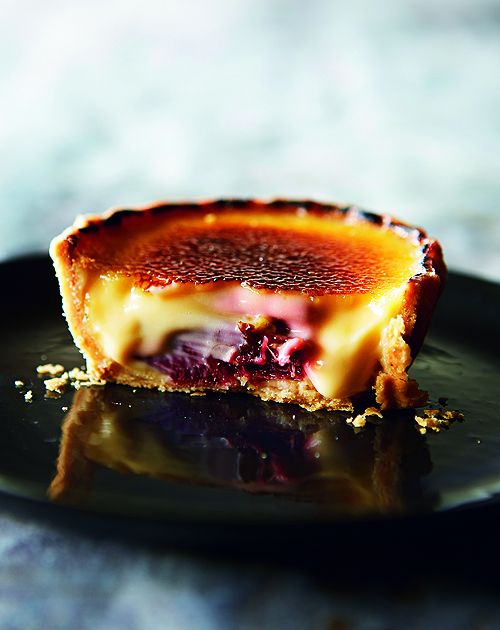 Baked Lemon and Rhubarb Tart, p. 64.
While crowd pleasing favourites like vanilla custard donuts and raw brownie balls cater for modern tastes, long-time classics of the likes of shortbread and New Zealand favourites like Afghan cookies and lolly cake inspire nostalgia for days gone by. Cherie and Tass explain that the recipes within the cookbook and also replicated in their cafe are, for them, reminiscent of the generous aromas and tastes emanating from the family kitchen they grew up in. Opening a cafe to bring back near-forgotten flavours proved to them they weren't the only ones craving the rich, dense cooking of their mother's faded handwritten recipes from the previous century. Many Sydneysiders and travellers from near and far still want to enjoy biting into a lamington to find sticky, homemade jam and a liberal layer of cream.
Sumptuous, savoury memories relived through food are also dedicated in a section towards the back, overflowing with pies and tarts made to be shared and enjoyed with friends and family. Think a roast pumpkin, ricotta and caramelised onion tart with an irresistible pizza dough base, sliced like a cake with the tang only quality parmesan can provide or for a meal for one, indulge in a toasted sandwich oozing melted cheese over layers of thick cut ham.
Though the recipes in The Cook and Baker are not hand-written, nor faded like those of their mothers' coveted scribblings, they are inspired from family recipes that the Chef and Baker believe should not be held secret – after all, many memories are made when sharing cake.
By Julie Johnson.
Recipes and images from The Cook & Baker, by Cherie Bevan and Tass Tauroa published by Murdoch Books.