Not Just Carbs & Creams, Pasta Is Art
Buon giorno foodies! Although spring has sprung and we have waved the last of our goodbyes to soups and scarves, there must be an exception that should linger a little longer; pasta. And what better way to learn than from the Italian wonder chef Lucio Galleto himself? Combining his passions of both food and art, 'The Art of Pasta' is filled with 160 authentic pasta recipes, written by Lucio Galletto & David Dale complimented with artwork by the very talented Luke Sciberras and photography by Anson Smart.
Raised in the Northern Italian region of Liguria, Chef Lucio Galletto is from a family of restaurateurs and proudly continues the family tradition of producing sophisticated Italian food to media and political luminaries and artists.
Confident in his belief that it was the Italians who perfected the art of pasta making, Lucio Galletto swallows his pride early in the book and sets the record straight on the history of pasta, admitting that the origins of fresh pasta lie with the Greeks "who passed it on to the Etruscans and the Romans some 3000 years ago." With fond childhood memories of fresh pasta and family cooking, Lucio Galletto emphasizes to readers that participation in food preparation is one of life's little pleasures that everybody should try.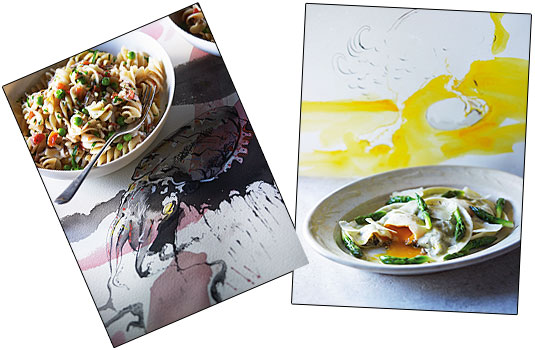 Galletto teams with cowriter David Dale, journalist and writer, to provide essential tips and tricks for an array of pastas; their combined knowledge in 'The Art of Pasta' makes for a cookbook that promises to be the new best friend of any foodie with a penchant for Italian. This book is a ready assist and possible problem solver for any difficulties that may occur during the trial and error of authentic pasta making from scratch.
Another worthy pasta consultant is Executive Chef at Lucio's, Logan Campbell, who also makes an appearance throughout the book. Contributing some contemporary interpretations on classic pasta dishes for the more adventurous cook, Campbell is as persistent as Galletto in pushing the theme of experimentation and having an open mind in the kitchen: "It was also my intention to push the boundaries a little with some of my recipes here, so that you might increase your confidence and be inspired to try new things."
With dishes like the mind-blowing potato gnocchi with gorgonzola and pistachios, who could say no? However, it's not all carbs and creams. This book also includes a variety of soups, broths and sauces to add to the piece of little Italy you have just rolled out of the pasta machine. From Lucio Galletto's signature pesto (fondly referred to as the 'king of sauces') to a light veal and pork tortellini in chicken broth, all recipes within 'The Art of Pasta' are absolutely mouthwatering.
For those who prefer, homemade pasta without sauce is also covered in colourful springtime dishes such as the savoury beetroot ravioli, an unusually delicious mixture of beetroot, ricotta and pecorino dressed with melted butter and poppy seeds or the rigatoni with calabrian pesto, a spicy version of pesto gaining its heat and fiery appeal from its use of red chillies and capsicum. The green pappardelle with Balmain bugs contains a gorgeous mixture of lobster and wide ribbon pasta, simplistic in both preparation and cooking and serves as more of a broth than pasta. Rest assured, you will be certain to find a dish that does not disappoint.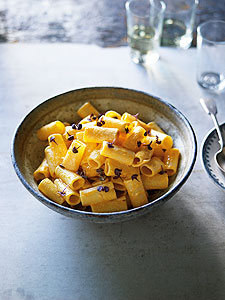 Whether spaghetti or orecchiette, 'The Art of Pasta' has a recipe for every occasion. An artistic hardback, this book is thoroughly enjoyable for amateurs and professional pasta makers alike and clever décor for the kitchen when not in use. In the form of one Lucio Galletto, "buon appetito e buon divertimento!" Enjoy the food and enjoy the view.
Sample Recipes from 'The Art of Pasta'
We've described some delicious dishes, though if you're not completely convinced there are three you can try out before purchasing this spring release from Penguin Lantern. Directly from the pages of 'The Art of Pasta', you can try:
Rigatoni al Pesto Calabrese, "In the southern Italian region of Calabria they like it hot, and this fantastic version of pesto is fiery in both taste and colour."
Fusilli alle Seppie e Piselli, "If you cannot buy the cuttlefish already cleaned, it is easy to do at home – messy, but easy."
Ravioli con Uova D'anatra, "This dish is a play on some classic flavours - eggs, asparagus and truffles."
By AGFG contributing writer Brittany George