Macedon Ranges and Spa Country truly is another world! Less than an hour and a half from the hustle and bustle of Melbourne's CBD lay some of Australia's finest restaurants and boutique wineries.
Daylesford is at the centre of Victoria's Spa Country and is a destination unto itself. The streets are lined with trees that blaze with colour in autumn and looming within the historic buildings are an impressive selection of restaurants, cafes, galleries and chocolate shops.
Beyond the town itself, discover misty valleys, rocky outcrops, and hidden vineyards. Daylesford is alive with zealous viticulturists providing the wine traveller with an exhilarating occasion to discover the area. One such vineyard not to be missed is Passing Clouds, nestled in the beautiful countryside of Musk, just outside Daylesford.
Passing Clouds Winery Established in 1974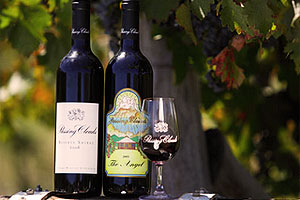 In fact, the history of Passing Clouds dates back to 1974 when Graeme Leith and partner Sue Mackinnon chose a site in a dry area northwest of Bendigo to plant their vines – they initially chose shiraz and cabernet sauvignon, components of a classic Aussie blend. Working on the principle that enthusiasm triumphs over professionalism, Graeme and Sue committed to minimal chemical input.
Years of passionate dedication and attention to detail followed, culminating in the 1982 Shiraz Cabernet winning gold at the Melbourne Wine Show. Since then the Passing Clouds name has become synonymous with exemplary quality and enduring character.
Their Winemaking Operation in Daylesford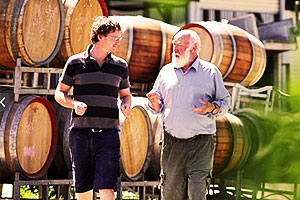 During the recent decade of drought that plagued much of the country, the Bendigo crops gradually diminishing and a succession plan was put into action. Recently Graeme and his son Cameron (who has taken over the winemaking) relocated their winemaking operation to Daylesford. Sixteen semi-trailer loads later the Daylesford vineyard is now located high on the north facing slope of the Great Dividing Range, 771m above sea level defying drought and boasting superb views.
Most of the Passing Cloud fruit now comes from the Daylesford vineyard which is equally meticulously cared for as naturally as possible. They continue to produce their acclaimed Bendigo reds courtesy of their friends the Adams at Riola, however, the emphasis has shifted to cool climate Pinots, Chardonnays and Sparkling Wines.
"The job as winemaker is to allow the fruit and terroir of the vineyards to express itself. The intensity and individuality of the fruit is born from the locations it comes from, as winemakers we guide the fruit from vineyard into bottle gently, using traditional winemaking techniques," maintains Cameron.
The Wine – Fruit and Terroir Expression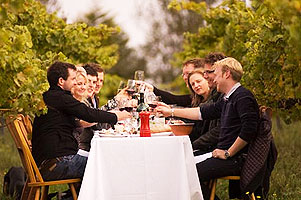 Passing Clouds have rightfully earned widespread acclaim for their straight Shiraz, Cabernet and Sauvignon (indeed the 1980 Shiraz Cabernets are still drinking beautifully), and Graeme Leith has long enjoyed a reputation as a top Pinot Noir maker. As Cameron takes over the winemaking he is upholding his father's philosophies prizing balance, restraint and character. Modern theories are being used (sparingly), particularly with the higher percentage yields of Chardonnay, Sparkling and Pinot from Daylesford.
In the newly released James Halliday 'Australian Wine Companion 2012', Passing Clouds were awarded a coveted 5 stars for Graeme's Blend Shiraz Cabernet, 2008 and The Angel Cabernet Sauvignon, 2008 - both received a rating of 94 points; their Bendigo Shiraz, 2009 also received an impressive 93 points. These wines will be among those first released on the Annual Wine Release day at the new cellar door in Musk, Saturday, October, 22.
Passing Clouds wine is available via cellar email or from the new cellar door in Musk, 11am - 5pm seven days.