Eating Dessert First Never Tasted So Sweet
With Mother's Day in May in mind, we turned to The Australian Women's Weekly publications for this month's recipe book review as word of mouth on their latest release, Sweet Treats was full of sugar and spice and everything nice.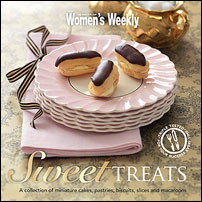 Since their first cookbooks were published more than three decades ago, they have sold more than 70 million books – translated into a dozen languages – in more than 100 countries. The secret to Australian Women's Weekly Books' (and my) success most likely lies in their philosophy of user-friendliness; as with all their cookbooks, each recipe in Sweet Treats is triple tested. Along with a handy pictorial equipment guide, glossary, conversion tables, and easy to follow tips on topics like making chocolate curls and handling pastry, you'll find ingredients and quantities that actually exist in supermarkets.
Upon opening our copy of this decadent collection of pastries, biscuits, and slices straight away Ernestine Ulmer's famous remark came to mind, "Life is uncertain. Eat Dessert first." A word of caution: When you decide to make and bake your favourite Sweet Treats recipes, do exercise utmost caution and vigilance, or you may well find your labours of love suddenly, mysteriously disappearing without a trace…
It all started with the Frozen Raspberry Truffles - you'll find these little gems on p.29. Everything had gone swiftly, simply and according to plan (unlike my previous truffle attempts mind you); I'd sieved the raspberries into a liquid, stirred that into Chambord, cream and melted chocolate then poured the lot into dainty petit four cases, bound for the freezer.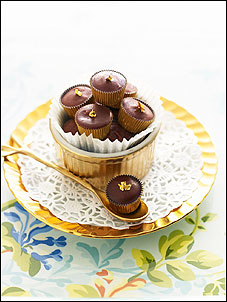 Like an impatient mother hen I checked their progress every few minutes. Then, within moments of them setting, my generous batch of 36 had dwindled by a third. Had I counted correctly? Had someone devoured them while I wasn't looking? Or was the Chambord playing games with my memory?
This alarming phenomenon repeated itself the next day, when I unleashed the truffles on my unsuspecting colleagues. The response was of unanimous delight. A usually health-conscious staff member who shall remain nameless could barely contain her obvious and very vocal pleasure while savouring every slow, silky toothsome bite (a supplementary video clip would be nice at this stage). The leftovers were safely stored away but alas, they were soon nowhere to be seen.
Flick through the pages of Sweet Treats and the explanation is clear. Everything in this book can only be described as irresistible. Beautifully styled and photographed, this book is a visual feast of cakes, pastries, biscuits, slices, chocolates and other delectable delights that are as exquisite to behold as they are to taste.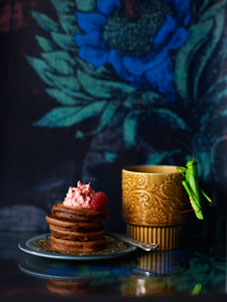 Featuring innocent strawberry powder puffs and grown-up rosé wine jellies, familiar favourites like vanilla passionfruit slice and the more exotic chocolate gulab jaman with orange cinnamon syrup, and a whole chapter dedicated to chocolate – try the Chocolate Pikelets with Raspberry Butter if you dare (p.58) – Sweet Treats has recipes to tempt every taste and level of expertise. Another recipe to try is Coffee Meringue Kisses (p.201), a combination of the light delights of life which all goes to show if this book doesn't inspire you to reach for the apron and dust off the muffin trays, nothing will.
Despite impressive appearances, the recipes in Sweet Treats are deceptively easy to make. I'm no greasy spoon but I was admittedly suspicious when my efforts turned out looking just like those in the pictures. I was obviously doing something right and so, it seems, is Australian Women's Weekly ACP Books. Attesting to the quality we have come to trust, synonymous with the AWW brand, you will surely share my enthusiasm when fingering through the pages of this delightful publication.
Passing a copy around the office, we noticed straight away that each goodie is plated up and artfully displayed in a unique photographic portrait, each remarkably unique and visual eye candy in and of itself. One of my colleagues selected her first recipe to try simply because it was displayed with an antique tea mug reminiscent of long lazy afternoons spent with her grandmother.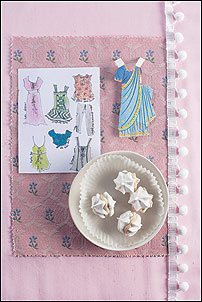 Whether you're a beginner cook or seasoned patissier, Sweet Treats is a great addition to any kitchen library. Inside it you'll find delicious inspiration for desserts, snacks, treats and gifts that are sure to impress… If they don't 'disappear' down your throat first.
Sweet Treats is published by ACP Books and is available for purchase online http://www.magshop.com.au/Sweet-Treats/
If you're tempted to try out a few recipes before shopping online for your own copy, here are a few to try:
Frozen Raspberry Truffles, p.29
Chocolate Pikelets with Raspberry Butter, p.58
Written by AGFG staff writer Belinda Moo