Travel feeds the soul but more importantly, it satisfies curious and voracious appetites - Jennifer Joyce.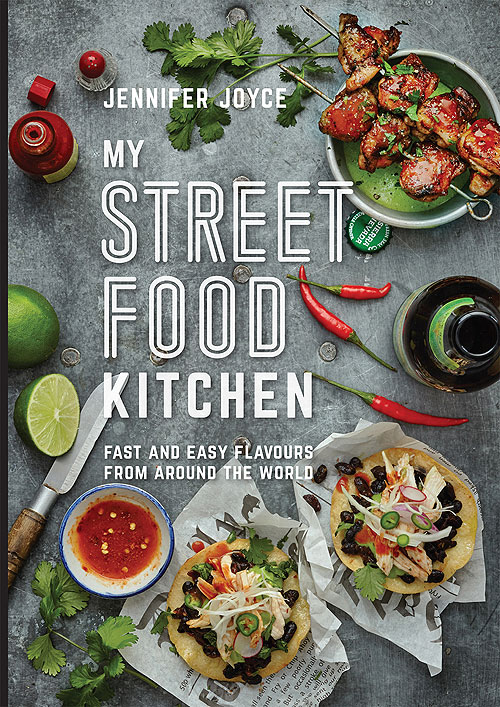 Open the colourful cardboard cover of My Street Food Kitchen by Jennifer Joyce and discover a world of exciting spices, exotic flavours and tangy treats collated from bountiful regions all over the globe.
Decades of travel, a passion for flavoursome food and a knack for writing have resulted in Jennifer's street food bible; a compilation of over 150 global recipes that place a passport to enjoying the world's delights in the palm of your hand.
The world is now not only your oyster, but your taco, your pulled pork sandwich, your Bao bun and your crispy spring roll. Just the mention of a dish, say Peruvian Anticuchos tasted long ago, in some far-away place, can stir memories of adventure, discovery and a thrilling hint of the unknown. It is from this idea – a whispering of memories - that Jennifer takes her inspiration, ready to help you to re-create an experience and inspire you to discover more as she too has done for herself with the help of this cookbook.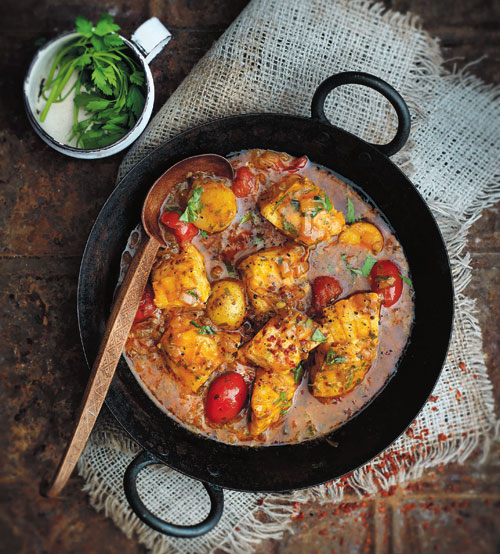 Chermoula, Tomato and Fish Tagine p.126.
Begin a culinary journey with family and friends by delighting in dishes designed to share, exploring foreign flavours together from sections; New American Food, Mexico and South America, Flavours of the Mediterranean, Middle Eastern Cuisine, The Best of China and Taiwan, Japan and Korea, South-East Asia and a Passage to India.
Guiding the way at the start of each recipe, Jennifer gives a description of where the dish is found, transporting you to a place full of bright colour and unfamiliar sound until you are smelling the dish for yourself before you've even begun to cook. Picture yourself surrounded by the aromas of spices like cinnamon as they permeate the streets of Morocco, wafting from market stalls to footpaths and swirling around a buzz of people before donning an apron and preparing a tangy Chermoula, Tomato and Fish Tagine.
These meals need not be an arduous process. Simply scan over a quick Tricks of the Trade section towards the end of the book for tips on how to cook like a pro at home. Take time to browse over a few pages dedicated to extras and simple sides at the end of each chapter to help you complete a destination dinner with all the authentic accompaniments, from a Brazilian churrasco with three sauces right down to baked tortilla chips with escabeche, guacamole and grilled corn on the cob.
Surprise yourself with the vibrancy of authentic style dishes, easy enough for relaxed weekday meals, yet exotic enough for a special night with international flair. Simply grab a copy of My Street Food Kitchen and start exploring.
By Julie Johnson.
Recipes and images from My Street Food Kitchen by Jennifer Joyce, Published by Murdoch Books. Can be purchased here for $39.99.