'Green is good' is essentially the motto of cookbook Good Better Green by Zita Steyn, a collection of inventive recipes that are designed to help the home cook include more green ingredients into every meal.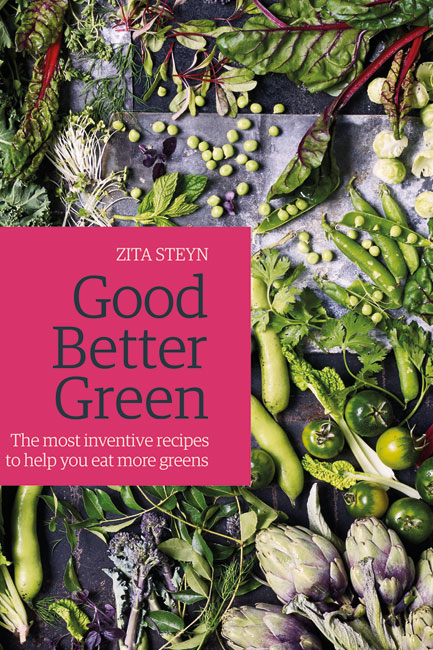 It is the perfect kitchen companion, whether cooking for one, or cooking for a crowd with plenty of variations from mid-week meals suitable to prepare quickly on any night of the week through to lunchbox snacks, hearty breakfasts designed to kick start the day and even dips to have your party guests munching on greens before the main course.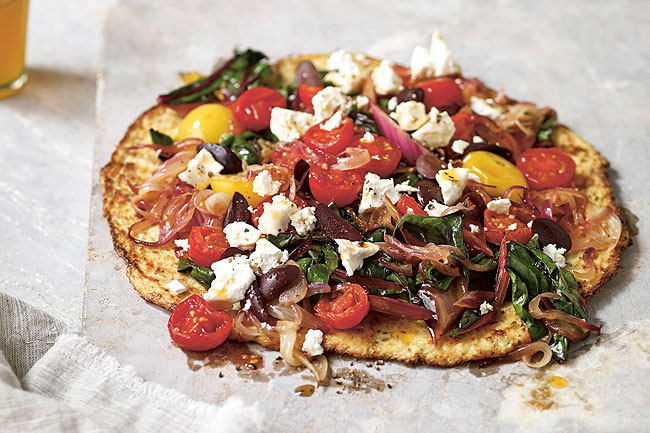 Grain-free cauliflower "pizza" with chard and olives, p.92.
Will your family and friends know your tabouli is mostly broccoli and quinoa? Can the kids guess that what really lies between the crumbs of their decadent chocolate brownies is actually zucchini? Only a try and a taste will answer these questions. Test these recipes on unsuspecting receivers and watch as they devour the whole dish without a second guess. Victory will be yours - and theirs too, though they may not know. Are you ready for a healthier alternative to boost your insides, sure to have you feeling good and looking great? Then go right ahead, open up to the pages within and begin!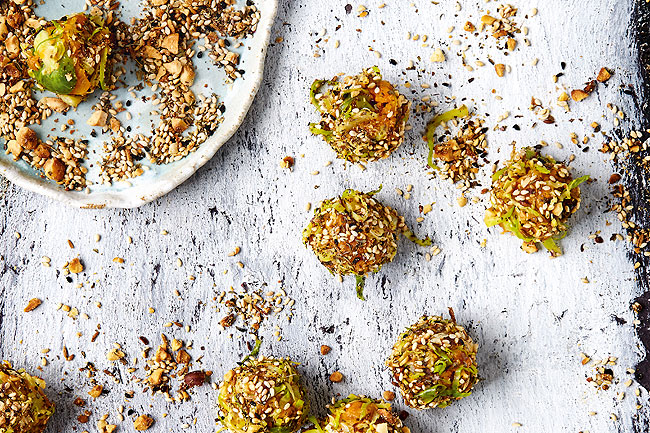 Pumpkin, sprout and sage "truffles" with dukkah, p.58.
Follow the advice, tricks and tips of Zita, a talented nutritional chef, through the pages of 90 creative and inspiring recipes broken down into easy chapters covering every meal of the day. Each dish is designed to be a more nutritious version of itself, from grain-free cauliflower pizza with chard and olives, a pizza alternative based on the Paleo diet, to a three tiered apple and green cabbage cake with cream cheese frosting, deliciously moist and impressive in appearance.
While the kids may think they are being sneaky by stealing a pumpkin, sprout and sage truffle with dukkah, really it is you who is sneaky for making these gloriously delicious morsels of nutrition in a kid-friendly snack. Suddenly, by making a mix of vegetables, seeds and spices into bite-sized portions, consuming a healthy snack becomes a fun experience.
Jump on the green juice craze with starter smoothies made for those apprehensive about enjoying anything green for the first time, or if you already meal prep like a professional athlete and love eating with clean nutrition in mind, flip straight to recipes such as the green gazpacho, a cold summer soup filled with all things green designed for those committed to the cause.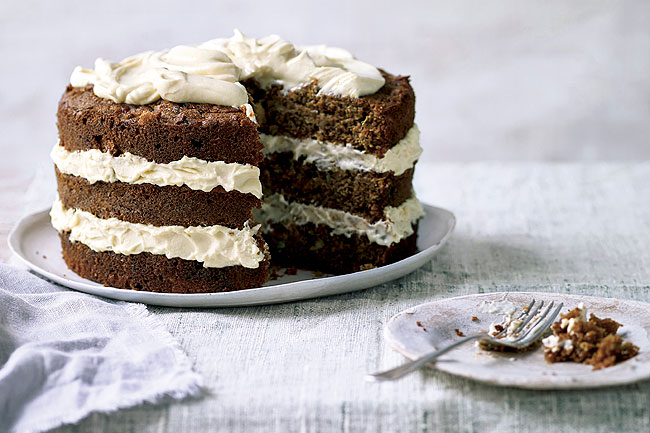 Apple and green cabbage cake, p.143.
With more and more people becoming aware of how crucial it is to eat well, it is the perfect time to get your hands on a copy of this cookbook. It may just change your life – the key to eating well is being inspired to create exciting dishes that can supply a large amount of vitamins and minerals in just a few bites. If this can also be an enjoyable experience, you have a recipe for success. In Zita's own words, '…serve up a meal that is not only medicine for the body, but also food for the soul.'
Images and recipes: This is an edited extract from Good Better Green by Zita Steyn published by Quadrille $29.99 and is available in stores nationally.