From the Lanzafame Home to Yours
Bringing it home with "Family Italian," last year marked John Lanzafame's latest critically acclaimed cookbook endeavour which places emphasis on the heart and hearth of old fashioned European cooking inspired by la Lanzafame famiglia. The self proclaimed winter chef offers great ideas about cultivating fresh ingredients, the science of creating pasta from scratch, and brings forth truths for the aspiring chef to live by in the kitchen, stemming from the perpetual garden and growing into a wealth of modern fusion food with a healthy dose of hearty Italian rich with preparation secrets.
John Lanzafame literally grew up surrounded by an Australian garden rich with Italian spirit; the Lanzafames used old country gardening techniques and tips that covered their culinary bases by growing many of their own ingredients: On their land they cultivated at least two or three fruit trees, an olive tree, all the salad leaves, and every kind of bean. Cooking and eating only seasonal produce, and curing meat to prolong its shelf life, their family dining boded a new dish each and every day.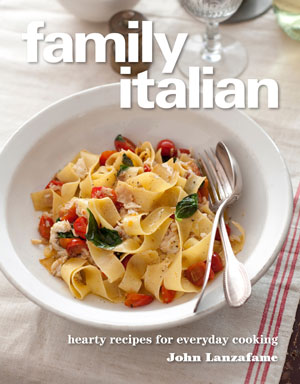 The trusted author, know for his 2008 World Champion Pizza Maker title, enjoyed great success with his first cookbook, "Pizza Modo Mio," which was widely released by Murdoch Books and very popular with the foodie consumers, especially the version released with it's own baking stone pack. Though the purchase of his second book may be less of a novelty, you may not need a baking stone afterall since you may decide it's the grill recipes, taking a modern Australian spin on traditional Italian cuisine, are in themselves enough of a page turner. The segment on building a backyard grill, including a how to step-by-step photo montage, is a distinctive addition to an already outstanding compilation of creative cooking ideas.
An Albums Worth of Earthy Photos
"Family Italian" is a family photo album of sorts as John's mum inspired many of the recipes; where she leaned on the old style of cooking John has lit the creative fuse, combining her brilliance with a slightly alternative modification. Though the photos are mostly of food, John and his family are shown as well –which makes sense considering that this is the thematic tie that binds the book. Just as he gives due credit to all the support he's received from his family over all these years, when you cook for your family using his book, surely your family will feel the love as well.
Flipping through the colourful folds of "Family Italian" is a culinary journey which flows together nicely in logical sequence. This book is subdivided as one would expect, starting with Assaggini snacks to start, and concluding with Dolci sweet somethings to conclude; every Italian delight you can imagine is included –and others you've never dreamt of- and the natural build up of food complexity means you know where to flip depending on your commitment to creative culinary learning and sense of adventure. Some recipes are easier than others. For the healthy salad and seafood lover, try Smoked trout & cos lettuce pressed salad which comes out in a roll not in a bowl which is an intriguing end result.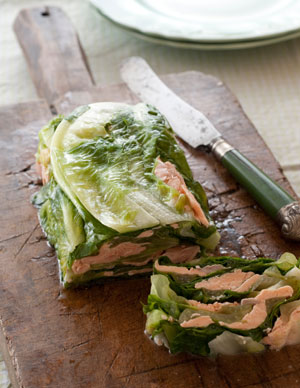 Even the unfamiliar recipes introducing new techniques are fashioned simply and delicious by design. Some dishes can be concocted from only four or five ingredients compared to others that slew towards sheer involvedness though I must say, Lanzafame's "mix 'n' match" section has an encouraging character about it as there's so much freedom left up to the reader in how they create the concentration of flavours. One pan, one pot, or one casserole dish? All is allowed and he encourages you to insert some personal flare at the end, "finishing the dish with whatever you love."
Have you marinated your own olives lately? Consider citrus flavouring –there's a simple recipe for you. Have you made your own pasta dough and pressed palatable prawn ravioli in the recent past? Perhaps one to try when you've woken up with ambition; the recipes are not hard rather some require a meticulous approach. No matter what your motivation, there's something to be said about sweets. Even if you don't have that toothsome craving yourself, surely there's someone amongst dear family and friends just waiting for you to serve them a delicate delectable and none can top the classically Italian Tiramisu serving 8, shown in "Family Italian" with a close up photo of his nine year old eldest daughter, Isabella.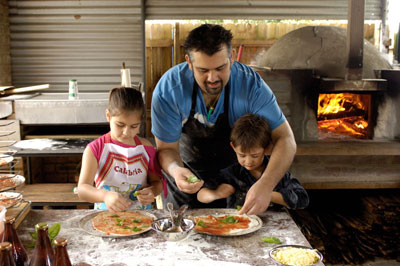 Amongst the appetizing recipes and earthy photos are pieces of Lanzafame history which tell a tale leading to delicious happy endings. From an introduction to an historic Southern Italian tradition when the community comes together for crushed tomato preparation during the harvest (passata) to the perpetual garden concept based on how our seasoned chef grew up and began relating to fresh ingredients in his own way. Essentially his roots included a large Australian garden with the application of technique from their European ancestry. Nothing wasted is the ethic that's carried on and the cultivation of source ingredients, anything that could grow regionally, is strongly encouraged.
With helpful tips in abundance and a generous sharing of family secrets translated with some culinary genius from award winning chef John Lanzafame, "Family Italian" invites you to aspire and leaves you with some wisdom and roots to emerge from along the way. Even if you're trying a new recipe and get a little lost, this is one of those cookbooks full of inspiring food shots so you're more than taken care of regarding visuals; it's a beautiful read with sensational dishes.
Written by AGFG staff writer Kelly Korpesio.