Both highly esteemed in their respective fields, Photographer Philip Kuruvita and Chef John T. Bailey have combined their extensive knowledge and spellbinding passion to create Tamar Valley Pantry, the first in a series that rejoices in the abundance and quality of Tasmanian produce.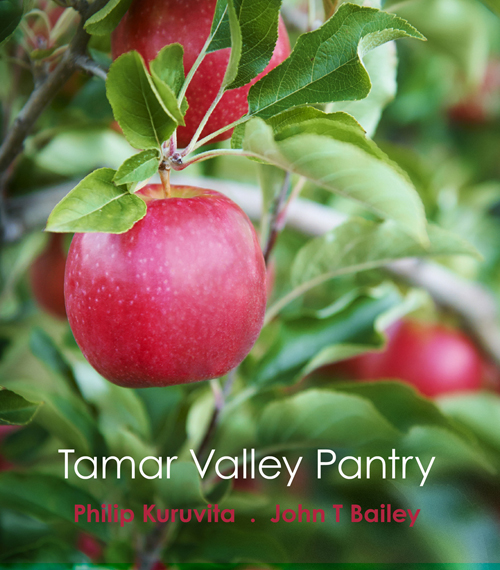 Enter here to win your very own copy!
John T. Bailey has experienced a well-rounded career, travelling and creating food that excels on an international scale, working at world-renowned venues and incorporating the planet's best produce into his dishes. He inevitably makes his permanent home where he can be surrounded by the high quality produce he loves and is so passionate about, in Australia's state of Tasmania.
Internationally recognised and renowned as a leader of contemporary photography, Philip Kuruvita shares his talents in Tamar Valley Pantry. Much acclaimed, Philip has been awarded Tasmanian Professional Photographer of the Year five times over, is Tasmania's only Grand Master of Photography and among other accolades, has served on the Board of the Australian Institute of Professional Photography for a many number of years.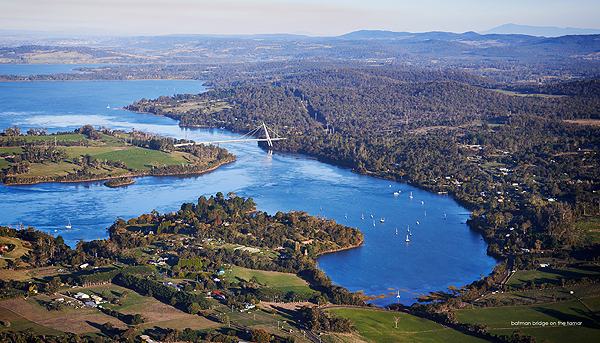 Batman Bridge on the Tamar.
From page to page, Tamar Valley Pantry explores the region's most favourable qualities. Nestled in fertile valley terrain beside the Tamar River, Launceston and the surrounding regions are home to some of the most exceptional artisan food producers in the country, and perhaps even the world. Lush farmlands are accentuated by tantalizing cool climate wines and distinctive craft beers. The Tamar Valley has more than earned its commended reputation as a gourmet haven, a place worth visiting for not only the picturesque views and clean air, but the fresh fish, decadently creamy cheese, sought-after truffles, infused oils and all the fruits primary producers can harvest from rich soil.
In this mesmerising collation of recipes and tales of Tasmania's flourishing small business owners, readers are spoiled with the imagery, recipes and stories of small businesses and producers who count themselves lucky enough to belong to such a thriving land.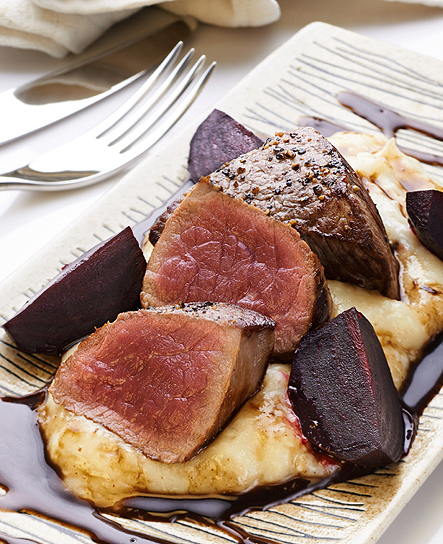 Roasted Venison Medallions with Beetroot, Horseradish Mash and Velo Caramel Sauce p. 196.
Fall in love with every turn of the page, from soft winter landscapes as the mist rolls in between the trees, casting a panorama in calming grey, to the fiery red sunsets pitching colours through the clouds and reflecting back up into the sky off the surface of still waters.
From orchards to vineyards, rows of flourishing lavender and jars of sweet honey, these images create a nostalgia for residents of the Valley and those that have visited before, and inspire those who haven't been to clear their schedule to go.
Leave this book out on the coffee table, or tuck it under your arm as you head into the kitchen and draw from the techniques and mouth-watering recipes within. Foodies, wine buffs and travel bugs are sure to be enraptured by the beauty, the potential and the wildness of Tasmania's Tamar Valley.
By Julie Johnson.
Recipes from the book Tamar Valley Pantry by Philip Kuruvita and John T. Bailey, published by Philip Kuruvita Photography. Get your own copy here.
More delicious recipes:
Pulled Lamb Noisette with Dutch Cream Potato Rosti and Savoy Cabbage Lamb Broth.