Publication Date: 21 March 2012
Memoirs of Our Very Own Food Writer
Relentlessly forging new ground, renowned food writer Stephanie Alexander is a constant companion for those who've turned to her trusted food articles and cookery books since the early eighties. "A Cook's Life" is her 13th book, a long-anticipated memoire encapsulating the details surrounding those parts of her life she deems most important.
With a propensity for offering up gigantean books of knowledge, Stephanie has written neither an autobiography nor a chronology of day-to-day life, rather narrowed down "A Cook's Life" to a modest (by her standards) 362 pages. It explores the most significant aspects surrounding Stephanie's Restaurant, "The Cook's Companion" - first released in 1996 - and Stephanie Alexander's Kitchen Garden Foundation.
Her cherished memories and photographs are an intermingling of food, friends and family, with special credence placed on those relating to the greatest achievements in Stephanie's personal life, her daughters Lisa and Holly (respecting their privacy whilst writing).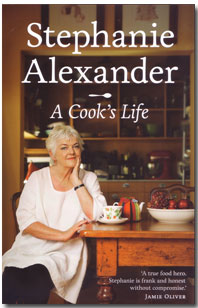 A True Companion in Stephanie Alexander
Long-anticipated by fans and accessible to those who are just being introduced to the epicurean author, who always strives for excellence, "A Cook's Life" is an introspective reflection on the busy life of a woman, with humble beginnings, who has contributed greatly to the Australian gastronomic world as we know it today. Just as cooks turn to their trusted copy of "The Cook's Companion" with religiousity, readers will naturally gravitate towards the honest prose of "A Cooks Life", with its reflective narrative welcoming them with open arms.
On the matter of Stephanie's Restaurant success, attributed alongside 21 years of service, our perfectionist author reveals that customer feedback was almost always positive. Though Stephanie Alexander has become a culinary legend not only for the high quality and ingenuity of her food but also for her industry contribution; over the significant time span of Stephanie's she influenced and trained a great number of hospitality workers, including now influential chefs such as Neil Perry, and restaurateur chefs Nicky Riemer and Annie Smithers who work as independent entrepreneurs.
Stephanie's candid tales begin with her growing up years, span through her days as a restaurateur and describe a world that her readership has come to know through her books - this time it emphasizes personal nuance and chronological detail. "A Cook's Companion" was originally released in 1996 (bound in orange, a perfect match to the current hardcover copy of "A Cook's Life") and was re-released in 2004 with its famous candy-striped sheath; one version or the other now sits on the shelves of over 500, 000 people, an encyclopaedia of food that is reached for oftentimes on a daily basis.
Stephanie Alexander's Kitchen Garden Foundation
Make no mistake, there is a life story lining these pages and it is truly an inspirational one as it can only be when compiled by an individual full of ideas, honesty, and integrity. At the wise age of 71, Stephanie Alexander remains busy, spending her weekdays as an advocate for her highly influential Kitchen Garden Foundation that began in 2001. Originating in one school, the foundation's education program has now expanded into over 200 schools across Australia and fuels children's passions for growing food and entertains them in the kitchen, promoting an active and fun approach to healthy cooking.
The front cover of her new book includes a quote from Jamie Oliver, "A true food hero. Stephanie is frank and honest without compromise." Jamie has visited the Kitchen Garden Foundation's active demonstration garden a few times and is now part of their membership; he remains impressed by the program, not only for its growth, but also for their continuous ability to lobby and acquire funding for the not-for-profit organization - a battle he is all to familiar with.
An author who has accumulated over 200 hundred notebooks over the years, not to mention the computer files saved as she advanced technologically, the question remains, what finally moved Stephanie Alexander to write "A Cook's Life"? No easy feat, an emotional journey – sometimes painful and oftentimes happy – she scoured notebooks, travel notes, to-do list et al. and amongst the reference materials stood the unpublished memories of her own mother, Mary Burchett. They were written at the age of 69, paralleling the very age of Stephanie Alexander herself upon opening the precious pages – this brilliant career woman took it as a sign that it was time to reveal her story of the trade and the truths of her life.
There are very few, if any, Australian restaurateurs with the accumulated experiential knowledge of Stephanie Alexander, especially those who are willing to sit down and write it all out. As such, "A Cook's Life" is a personal account revealing important developments in Australia's culinary scene; in her world, that of an epicurean and educator, food is an expression of our culture. As a writer Stephanie Alexander is once again a most hospitable host, opening up and offering all that she has experienced without hurting anyone along the way.
Stephanie Alexander discussed her new book, life and the writing process with us in a thoughtful interview. Her bio brief is also availabe online in Stephanie Alexander's Chef Profile.