01 February 2012
The Answer to Life is Cooking
You know how some cookbooks are logically organized, starting with breakfast and ending with dessert? This is not that kind of cookbook. You know how some cookbooks are basically recipe compilations bound in a cover? 'Kitchen Coquette' isn't that one either. That's because it stands alone, self-defined as "The Go-To Guide for Those Random Life Scenarios When Food is the Only Answer".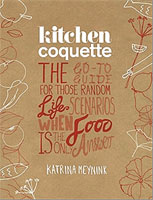 At first it's hard to tell if author Katrina Meynink is first and foremost a writer or a cook. Her biography reveals the facts, that she's a professional journalist who has pursued some serious foodie credentials including a Masters in Gastronomy at Le Cordon Bleu and the University of Adelaide. Following that, 'Kitchen Coquette' is her first cookbook written whilst training to become a professional chef; as such there's as much creativity & credence in her recipes as there is humourous aplomb in her forwards.
Gourmand World Cookbook Award Winner 2011
It's the latter that sets 'Kitchen Coquette' apart, not to say that her recipes aren't delicious in and of themselves. Did we mention the crisp & chic photography and urbanesque scrapbook design? Having only graced the shelves of your favourite bookstore this past summer, it has already received the prestigious Gourmand World Cookbook Award for Best First Book (Australia) and there may be more to come.
There's no doubt about it, just like the first time you have sex, it is one of the best feelings in the world to start releasing the passion within. Considering the author's fresh foray in 'Kitchen Coquette', all that excitement for food writing & cooking expertly matched with the simultaneous expression of life's inevitable experiences – an excellent premise on which Katrina builds – permeates every line, graphic layout, and white space in between. It's not everyday you finger through a cookbook that reads like a story and leaves you sounding like a sitcom laugh track.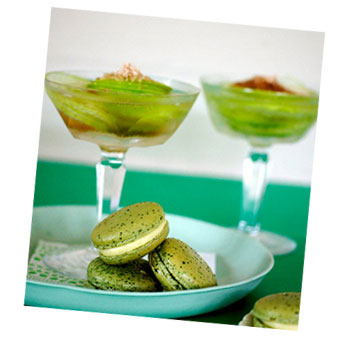 Delving into the nitty-gritty nuances subject to Meynink's masterful spin would be a dead giveaway so I'll leave it to you to purchase this ditty. The structure of her book basically puts order into what is potentially kitchen chaos; she names the kind of event you will inevitably find yourself hosting one day and suggests practical recipes that will ensure that social encounter goes off without a hitch, at least on the food side of things. Chapter four, as an example, conquers Love and Other Bruises, reaching out with recipes for touchy times like the break-up and optimistic culinary possibilities suitable for the make-up.
When it comes to love, if you're "looking forward, falling backwards" the Japanese inspired Drunken Scallops with Ponzu Granita may lead to profound pondering of Buddhist philosophy about the transient beauty that pervades our world (and our kitchens). Following that, Katrina includes Duck Pie with Spiced Figs as an ideal dish for mischief and mayhem, one that will ostensibly leave them begging for more.
Eating Up Delicious Life & Love Food Scenarios
'Kitchen Coquette' is an amusing read, especially during love month when we're really focusing on relationships, feelings and emotions. So often our food focus isn't directly associated with those human elements that are inevitably connected with cooking & eating, however, the author forges this kindred connection with entertaining candour. It seems Meynink leaves no life scenario stone left unturned, then proceeds to suggest perfectly suitable recipes for said occasion or even, in some cases, a full meal plan.

Her giddy introductory chapter covers first dates & anniversaries to gulp, meeting the mates and goes on from there to include those naturally occurring awkward moments that also require home-cooked food such as hangovers (nursing the flung after the fling), friendship divorce, and wakes. Honeycomb Connoli, for example, is a delicious treat guaranteed to sweeten any moment.
I'm left with the refreshing notion that there's never a reason not to have people over as Katrina Meynink is obviously an advocate for opening up your home, especially your dining room, to family & friends at any time, rain or shine, be it cooking for the potential in-laws or preparing for hens' night.
Wondering What the F*$k to Cook for Dinner?
These delicious recipe ideas are offered with a liberal serving of contextual anecdotes that will bring savvy into any scenario. She may not be a relationship expert though Katrina Meynink has a dish that will solve any potentially stressful life situation. Wittiness aside, she's no slouch in the cuisine department even answering with inspiring ideas for those proverbial nights when you thinking, "what the f*$k should we cook for dinner"?
Allen & Unwin released 'Kitchen Coquette' in November 2011 and it went on to win the Gourmand World Cookbook Awards for Best First Book (Australia).
Read more about Katrina Meynink and her company, La Petite Miette – The Little Crumb; her regular blog is entitled The Other Crumb.