Since the arrival of the British to Australia in 1788, their cuisine has had great influence on what we serve at our dinner tables to this day, as well as introducing us to the pub scene which we have adopted as a prevalent cultural norm.
So, as we focus on celebrating all things British, we have rounded up the troops and filed into order the most boastful recipes that will have you eating big, bold and British in no time.
Why not master more than one of these recipes and host a midyear British inspired Christmas dinner, embracing the cooler weather and serving up a menu of classic dishes like veal wellingtons with a delicious Howard's Cantina mash and gravy on the side and a Yorkshire pudding, all finished off with a sweet dessert of traditional spotted dick and English custard sauce.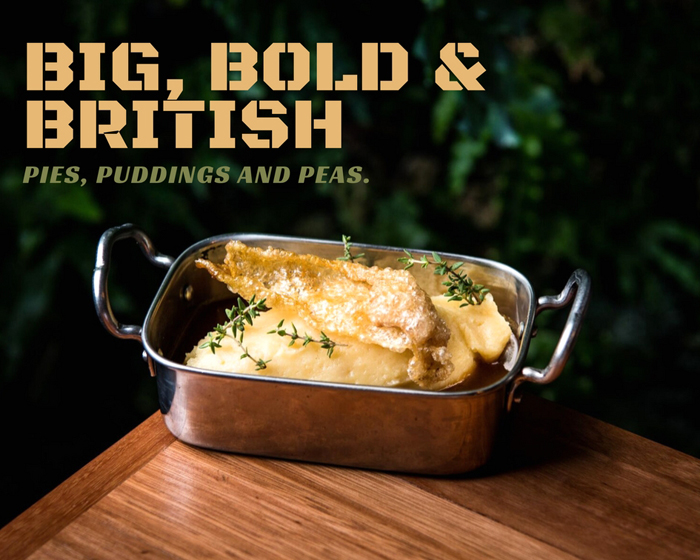 Mash and Gravy with Sugar Snap Peas by Howard's Cantina
Bringing a modern touch to the gastro pub scene, Howard's Cantina exudes a chic and trendy vibe, making this a local hot spot any night of the week to sample a taste of traditional pub food with flair, sharing with us this recipe for their ever so popular 'Silky Mash and Gravy Their Way.' After trying this recipe topped with crunchy chicken skin and podded sugar snap peas, you'll never serve up packet instant gravy again.
Stout Braised Beef Pie by Dove & Olive
Offering Surry Hill locals an authentic pub vibe with a warm and rustic interior and relaxed beer garden, the Dove & Olive's popular dish of Stout Braised Beef Pie is a highlight. Try their recipe in your own home to create these flaky, tasty treats, served with mashed potato and topped with mushy peas. Making eight servings, these pies are ideal for feeding a larger dinner table when guests pop over.
Green Pea Soup with Smoked Ham and Crème Fraiche Dumplings by My Kitchen Stories
For a great cool weather, soul warming dish, try a nourishing soup created with love by Tania from My Kitchen Stories. Incorporated into a base stock are bay leaves, garlic and butter, flavouring this soup beautifully, while shredded ham hock and tasty dumplings are floated atop, lifting this usually humble soup to new heights.
Creamy Potato Pie by Vie De La Vegan
British cuisine is one traditionally dominated with hearty meats, however we have found a delicious recipe for the vegetarian and vegans out there still craving a filling and comforting meal. With the addition of coconut cream, the crunchiness of puff pastry and hints of lemon, this potato pie will be devoured in minutes.
Toad in the Hole by The English Kitchen
Toad in the Hole is an authentic British dish dating back as far as the 1700's, yet its name's origin is still debated to this day. However, most believe it gained its name by referring to the sausages peeking through the gaps in the batter like toads in a hole, either way this delicious invention is a great way to use up any left-over sausages from the weekend barbeque and makes for a fun recipe the kids will love.
Veal Wellington by Les Bistronomes
Any dish that is named after the first Duke of Wellington has to be delicious, right?! Although the beef wellington has been refined throughout the years (such as the use of veal in this recipe), it is still a staple dinner time meal for many of the British. With succulent veal backstrap wrapped in pastry and served with a rich mushroom duxelle, this veal wellington recipe will have you eating as the royals do.
Fish, Chips and Minted Mushy Peas
It is a tradition of the British to take to the seaside when they can to enjoy a newspaper wrapped meal of crunchy fish and chips, feeding seaside holiday memories for generations, eaten with greasy fingers. Who first had the bright idea to marry fish with chips remains the subject of fierce controversy and we will probably never know for sure, but who's complaining! Served with mushy mint peas, try this oh so crunchy, beer battered recipe to create the authentic British masterpiece at home.
Yorkshire Pudding by The Spruce
When wheat flour came into common use for making cakes and puddings, cooks in the north of England used this new product to make use of the fat that dropped into the dripping pan from a roast to cook a batter pudding whilst the meat cooked, and so the Yorkshire pudding was born, now on the plate of any honest British roast dinner.
Peach and Raspberry Eton Mess by My Food Book
Making for a great way to get the kids involved and to finish off a bold British meal, why not whip up an Eton Mess? With the addition of sweet peach and raspberry, this recipe makes for a light and airy finish to any hearty meal.
Spotted Dick by The Daring Gourmet
Snigger you may at the name, but the Spotted Dick dessert is serious business to the British, dating back as far as the 1850s. Given its name from the spotty currants or dried fruit which is used in the sponge, this cake is served with an English custard pouring sauce, making for the perfect afternoon tea accompaniment or dessert for any night of the week.