Bier and Food Matching is courtesy of the European Bier Cafe in Melbourne.
Orval Matched with Spanish Pub Paella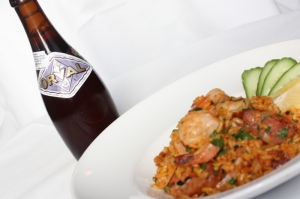 This mix is a bit of Spain and a bit of Belgium – with delicious results. Orval is an authentic monastery-brewed Trappist beer with hints of orange and malt. There is an air of complexity on the first sip, but it settles into a zesty, hoppy flavour as you go.
The flavours and depth are a perfect combination with the saffron infused paella which big ingredients include prawns, chicken and chorizo sausage. Both the Orval and the Paella pack a flavour punch! Hop into the Euro today (pardon the pun) and experience this match made in heaven for yourself.
Lindemans Framboise Matched with Brandy Snap Berry Basket!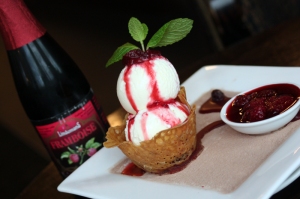 This match delves into the world of Belgian Lambic Fruit Biers – Framboise (or raspberry) to be more precise! The Framboise has a magnificent aroma with a delicate palate of raspberries, undertones of fruity acidity elegant, sparkling clean natural taste.
Balance the fruity acidity with the creamy smooth vanilla ice cream and sweet crunch of the brandy snap basket.
The clean fresh flavours of this yummy dessert is a perfect with this sparkly fruit beer.
Pop into the European Bier Cafe and try it for yourself!