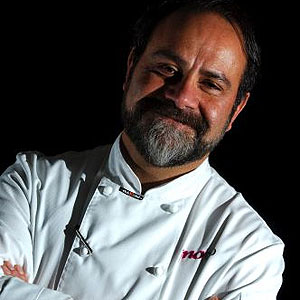 By Guest Blogger: Vicki Williams, associate editor, WOM guide. Article first appeared on
Award-winning Aussie chef, Greg Malouf, has been passionate about food ever since he can remember, and his decision to become a chef meant going against the wishes of his family. Although his early food influences were based around Lebanese cuisine it was a long journey for him to come back to his roots. His first restaurant job was in a Mexican restaurant in Sydney, followed by time spent cooking in Italy, France, Austria, Belgium and Hong Kong. Malouf is now considered an expert and leading proponent of modern Middle Eastern cuisine, which is quite an achievement given that he has only been focusing on the cuisine as a chef since the late 1990s. First with the book, Arabesque, published in 1999, followed by becoming head chef of noted Melbourne restaurant MoMo in 2001.
When did you know that you wanted to be a chef? I was quite young, in my early teens. I had a massive appetite, I loved eating! Coming from a Lebanese background we always had a fridge full of exotic dishes, always a full table of Lebanese mezze. I was never allowed in the kitchen though, not even when I expressed an interest in becoming a chef. I guess it was partly cultural, but Dad did cook, as did my grandmother who lived with us, so think it was more about keeping the kids out of the kitchen.
Your cuisine is described as Modern Middle Eastern, how is it modern? The cuisine is old, but I am doing my adaptation of an old cuisine and the food memories of my childhood, familiar ingredients and produce as a starting point. It is hard to describe it any other way. After 30 yrs of cooking my repertoire of Middle Eastern dishes has increased. I still continue to think about the effort and make an effort, but there is a sense of ease now. I also have a sour palate, and this does influence my food, with my dishes featuring sour notes or refreshing herbs to counter and balance the sourness.
Other than regular guest chef visits, what is your involvement with Olive?I was the founding menu consultant and I am still involved with the menu writing and putting chefs in place. The new chef, Eric, has worked with me previously. In fact the three chefs that have worked at Olive over the six years it has been open have worked with me and are my recommendations. I don't think the restaurant would operate successfully without the right chef in place. The chef needs to understand me and my food. Chefs that have worked for me have done so for a reason, to understand Middle Eastern food.
Which dish on the Olive menu is most like the food you serve at MoMo? MoMo is a lush restaurant and the food served is more high-end, more layered, more structured with main courses costing AUD$50. There is one dish that is served at both and is a signature at both, the Bisteeya pie.
You travel a lot, write cookbooks, have your own spice line, and offer a consultancy service, how much of your time is actually spent cooking?I travel approx. eight weeks a year, the rest of the time I am at MoMo. This year also sees me back at the stoves, focusing on proteins. I might slow things down a bit as I am older, but I do touch every plate coming out of the restaurant when I am there. I really enjoy being at the stoves again. I also create specials and demonstrate to the staff how to do those dishes.
You have published four cookbooks, what, in your opinion, is the secret to writing an award-winning cookbook?A clever ex-wife! (he says with a big smile). She is a wordsmith. I dream, she writes and we travel together, during which masses of notes are taken. I do the dishes and she writes the stories. The recipes are all tested. The food photography is vital. The whole process is important, even down to the paper used...we have a team working on each book. With each book I find the research fun, unlocking the secrets, learning the historical info and origins of the dish. Even the meaning of the dish names adds to the experience, for example Baba Ganoush, means father's favourite.
Which do you find more fulfilling, the restaurant and cooking, or the books? Both are fulfilling different things in my life. Ultimately the most rewarding thing is serving food to customers.
Tell me more about the new book you are writing on Persian cuisine, and why you chose this cuisine? The book is called Saraban, which means the main person who leads camels through the desert. We are currently in the recipe testing stage with a release scheduled for November. Iran is an extraordinary, beautiful and tough country. Its cuisine is very different to what I am accustomed to, with lots of regional influences as well as Arabic influences. The food is more earthy, with more use of herbs and spice. They have unbelievably beautiful saffron, better than other places. They only let women pick the crocuses and we were lucky to see this extraordinary process taking place. There is not a massive restaurant culture and most of the time we ate in people's homes. We decided to write the book as I wanted to learn more about the cuisine and its part in the Spice Trade Route, which I find fascinating. I also knew that food wise, it would be different to any other country. And, also there is not a lot written about the cuisine in a modern context. I think it will be a good book for second and third generation people of Iranian descent that have not lived in Iran and don't really know a lot about the country or its cuisine. It is part cookbook and part travel guide, like all our books.
Does producing cookbooks get easier with each one? No, the opposite is true, it gets harder with each book. In the case of Saraban my palate was not used to the cuisine and I had to get to know it before I could create recipes. I also worked with ingredients that were unique in some senses and unfamiliar techniques. For example, Iran has the BEST rice in the world, but it is not exported. I was not familiar with the way they prepare the rice: wash, soak, boil, strain, and then steam with a layer of saffron and yoghurt, on a very, very slow heat in butter for 40 minutes - the result is amazing. It steams but a crust is formed and when it is turned out the golden crust is on top. There is a lot of rice dishes in the cuisine, for example rice with broad bean and dill, cherry rice...so much so that an entire chapter is dedicated to rice in the book.
We also devote a chapter to saffron...a local photographer took amazing images for us. We were lucky with the photography, having to hire a local photographer due to visa problems with the photographer we had originally planned to use meant that he was able to go into places and take photos for us that no westerner would have been able to enter, let alone take photos.
I hear that you are opening another restaurant in Broome (Australia), and one in Jordan, is this true?I am not an owner of restaurants, I am a chef and consultant. What is true, is that I am acting as a consultant to both restaurant projects. I am doing menus, similar re my menu consultancy for Olive, for a restaurant in Broome for Pas Pala Pearls. In Jordan there is a hotel that will open a restaurant based around our book, Turquoise, and I am doing the menus for the restaurant. It is an exciting project and the restaurant is probably going to open in 2011, although the opening is scheduled for this year.
I have read that you consider Michelle Garnaut as one key person who has influenced your career, and that the her now closed M at the Fringe was your favourite restaurant, tell me more. I first met her at Post 97 when there was only a handful of standalone restaurants in Hong Kong, I ran the kitchen. We actually shared a flat together, this was in the mid 1980s. We became partners and set up M at the Fringe. I then became ill and had to return to Australia. She is fab, a great woman and I can't wait for her new place to open.
Which are your favourite restaurants now M is closed?In Hong Kong I like that crusty old place, Yung Kee, my favourite dish is the roast goose noodle soup. In Melbourne I have a few good mates with their own restaurants so we tend to support each other by eating at each others places, for example Matteo's and The Press Club. My brother also has a place called Mama Ganoush.
What is your favourite comfort food? I think that your favourite comfort food is something you ate as a child, so for me it would be Lebanese dishes, such as yoghurt soup.
You mentioned falling ill and I have read about your health problems over the years (triple heart bypass and two heart transplants), have you had to change the way you work and the way you live/eat as a result?
It definitely slowed me down, and for a while it was one step forward and two steps back, and it was disruptive, but I also understood the importance of health. Diet wise I had to reduce high cholesterol foods. I did try over the years to increase the amount of exercise I did. I recently remarried and my wife is younger than me so that is proving to be good exercise!
Two Recipes and More Information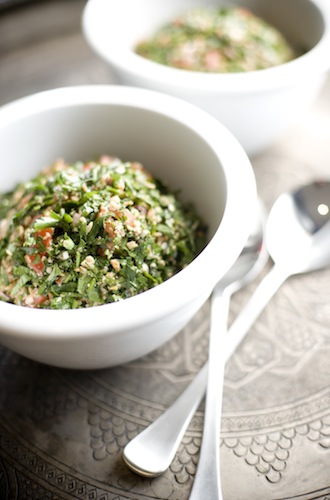 Turkish Tabbouleh (serves 6-8) 200g fine bulgur 125ml boiling water 1 tablespoon tomato paste 1 teaspoon hot red pepper paste juice of 1 lemon 1 teaspoon pomegranate molasses 60ml extra-virgin olive oil 1 long green chilli, seeded and finely chopped 3 large vine-ripened tomatoes, chopped 5 spring onions, finely chopped 1 cup parsley leaves, chopped 1 cup mint leaves, chopped salt and freshly ground white pepper young lettuce leaves
Soak the bulgur in the boiling water for 15 minutes. It doesn't look like a lot of liquid, but the grains will soften further in the juice from the tomatoes and the dressing. Add the tomato paste and pepper paste to the bulgur, together with the lemon juice, pomegranate molasses and olive oil. Use your hands to work the grains so that the paste and liquid is evenly distributed and the bulgur is tinted a pretty pale pink. Add the chilli, tomatoes, spring onions and herbs and mix well. Taste and adjust the balance of seasoning to your liking, with more salt, pepper, lemon juice or pomegranate molasses. Mound onto a serving platter and garnish with baby lettuce leaves. Alternatively, use wet hands to form the mixture into walnut-sized balls and serve them nestling in the lettuce leaves.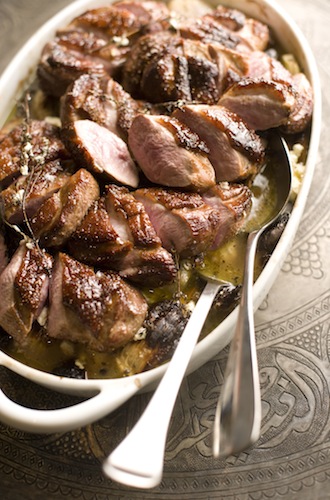 Duck with Honey and Cardamom Glaze 2 tablespoons honey 1 teaspoon sherry 3 tablespoons water 4 cardamom pods, seeds crushed (1/2 teaspoon) 1/2 teaspoon black peppercorns, crushed 1 teaspoon orange blossom water 2 ducks (size 18) 2 onions, quartered 2 lemons, quartered 1 cinnamon stick a few sprigs of rosemary or thyme
Warm the honey gently with the sherry and water so that it dissolves. Then stir in the cardamom seeds and crushed pepper. As it cools down add the orange blossom water. Wash and wipe the ducks. Remove the wings and necks and stuff each cavity with an onion, lemon, bay leaf, half a cinnamon stick and a few sprigs of rosemary or thyme. Use small skewers or toothpicks to close the cavity. Pierce through each duck with the rotisserie skewer and attach securely using prongs and extra string. The ducks must be very securely attached to the skewer. Pre-heat the oven to 200°C. Fix the skewer to the rotisserie desired. After 30 minutes lower the heat to 200°C. After 50 minutes turn the temperature back up to 220°C and brush the ducks liberally and evenly with the glaze while still turning. Close the oven and cook a further 3-5 minutes until the birds are a glossy mahogany colour, but make sure you don't allow the glaze to burn. Remove from the oven and allow to rest for 15 minutes before carving.
More information, including recipes and books http://gregmalouf.com.au/cms/index.php?page=home Recipe for the dish that won The Dish of Melbourne award http://www.theage.com.au/interactive/2009/national/thedishofmelbourne/pdf/greg.pdf Interview with audio and recipe link http://sbs.com.au/food/article/3397/Cooks_and_their_Books:_Greg_Malouf Image Credit: HP, 1, 2, 3, 4, 5 courtesy Olive; 7, 8, 9, 10 courtesy Greg Malouf; 6 from WOM article on Saffron.