Spanish recipes from San Sebastian and beyond.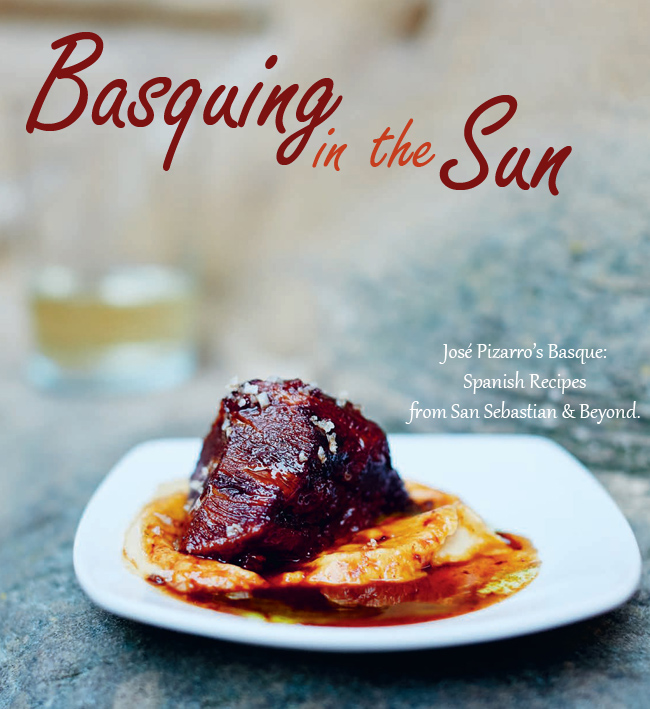 Beef cheeks in red wine sauce with cauliflower puree, p 60.
Spanish flair abounds inside of Basque, a cookbook collection by José Pizarro, inspired by a people fiercely proud of their heritage, language and their cuisine. José Pizarro is a much-acclaimed chef of the United Kingdom, having worked at some of the most prominent Spanish restaurants over the last 16 years and now owns three restaurants himself. In 2014 he was also voted one of '100 espanoles,' a hugely prestigious award showcasing the top 100 Spaniards around the world for how they bring their talents to the masses and demonstrate their Spanish pride through their work.
The region of Basque itself is also home to the most Michelin-starred restaurants per capita in the world, so one can understand the seriousness of the subject in hand. However, the Spanish are also known and loved for their devilishly fun humour, their ability to appreciate a good drink and to enjoy spending time with family and friends. Basque is all of this, and much more. It is also a sort of memoir for José, to reflect and remember all of the wonderful and varying experiences that sees his love for Basque Country grow stronger and continue to influence his cooking.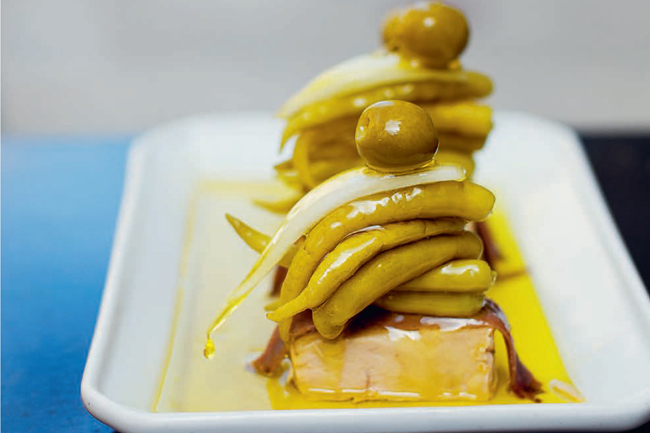 Tuna confit with guindillas, anchovy and white onion, p 78.
As José first explains, this collation is not just of recipes that originate from the Basque Country, it details the beautiful ingredients that can be found there, cooked in his own style. Basque also covers his experiences in the region, eating and simply enjoying all there is to enjoy. It is a book of depth and of life with an impressively versatile personality and plenty of soul to warm you as you read.
Recipes are titled with Pintxos or At The Table, an indication of serving suggestions so your expectations remain accurate while flipping from page to page. From plates of hearty meat served in the middle of the table to delicate morsels of tuna confit with guindillas, anchovy and white onion a recipe is there for all occasions, and desserts are a particular favourite.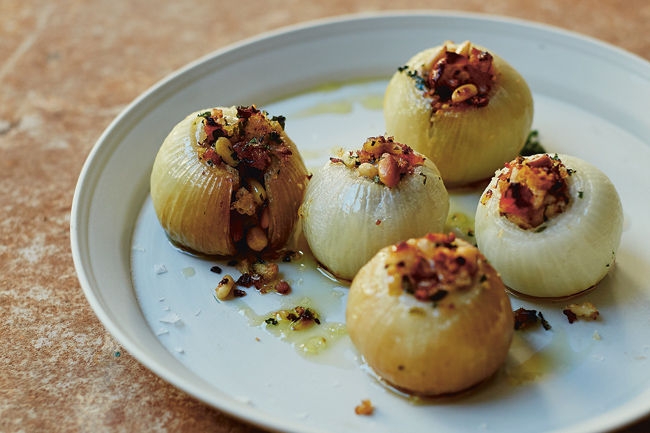 Roasted onions stuffed with parsley and garlic migas, p 183.
José details his respect for pure ingredients in cases where they are often taken for granted. While others may overlook the humble fennel, it remains close to José's heart where memories dating back to his childhood and times spent with his father picking wild fennel are kept. A jubilant character is also present and particularly prominent when describing the joys of messy eating, such as picking the glorious flesh of crab from its shell, claws and front legs, sitting with friends around the table or mixing it up with spices and throwing it into pasta. Fall in love with his passionate, good-humoured nature; 'chicken wings in a wine cellar are heaven, and they're supposed to be messy, trust me.'
José's knowledge is vast and applicable to recipes outside of his own book. Culinary tips to live by can be found in the simplest explanations, like how a good quality wine can make all the difference in the aromas that seep from tender beef cheeks in red wine sauce with cauliflower puree, and how even the most basic ingredients can surprise and delight your friends. Take roasted onions stuffed with parsley and garlic migas for example - though the essential parts of this dish are easily found, the combination of eating them altogether is a delightful and ultimately mouth-watering experience.
Lose yourself in Basque, and find yourself caught up in rich Spanish culture as culinary inspiration strikes. Culturally vibrant, alive and bursting with flavour, pick up a copy of Basque by José Pizarro today.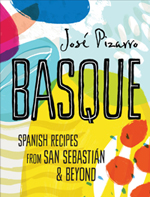 Images and recipes from Basque by José Pizarro, published by Hardie Grant $49.99, available in stores nationally.