Explore amongst Australia's natural playgrounds
Rock pools are fascinating to explore, overflowing with life and home to some of the most amazing marine creatures and plants just waiting to be discovered. Moreover, rock pools are often located in some of the most picturesque destinations in Australia, making for a day full of exploration and relaxation.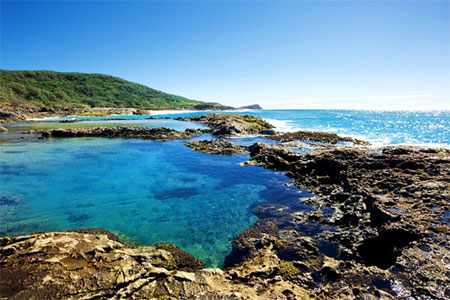 Where are some of Australia's best rock pools?
Queensland is home to some of the most spectacular rock pools such as those in Currumbin or the Champagne Pools on Fraser Island. The Northern Territory's Buely Rockhole is just one of many mind blowing pools in the north and Western Australia's Hancock Gorge is one natural attraction you should not pass up.
Lord Howe Island in New South Wales is a world heritage listed attraction that has an abundance of rock pools scattered throughout the island. Calm waters of the area make it perfect for children to explore and by snorkeling just above the shore, you will be able to dive into the larger pools and explore the underwater wonders of what lies beneath.
Rock pools are home to many crabs and crustaceans alongside sea stars, red anemones and small white fish. An incredibly diverse natural wonder, even the smallest rock pool reveals a plethora of life, with no two pools ever the same. It goes without saying that rock pools should be explored when the tide is low, due to the fact that you might otherwise be washed away. Care should also be taken when exploring the pools with the sharp rocky areas becoming quite slippery when wet.
For some of the best rock pools in New South Wales to explore, clich here