From boutique cafés with upside down lampshades to coffee and cake underground, we think we've found some of Australia's quirkiest cafés.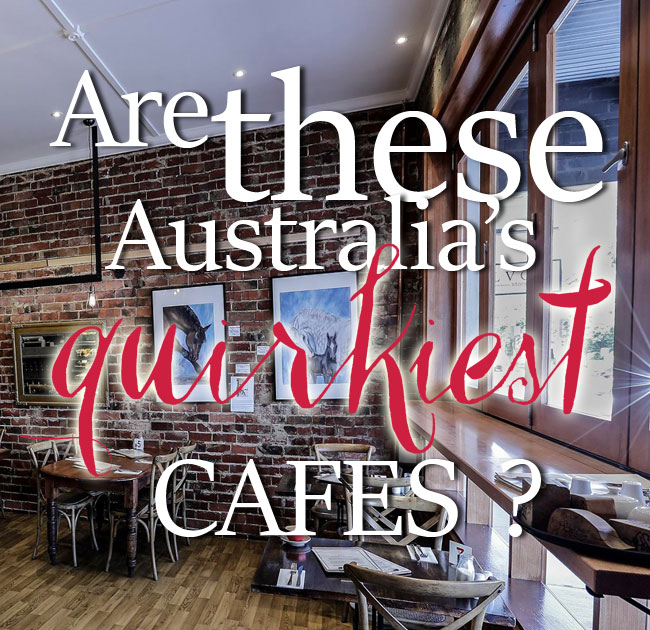 The Old Butcher Shop Café | Seville VIC
Delicious food made with fresh local produce and a family-friendly environment are some of the ingredients that have made The Old Butcher Shop Café an enduring success. The family-run operation is the oldest shop in the area and still retains some original fixtures and fittings, creating a welcoming and rustic environment for all.
"We decided to get a little bit wild, and it worked! Don't ever let anyone tell you that watermelon and pumpkin don't work. Here we have a special which we are pretty excited to share with you. Roasted butternut pumpkin and watermelon with Meredith goat's feta, fresh chilli and pomegranate molasses." ~ Stagger Lee's, directly quoted from their facebook page.
Stagger Lee's | Fitzroy VIC
Holding a reputation for being bad in all the right ways, Stagger Lee's on Brunswick Street has fast become a Fitzroy favourite with looks to kill and a menu that doesn't hold back. Inspired by the infamous story of St Louis gangster, Stagger Lee, this café sticks to its guns, luring in those passing by with a confident, sleek design of rustic timbers and bold aqua features, while tantalising smells broadcast its latest offerings.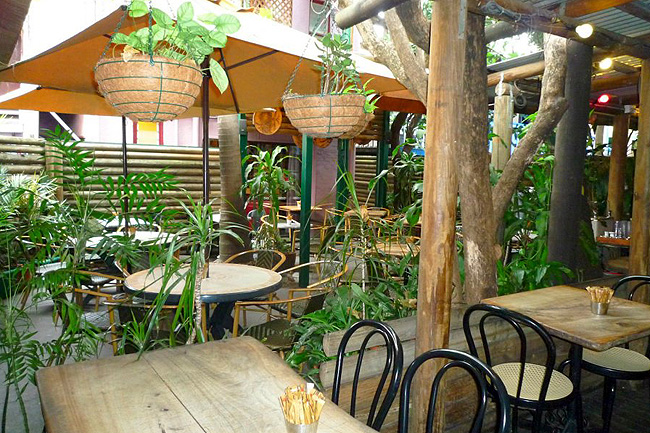 Three Monkeys Coffee & Tea House | West End QLD
A local hangout for West End regulars, Three Monkeys Coffee & Tea House on Mollison Street makes an ideal place for cosy brunch catch-ups and coffee in between exploring the thrift shops and nearby boutiques for knick-knacks. Relaxed in character, this cosy venue is filled with curious ornaments, autographed posters and to catch the eye, with a lush jungle courtyard giving guests plenty of space to escape the concrete jungle outside and refresh with drinks among the greenery.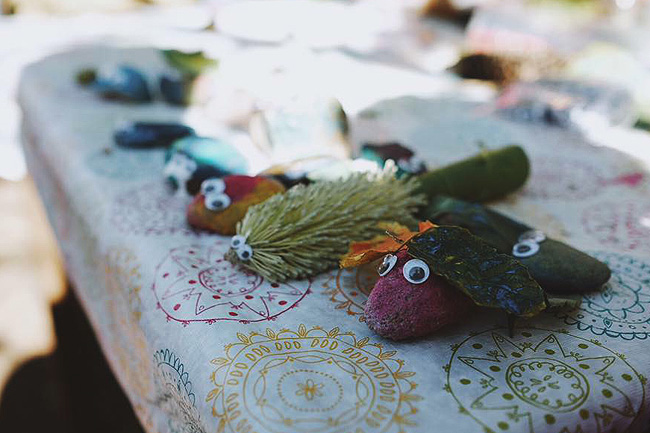 Pet rock anyone?
Mandala Organic Arts Café | Mermaid Beach QLD
Go guilt free on the Gold Coast at Mandala Organic Arts Café, an all vegan and vegetarian eatery making its mark in Mermaid Beach. With Mother Nature in mind, Mandala Organic Arts Café takes it back to basics, using local and organic produce with sustainable practices to create a complete vegan and vegetarian menu.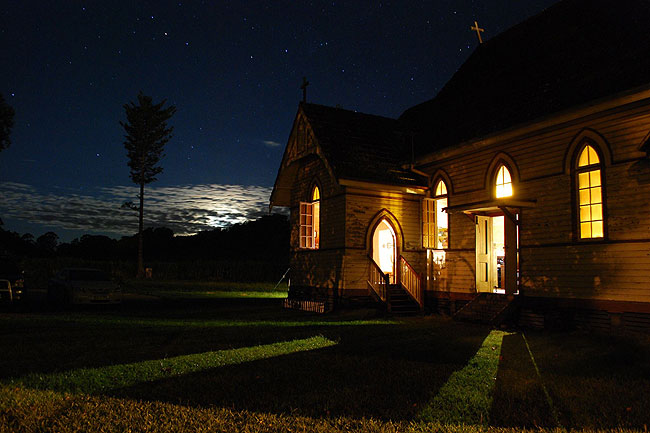 Photo credit: Leah.
Our Daily Bread Café | Broadwater NSW
Housed in a recently refurbished church on the edge of Broadwater is Our Daily Bread Café, a charming venue and Australian Pottery Gallery by the Richmond River. Our Daily Bread makes an ideal place to stop when travelling the Pacific Highway, offering a welcoming ambiance to all who enter and a quirky arrangement of cosy lounges and dining tables to choose from, surrounded by artistic ceramics and pottery from the 50s through to the 70s.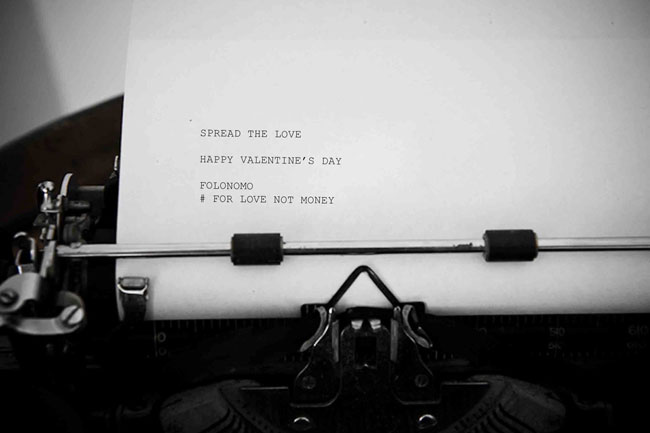 Folonomo | Surry Hills NSW
Warm the heart and soul at Folonomo, a trendy Bourke Street restaurant in Surry Hills creating tantalising cuisine 'for love, not money.' This feel-good, profit for purpose restaurant is a hit with locals, giving 100% of the profits made in the café back to charities chosen by the venue staff and nominated by those who dine.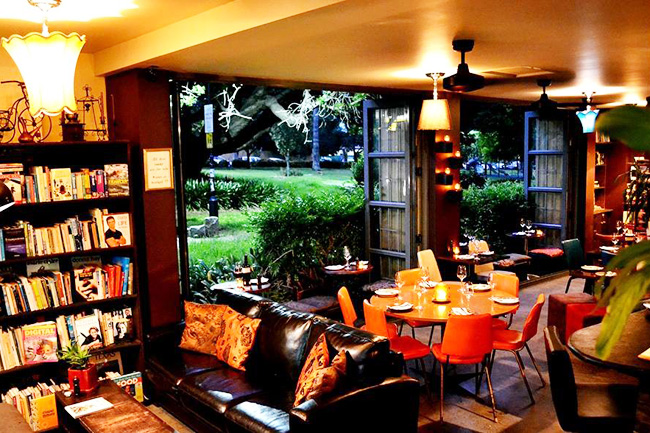 Little Treasures | Petersham NSW
A European inspired delight to discover in Petersham, find Little Treasures restaurant and bar on Stanmore Road. A warm interior is filled with soft light, illuminating bookshelves brimming with stories, leather lounges and vintage décor all neatly set for formal dining in an eclectic mix of refinement and comfort, with French doors that open up to the greenery of Maundrell Park providing a fresh, gentle breeze.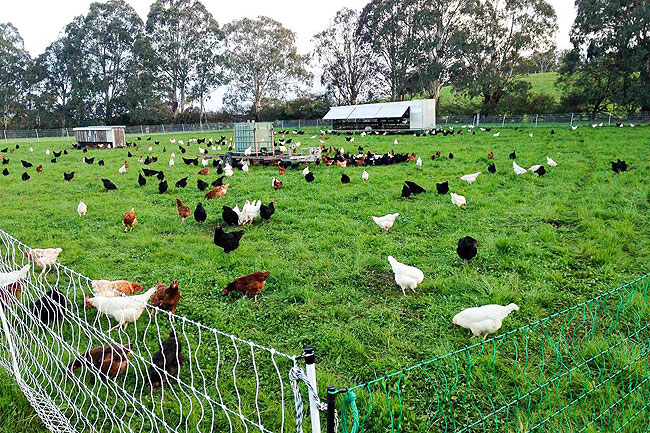 "At Manna Lane, we're passionate about ensuring that our food is sourced from the most ethical and sustainable sources possible. So, it's only natural then that our eggs come from Tom's Paddock, where just a handful of chickens roam beautiful green pastures and forage for natural food." ~ Manna Lane, directly quoted from their facebook page.
Manna Lane | Mooroolbark VIC
At the foothills of Mt Dandenong sits Manna Lane café, a popular locale for nearby residents and those adventuring through the area in search of boutique roasted coffee and vibrant cuisine. Their menu is completely paddock to plate focussed, they even own a farm just down the road from the café in Lilydale.
Jerry's Milk Bar | Elwood VIC
Established in a century old building on Barkly Street, Jerry's Milk Bar has become an icon in Elwood, loved by locals and visited by coastal day-trippers for decades. The café stands tall in a two storey red brick building and while all the original signage remains and the lolly jar counter still turns a high candy count, inside has since been refurbished in a warm and charming style.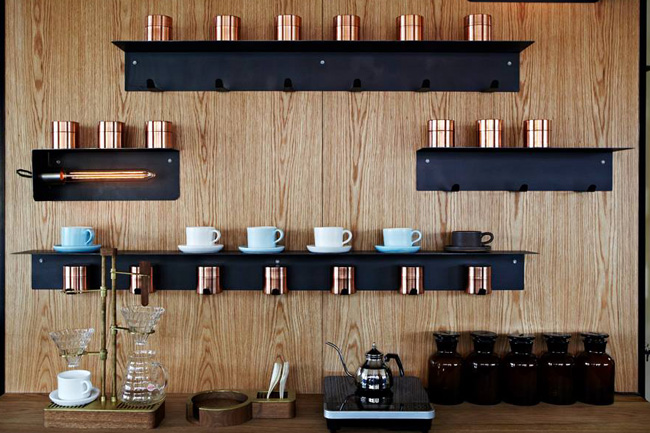 Common Galaxia | Seddon VIC
When looking for a café in Seddon that's anything but ordinary, be sure to check out business chic, Common Galaxia. Industrial meets modern Scandinavian at Common Galaxia where the use of American oak veneer, raw steel, copper and adjustable wooden stools creates a wonderfully polished eco interior, which radiates sleek, signature style.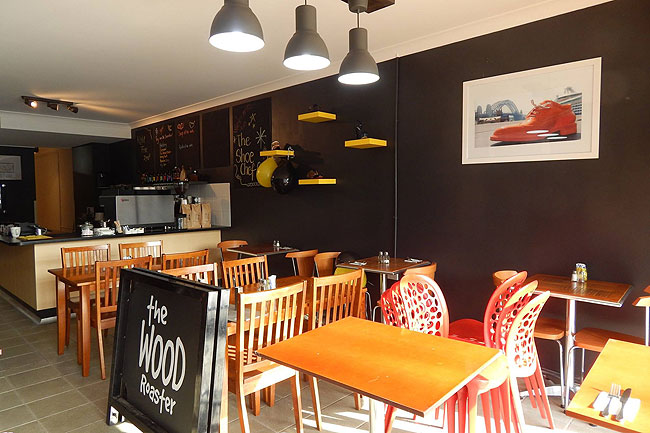 The Shoe Chef Café | Dulwich Hill NSW
The Shoe Chef Café in Dulwich hill is loved by locals for a cheery vibe and a quirky shoe theme, tucked in among the boutiques of New Canterbury Road. Charcoal walls, touches of white and bright pops of yellow make for a clean and trendy look inside with artwork portraying all kinds of colourful shoes with sassy, outlandish styles surrounding guests as they dine or simply drop in for a quick coffee. The chef is rumoured to have more shoes than his wife (over 200 pairs) and heavily focusses on the motto "walk in and roll out" as the café serves generous serves of hearty food, with no kale is sight!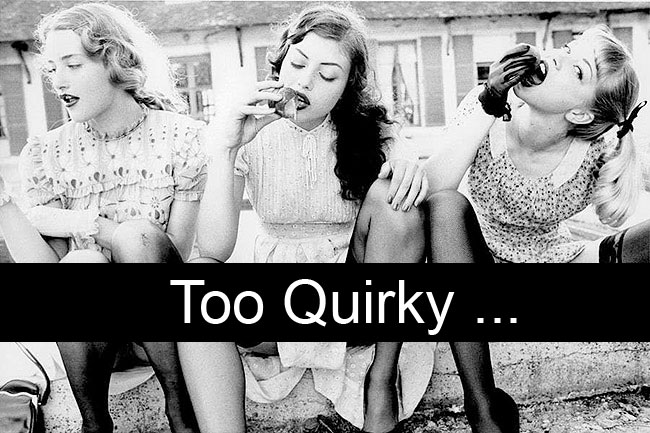 Satellite | Newtown NSW
Going on 15 years now, underground Satellite Café continues to quirk up the backstreets of Newtown, with a lively vibe and trendy locals seeking out this venue on Wilson Street for coffee and tasty snacks. Radiating a funky vibe, this establishment is a gathering hub for artists, musos and eclectic friends looking for a cool and casual place for coffee tucked away from the city rush.
Zara'z Espresso | Ashfield NSW
For a mouth-watering bite in Ashfield's bustling shopping precinct, find Zara'z Espresso café sitting on Brown Street. Home to food coma inducing monster shakes!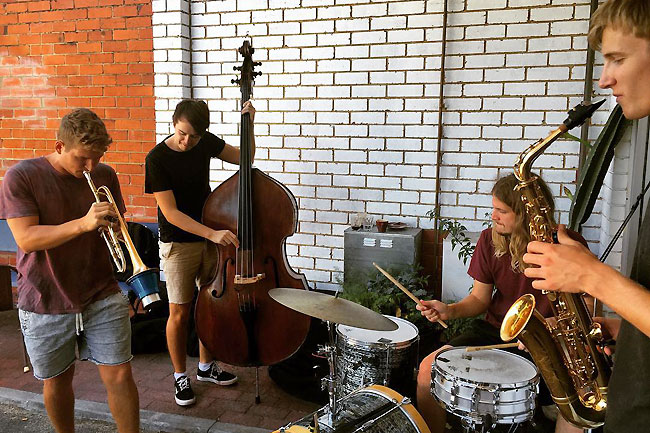 Satchmo Café | North Pert WA
This friendly establishment lures in those passing by with the smell of aromatic coffee, inviting them to join an already lively crowd mingling inside a bright and trendy setting, jazzed up with a soundtrack of groovy tunes. A harmonious combination of classic New York and traditional Jewish inspired dishes sees diners delving into deli-style foods and hearty, warming dishes bursting with flavour.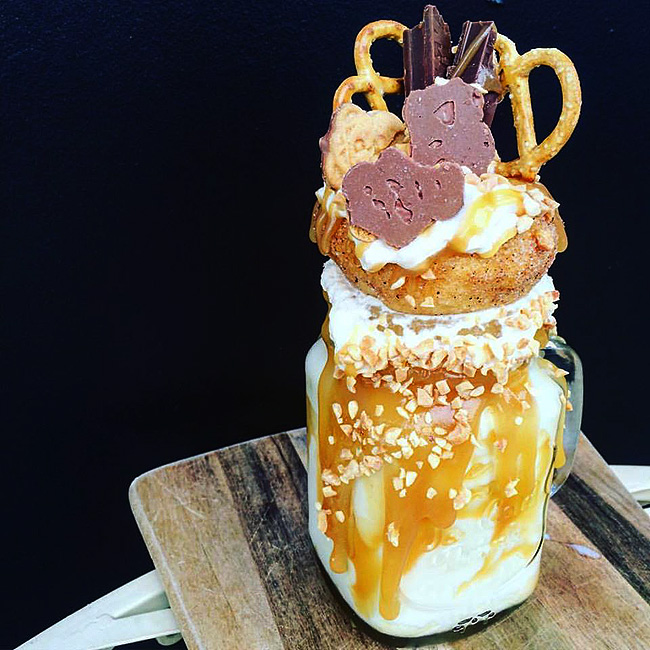 Petals and Pinecones | Atherton QLD
For a refreshingly raw treat or a glutinous super shake to enjoy after a scrumptious meal, Petals & Pinecones garners a reputation among Atherton locals and visitors from afar. Hidden behind a door on the end of Herberton Road's Supercheap Auto, P&P offers a delightfully warm and cosy interior filled with an eclectic mix of retro furnishings and vintage decor, welcoming in guests to stay and relax over a leisurely brunch catch-up.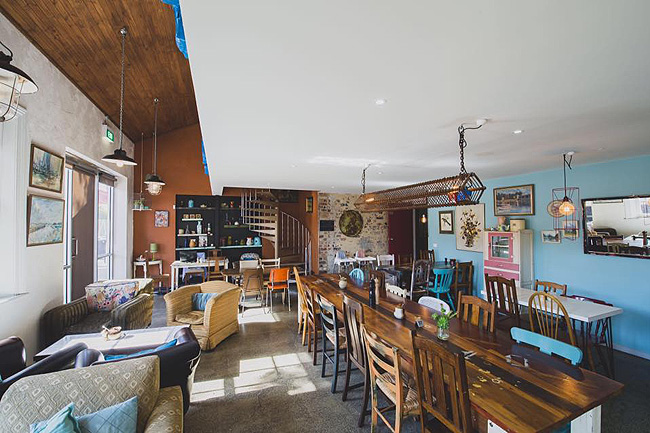 The Boot Factory | Coburg VIC
Originally the building for well-behaved prisoners to make shoes and boots for prison guards, The Boot Factory is now a popular Coburg venue to catch a delectable bite to eat on Pentridge Boulevard. Since being converted, the café has breathed new life into the history of Pentridge Prison (circa 1850s), by inviting locals and visitors from afar to unwind in a series of four dining spaces, each with the charming characteristics that still remain.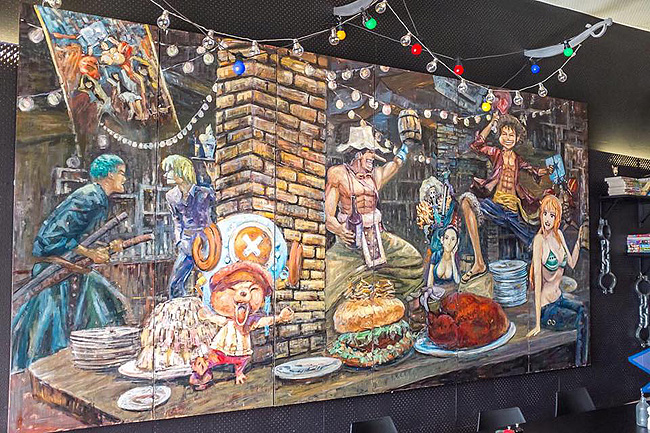 One Plus Piece | Balwyn VIC
Round up your pirate crew and embark on a burger eating adventure at One Plus Piece café and burger bar, a venue inspired by the Japanese manga, One Piece, found along Melbourne's Whitehorse Road. Running with the theme, walls are plastered in the wanted posters of manga cartoon characters and figurines line the countertop and back shelves with diners perched at the bar on black stools or dining alfresco to enjoy a lively street vibe.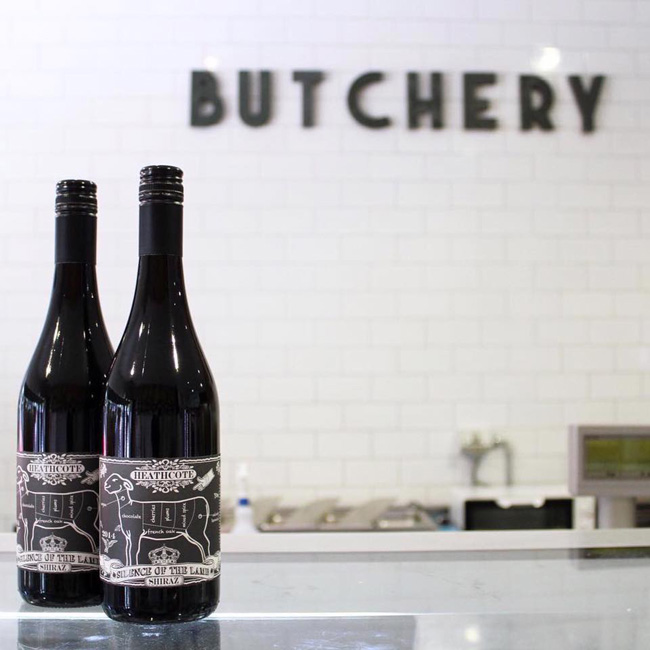 Little Bertie | Richmond VIC
Known for decades, Berties Butcher in Richmond now offers a café setting in which to enjoy their quality cuts, prepared fresh from the butchers knives and boards to plates at Little Bertie cafe. This cosy space is fitted out with lush plants while tantalising smells waft from the smoker installed in the back courtyard; the vibe is reminiscent to that of a beer garden, tucked down a laneway and overlooking a carpark, but provides an endearing ambiance to urban dining.
Have more to suggest? Hit us up viapr@agfg.com.au.