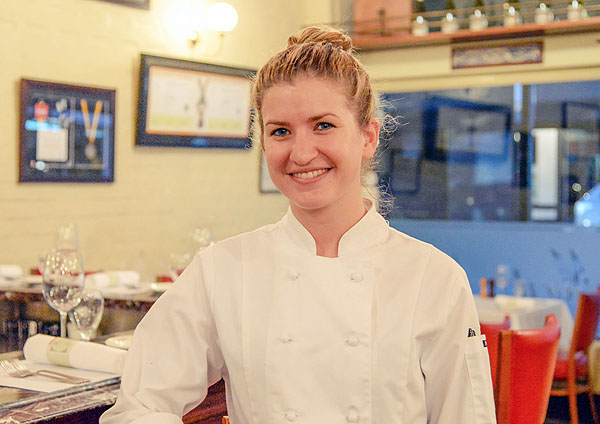 Olivia Méli at Montrachet.
Chef Hat award winner Montrachet in Paddington, QLD welcomes a new chef de cuisine to their team: Olivia Méli, whose charm and culinary flair has contributed to Montrachet's continued success as one of Brisbane's favourite French restaurants.
Born in Houston, USA to a French father and Kiwi mother, Méli has had quite a mix of cultural influences during her formative years.
"My parents were a great influence on me when I was young, they were super chefs! It was my father that taught me about having a passion for food at every meal, to have respect for produce and to never cut corners on taste," said Méli.
"That is the French philosophy of why they love food."
Influenced by her father's passion and her mother's ability to make something delicious and nutritious out of anything in their family home fridge, Méli became interested in cooking, food and the importance of using the whole produce so there's no food wastage.
"My mother was the queen of making something from nothing, I remember looking in the fridge when I was little and saying that there's nothing to eat! Then, she'd whip up a meal that was delicious." said Meli.
Méli brings five years of experience apprenticing for Joel Robuchon and Emmanuel Renaut in France to Montrachet, working alongside industry stalwart Shannon Kellam.
"Kellam is an amazing chef, it's a lot about how he runs his kitchen and I think that's why we put out such wonderful food today. He's organised down to the t, he gets that from the competitions he's been in, utilising the most of the produce and time we are given."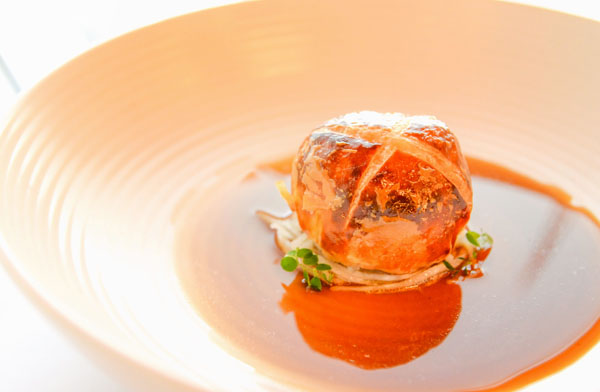 Pithivier de Caille au Foie Gras Rougier - Quail breast and foie gras baked in Montrachet's puff pastry, Savoy cabbage, juniper scented jus.
Working with Emmanuel Renaut at Flocons de Sel, Méli began a growing appreciation for quality ingredients as she picked fresh produce straight from the gardens every morning, where some herbs were planted by Renaut but others ran wild.
"I've tried to bring that here [to Montrachet], in Australia we are lucky with diversity, in France there are more stringent seasons, but here we have some things all year round," said Méli.
From France, Méli moved to Polynesia to work at Tahiti's exclusive The Brando resort where she learnt how the Polynesians make real coconut milk, which remains as her feature flavour.
"I worked in Polynesia for a year where they taught me the real way to make coconut milk, it was very labour intensive, you'd have to grate the coconut flesh off the coconut, then press it into a hessian bag and drain out the juice," Meli described.
"I can't go back to any other coconut milk, you don't have to do anything else with it you can use it straight away and I like to season a tuna tartare with lemon and coconut milk."
To experience the cooking of Olivia Méli and Shannon Kellam, head to Montrachet on Bastille Day (July 14) for a delicious 3 course menu or adventurous 5 course menu dedicated to the celebration of the French.
Images by Evelyn L.