September 25 Concludes the 2010 Premiership Season - Let the 114th Annual Championship Game Begin
Over the next month there will be sports drama everywhere as the AFL teams battle it out to play in the 114th annual championship game completing the 2010 premiership season. We recommend contacting your favourite restaurants and bars for deals and specials throughout September.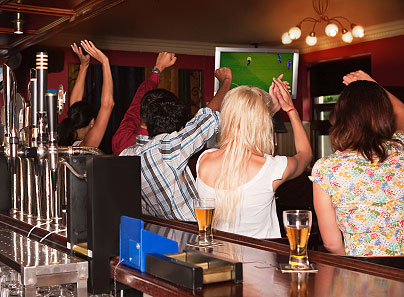 Also, check out our Restaurants and Bars sections to find new locations that will be hosting your game, tuning into either Seven Network, Network Ten, or Fox Sports Australia to ensure you're taken care of, fully entertained with footie & food.
For the most part we are an office full of foodies who spend more time on wine tours than we do watching the footie "match of the day" on the weekends. Though since the AFL is the most attended sporting league in Australia, with an average attendance of almost 38,000 people per match, our clients are now promoting their AFL Grand Final events for September 25th, offering live television viewing in case you can't make it to the Melbourne Cricket grounds. Did we mention Channel 10 has announced that their Saturday Night and Finals matches will be shown in full high definition? What more could you ask for as incentive to seek out a big screen near you?

AFL Fallen Hero
As it's that time again, in a league of its own the AFL Grand Final 2010 is coming up as we're in Finals Week 1 and the media's slowing down on superstar athlete drug addiction scandal. We all felt the commotion after Channel 7 released "Such is Life: the Troubled Times of Ben Cousins" in two parts at the end of August and it has been cause for pause.
Many a curious television viewer can relate to the dilemma of Wednesday, August 25th when Part 1 of the Ben Cousins doc was set in the same time slot as Channel 9's "The Farmer Wants a Wife." Surely, it created the classic remote control domestic dispute and inevitable compromise for many (I ended up agreeing to flip back to the Cousins doc during the Farmer commercials). Though I may have been very lucky, getting to watch my favourite single farmers, as reportedly around two million viewers tuned in to see the Cousins documentary and my bet is many were watching it exclusively.
Though this little allegory leads to a bigger question of who is winning when it comes to media representation of national heros? There has been outcry, especially from parents whose concern is that there are many kids out there less inclined to watch stories about Australian farmers and more enthusiastic about seeing the tale of a fallen AFL sports hero unfold. The main problem critics have with the Ben Cousins publicity on the eve of his retirement is that seeing the drug footage may harm kids.
Everyone's Entertainment and Media Controversy
Entertainment is everywhere and as adults it really comes down to personal choice as to what interests us, akin to what we eat -that's our game- everyone has their preferences. When raising kids then, if they're really keen on controversial material, it comes down to implementing the parental filter or allowing them to do so with some mandatory education, depending on their age.
No matter how old you are, it's clear we are living in the information age and the media thrives on standout headlines. At the AGFG our business of Australian food and travel is spectacular, falling into a number of popular categories for clients and our online readers including restaurants, accommodation and wine, though we rarely deal with the level of spectacle that other media outlets heavily rely on, particularly crime and violence. In the aftermath of the Cousins debacle, I am well aware that over the next month or so as the intensity rises, leading up to the AFL Grand Final 2010, there may be a few more battles for the remote control on the playing field of our couch. If other households are facing a similar situation, a friendly AGFG reminder that you always have the option to seek out a seat at a popular local establishment that will be playing the game and offering you great menu specials & discounts.