Tumbulgum – where the rivers meet or the meeting place of waters.

Mount Warning view from Clarrie Hall Dam.
As the holidays sneak up on us, we're probably scrambling for ideas to entertain ourselves or the family, for inspiration AGFG took a day trip to Tumbulgum, a historical village in the northern parts of New South Wales, between Kingscliff and Murwillumbah. Tumbulgum runs along the Tweed River and is a part of Australia's Green Cauldron, an ancient volcanic hotspot, where the best of both worlds can be enjoyed: lush World Heritage rainforests, dramatic mountain ranges and rolling green fields unspoiled and untouched.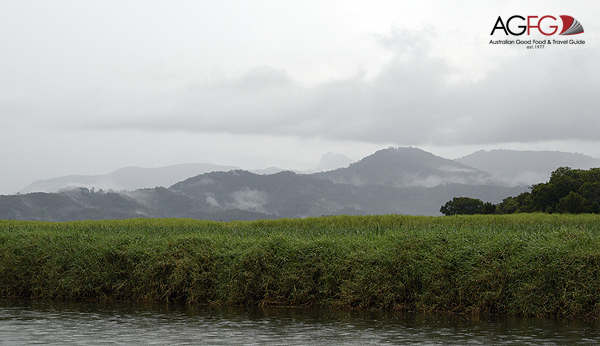 Our view of the Mountain Ranges from the Rous River.
Depending on your interests, whether it be food, river cruising, bush walks or just some scenic driving, this part of the region has it all! We started our day off with an early morning breakfast at Tumbulgum Tavern – historical and classic, it's everything a pub should be and with an outlook over the banks of the Tweed River, it certainly has the perfect view to start the day on a high note. Character, charm and a welcoming ambiance is what Tumbulgum is known for and this is accentuated inside Tumbulgum Tavern – not to mention their breakfast menu (only on Sundays), will probably have you full for the rest of the day, so we suggest you go easy unless you plan on quite a few bush walks.

Tumbulgum Village (the oldest village in Tweed) from the Tweed River.
Just a short walk down Riverside Drive will find you at Birdwing Cafe and Curios, an eclectic mix of cafe, nursery and second-hand store. The secret nursery behind the cafe is an escape from reality, complemented by the many second-hand trinkets for sale, one could certainly get lost for hours – it was hard to pull ourselves away! If reading the morning paper or a magazine over coffee and cake is your medicine, this cafe is the perfect place for you.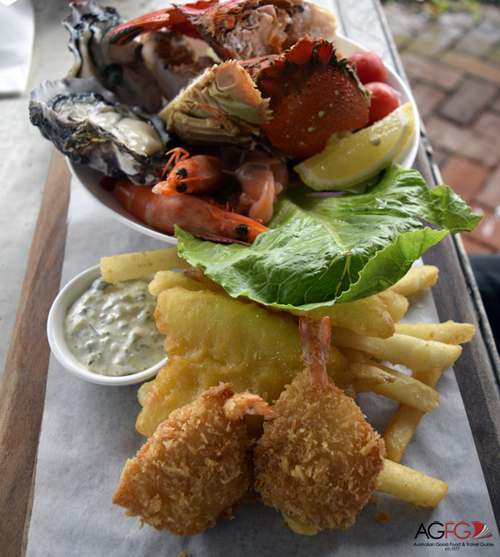 Seafood Platter at House of Gabriel.
It was time for us to meet up with Michael Simmons, long-time local and Owner/Operator of Mount Warning Tours for our river cruise through the rainforest and along Rous River. Unfortunately, we had chosen the only day out of the week where the skies decided a lightning show was more important than bird watching - no matter though as our boat was fully enclosed and the scenery truly shone in the rain, we'd dare say it was more enjoyable! Why don't you be the judge and check out the cruise here? Mount Warning Tours offer a great mix of experiences for anyone that wants to get to know the area, you can choose from a half day coastal hike, bike and kayak package, a full day tour to Byron Bay or a 4WD off-road excursion in the Green Cauldron. Simply name an activity and Michael will be able to help. As part of the cruise (running for two-hours) we were treated to some wine on board before coming back to shore and delving into a delicious seafood platter across from the jetty at House of Gabriel.
House of Gabriel is a one-hundred-year old building that mixes a fairy garden setting with a unique gift shop and boutique menu without the price tag, think Vietnamese salad with Asian slaw, coriander, mint, roasted cashews, sweet chilli dressing and crispy salt and pepper squid to light sharing options such as arancini, chicken tenders, sticky pork and cheese. We were guests to a fresh seafood platter featuring tiger prawns, spanner crab, Tasmanian oysters and smoked salmon as well as Moreton Bay Bug. It was the perfect end to a relaxing day and we complemented it with a House Gabriel dessert – pavlova with fresh berries, fruit compote and cream Chantilly.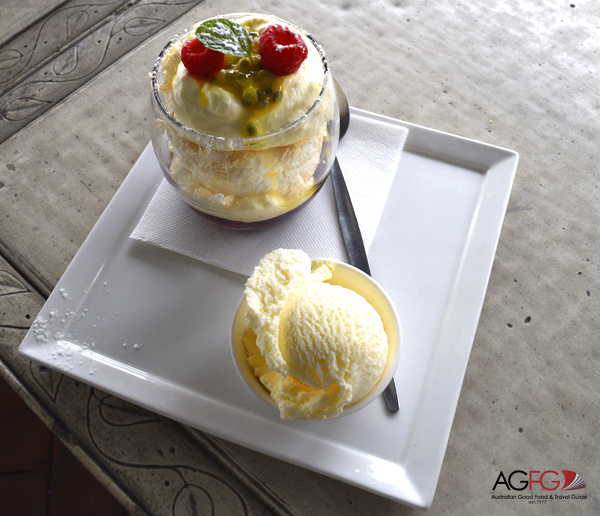 Pavlova at House of Gabriel.
Experiences by the AGFG Foodies. Photography by AGFG. AGFG was a guest of Mount Warning Tours.