With timeless ruins, endless beaches, cheap prices, famous tea and surf - Sri Lanka is a destination that can't be forgotten from your bucket list.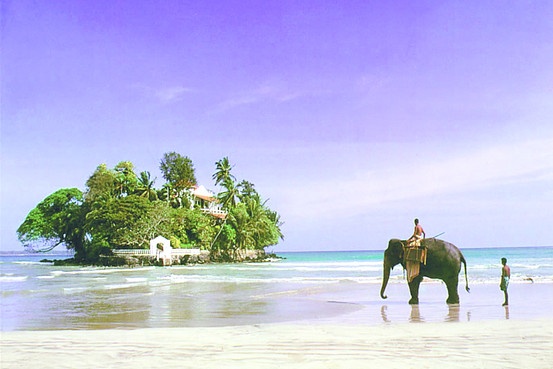 ONCE IN A LIFE TIME EXPERIENCES:
As misty mountains overlook golden beaches you will be able to tick quite a few once in a life time experiences off your list. Think:
Mighty elephants – Uda Walawe National Park.
Stealthy leopards – Yala National Park (think safari camp!)
Giant Whales – Whale watching in Mirissa.
Cultural Ruins – Anuradhapura (jungle entangles ancient ruins – be Indiana Jones for a day), Mihintale (Buddhist shrines), Polonnaruwa (ancient architecture), Sigiriya (the lion rock),Dambulla (cave temples), Aukana Buddha – the most perfectly preserved ancient statue in all of Sri Lanka.
Sri Lankan Food – there are a number of places to go but you shouldn't miss main menu items such as Fish ambul thiyal (sour fish curry), Kottu roti, Kukul mas curry (chicken curry), Parippu (dhal curry), Lamprais, Hoppers (egg in a hole), Polos (green jackfruit curry) and most importantly Gotu kola sambol (pennywort salad). Also try a wood apple on its own, with a hard shell and an almost blue cheese aroma you wouldn't believe it has a delicious sour and sweet taste.
Most of these experiences can be seen with a bike (once you're in the right location), locals are in the business of tourism so a tour is never off the cards (sometimes it's best to leave the guided tour suggestions at your local travel agent and take a chance on a local – you'll see more, help them make a living and have a fantastic time).SRI LANKAN BITES:
Can't make it to Sri Lanka just yet? Don't worry we have a number of great restaurants that will whet your appetite in the mean time. For those in Glen Waverley – you can't really pass up Elephant Corridor and their signature dish of wok stir-fried calamari.
If there isn't a local Sri Lankan restaurant in your area, search under the broader cuisine - Asian.