By Sean Melrose.
The story of the recipe for acquacotta and for that matter, Emiko Davies' latest cookbook, revolves around that well-worn word so often associated with Italian life, conviviality. So the story goes, a starving old wolf approaches a remote village with a rock in a sack and asks if he can make 'stone soup' with it, the other animals are hesitant but soon join in the soup-making and everyone ends up enjoying themselves with a glass of wine. Not exactly the three pigs is it?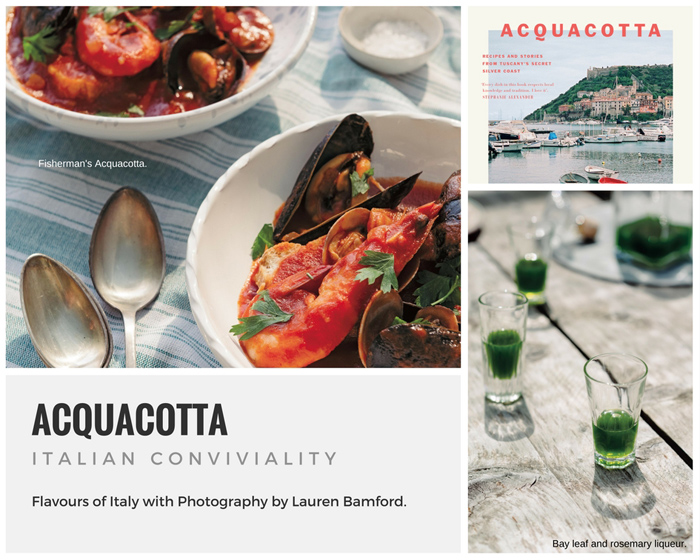 The soup in the story is acquacotta, a dish that varies completely depending on where you are, though it's sometimes made with a rock from the sea to add the flavour of the ocean. It's perfect for the title. This type of story is what's charming about the book, a running discourse on all the things that make authentic Italian food what it is, the spirit, the history and the people behind it. There are two different recipes for acquacotta in the book, here's the recipe for the fisherman's version.
An Aussie born writer and photographer, Davies' location pictures are enchanting and the food photography by Lauren Bamford is as rich and alluring as one would expect from a cookbook like this. Pictures with that slightly faded look of an old photo album are scattered throughout the weighty book, which aside from the recipes comes off as a bit of a travel ode to the 'silver coast' of Tuscany or, La Costa d'Argento. There's something more personal about the images which invites further reading, perhaps owing to curiosity and jealousy at the same time. These sprawling Italian lunches always look so appealing.
There's a healthy balance of photos, stories about latter day Italians making much out of little, guides outlining the different fish and it goes without saying, lots of recipes. There are mouth-watering versions of never fail dishes like spaghetti with wedge clams, as well as more obscure and interesting traditional recipes for things like bay leaf and rosemary liqueur. Behind the home brewed digestive is another example of the anecdotal nature of the book in the story of Domenico Tiburzi, who had a similar herbed liqueur named after him. Tiburzi was a nineteenth century Robin Hood from Maremman, a good outlaw in a region of scarier ones, known for protecting nearby farmers and their families for 30 years.
Thumbing through the history of these small Italian towns, each tale linked to an ingredient or method of cooking, provides an opportunity for home Chefs to become somewhat of an authority on Tuscan cuisine. Thanks to Acquacotta, the dish and the book, dinner parties are likely to be elevated by stories shared along with splendid tributes to Italian food history. The food is all really accessible too, looking at the recipes nothing jumps out as frightening enough to make people abandon ship, though some of the more exotic ingredients may take some tracking down.
Davies' special attachment to Italy was formed over the years after a 20 year old Emiko moved to Florence to hang out in an etching studio for a few months. Years later, she couldn't shake nagging memories of the timeworn city and ended up returning, meeting her husband and starting a family. It was a stint living in Southern Tuscany's Porto Ercole that served as the inspiration for the book.
This affinity for her little slice of Italy shines through in the words and pictures, imbibing a longing for 'la dolce vita' under the skin. Acquacotta invites readers, in that unique Italian way to pull up a chair, fill a glass and share in Emiko Davies' food exhibition of Tuscany's secret silver coast.
Recipe from Acquacotta by Emiko Davies, published by Hardie Grant Books, RRP $49.99 and is available in stores nationally from 1 March 2017. Photography of the food by Lauren Bamford.