By Freya Ensbey.
For many, Winter brings with it chilly days, cold shivers and snotty sniffles. As flu season fast approaches, arm yourself with the best possible chance of fighting off those lurking germs by adding as many vegetables and nutrients into your diet as you can.
A great way this can be done is by focussing on a plant based diet, achieved by creating these vegan recipes with whole food ingredients which have been minimally processed. We have compiled our top vegan recipes to stay healthy for the season that will have you armed on all fronts throughout the day from breakfast through to dessert.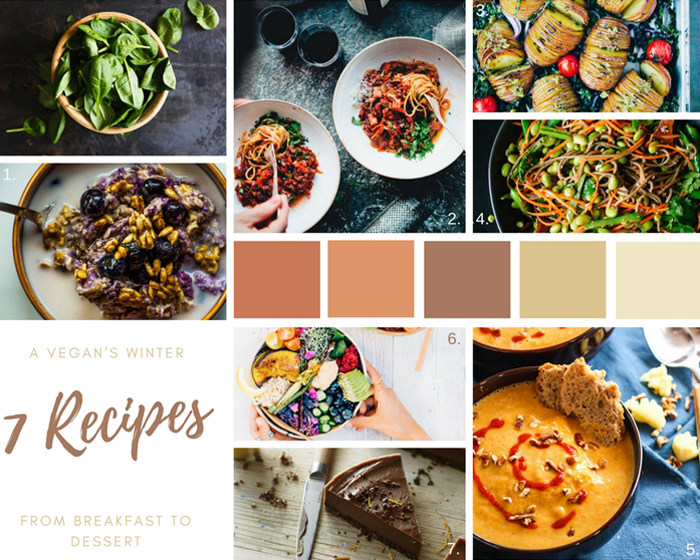 Start your day on the right foot and whip up a warming bowl of oats to keep you fuelled for hours. From an ancient Indian Ayurvedic perspective, eating with the seasons is key to giving the body what it needs to perform at its best. This means that the cold fruits and smoothie bowls of Summer are out and a wholesome cooked breakfast option is in.
2. Black Lentil and Vegetable Bolognese
This is a versatile recipe that can be adjusted to suit any taste or use up any leftover veggies in the fridge. With rich tomatoes for the Bolognese sauce, celery for crunch, green olives for saltiness and tasty herbs for flavour, this is a protein packed and nutritious meal that will even fool the kids into eating their veggies.
3. Hasselback Potatoes with Kale, Beans and Pesto
The perfect marriage of ingredients is the base to a great recipe, think tomato and basil, cheese and pasta, apple and pork and of course, just as in this recipe, olive oil and potato. This recipe delivers crunchy morsels of potato with a side of kale chips and protein rich black beans for added nutrients and makes for an ideal side dish as a single potato or can be served up as a filling main accompanied by a serving of steamed vegetables.
4. Sugar Snap Pea and Carrot Soba Noodles
Soba noodles are made from buckwheat flour which is a great gluten free option for those with intolerances or who are seeking a healthier option to pasta. With an abundance of crunchy vegetables and a punchy ginger sesame sauce, this recipe can be doubled and used for an easy pre packed lunch option throughout the week.
5. Vegan Persimmon Butternut Squash Soup
Soup is a great way to warm the body from the inside out and to pack more than one serving of vegetables into a meal. Try this vegan butternut squash soup with flavoursome spices of cinnamon, paprika and cloves and served with a swirl of chilli sauce, making this an ideal recipe for a cold Winter's night, served with a side of crunchy, buttered sourdough.
A recent study from the CSIRO has found that four out of five Australian adults are not eating enough fruit and vegetables in order to meet the Australian dietary guidelines. This recipe has been created by nutritionist and dietitian Ellie Bullen, who lives by the simple philosophy of "eat more plants." The Instagram worthy rainbow bowl is a perfect way to pack in as many vegetable servings you can fit into one meal and is completely adaptable to use up whatever you have laying around in the fridge.
7. Raw, Vegan Chocolate Orange Torte
One would be mistaken if they thought that following a plant based diet means that they have to miss out on sweet treats and desserts. This recipe packs in a bunch of almonds, which are high in vitamin E, copper, magnesium and proteins, keeping you fuller for longer and your skin glowing, whilst cacao powder has nearly four times the antioxidant power of regular dark chocolate.
For more vegan inspiration, see our recipe guide here.