Words by Sean Melrose, interview by Shawn Sheather.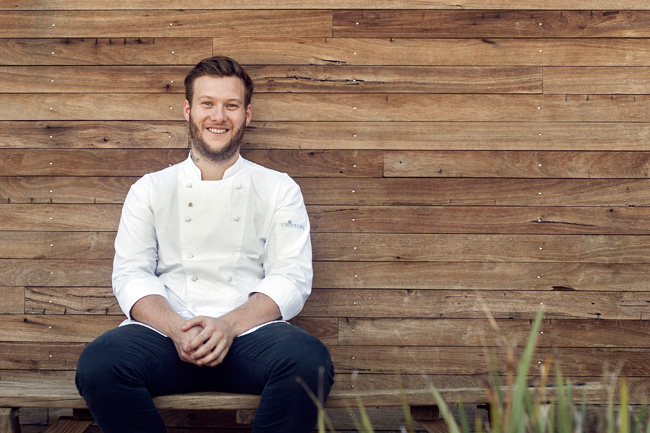 Lachlan Colwill.
How does home-grown Barossa product Lachlan Colwill, head Chef at award-winning Hentley Farm restaurant, take the pressure off before a big service? Together with his much appreciated team, he sings. It's a fun routine that allows them to shake off the weight of expectation that goes with being a hatted and much lauded restaurant.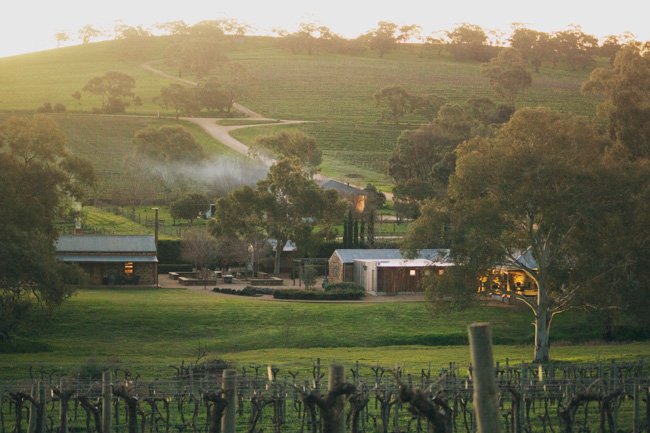 Hentley Farm.
The tattooed Colwill is no stranger to the world of intense pressure, having worked at some of New York's great restaurants. In the Big Apple, he learnt about the precise focus required for the microscopic details of each dish, as well as the extra attention paid between Chefs and the service team. Though as he recalls, it also opened his eyes to a darker side of an industry that appeared to be burning out great young Chefs, one of the reasons why creating an enjoyable kitchen is a real focus at the farm.
"That hit home to me, we had always focussed on the team environment heavily, but we do it more and as we grow it's one of our team focusses.
"We have our pre-service briefings, we actually lighten it up with some music and get freshly prepared for service. We keep each other in a good place, ready to take that positive fun nature into our services," he says.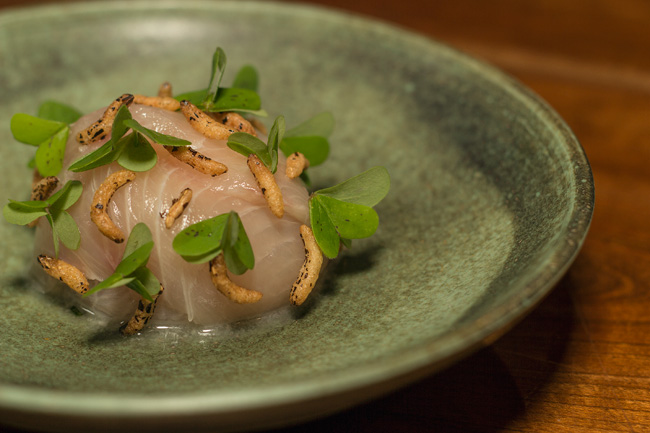 Kingfish with wood sorrel and puffed wild rice.
For Hentley Farm it's been a successful year awards wise, but Colwill is just as pleased with the development of the team, its growth and the creation of a cheerful and positive atmosphere. The accolades don't go unnoticed however, according to Colwill they act as a form of feedback, letting the team know that diners and the industry appreciate their work.
"People get to hear about what we do, and hopefully come and experience Hentley Farm," he says.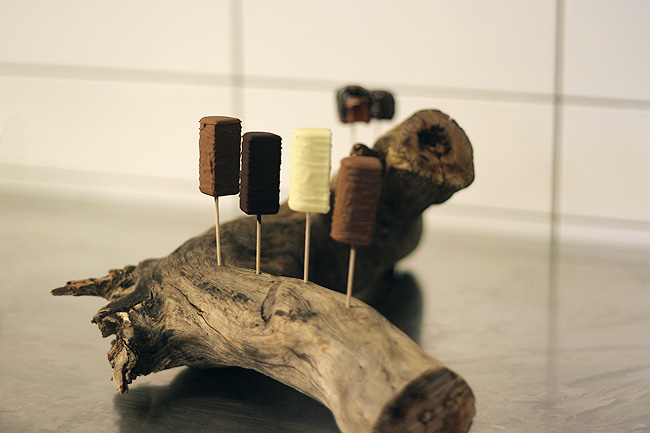 [Front to back]: Petite Fours - mini ice creams and toasted wine marshmallows.
From a management perspective, Hentley Farm have tried to build an environment where the entire team can try and create individually. This establishes a confident mindset and a space where individual development leads to organic team growth. It's based on a philosophy that supportive surroundings encourage creation, which in turn leads to a team with a common purpose. When you get to that point Colwill says, commitment "just happens."
The 2009 winner of the national La Chaine des Rotisseurs Chef Competition, highlights his mum as an inspirational figure and a reason as to why he fell in love with cooking. After deciding traditional schooling wasn't for him, Colwill's curiosity was awakened by his mother's Chinese cookery classes and not long after, he "jumped into the kitchen." Later on, it was Panama Dining Room's Ayhan Erkoc that took a young keen Chef and taught him the refinements required to be great.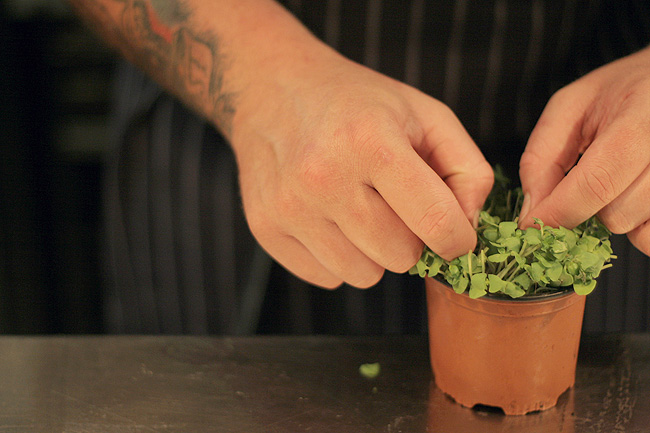 One of Hentley Farm's Chefs picking a mircoherb.
Ingredients come through the door as a combination of what has been picked from Hentley Farm, along with fresh produce from the other local farms in the region. Colwill and the gang try to create a menu around the produce and after using this approach year after year, they know what's about to be harvested. Earlier on at Hentley, there would be more time spent in the garden, though recently Colwill's mother and father have taken over the gardening, leaving the Chefs closer to the kitchen.
"Dad has done a full circle, he started on a farm, became a sparky and now in retirement works harder than ever to grow the perfect produce for us. I also get to see them at work, so it's great," says Colwill.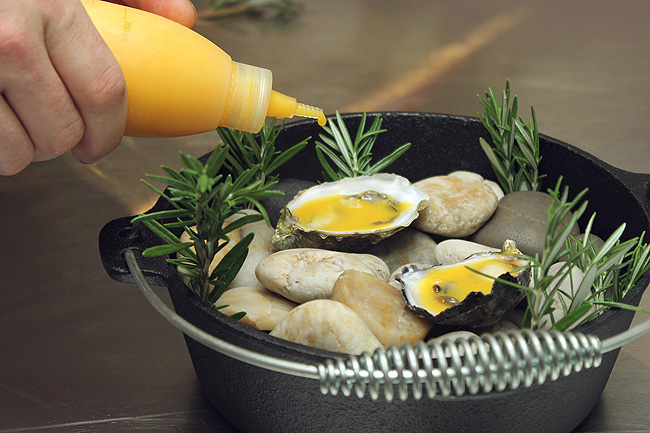 Smokey Bay oysters with passionfruit juice and rosemary for aroma, served in a pot with dry ice.
With so much great produce on the table, in so many masterful dishes, when it comes to picking a favourite dish or ingredient it's not easy. Lately Colwill has been caught up with a sea urchin and sweet potato waffle dish which makes the past Masterchef guest Chef admit, "fresh sea urchin, would have to be my favourite." Nevertheless, he considers himself lucky to be in South Australia with access to such amazing seafood, so while sea urchin is on top for now, it's hard to forget a Hentley favourite; seared tuna with paté, cured egg yolk and crisp iceberg.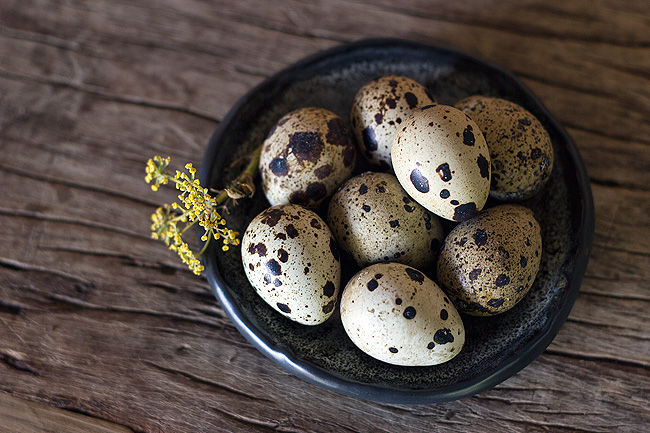 Fresh eggs are collected from onsite quails each day.
The future looks bright for the ever developing Hentley Farm. After quite a bit of travel Colwill is keen to stay put for a while and focus solely on the restaurant, with a tight knit bunch all working towards the same goals, "it's a great team and we all get on," he says. Wearing many hats, Colwill stands at the epicentre of it all, settled in for the long haul and waiting for the bell to ring.
"Come spend some time with us, take a walk, have a look at the vineyard, we just like to meet people who love a great experience." ~ Lachlan Colwill.