By Leigh O'Connor.
Celebrate the coastal cuisine and culture of the Northern Rivers region at the annual Taste Tweed food festival, beginning July 1.
Defining the character of this picturesque destination by hosting a series of events over the month of July at various locations, the festival fuses agricultural heritage and locally grown produce with Chefs' menus and tasting events, to showcase restaurant and food businesses.
Featured tours and walks in the programme outline the development of the region through industry, agriculture, fishing and education, as well as continuing the magic of a traditional Aussie beach holiday in a relaxed and welcoming location. With a variety of ticketed and free events to suit visitors of all ages and walks of life, the festival kick starts with a Winter Wonderland Pyjama Party at The Surf Club Kingscliff – Bar & Bistro on Sunday, July 1.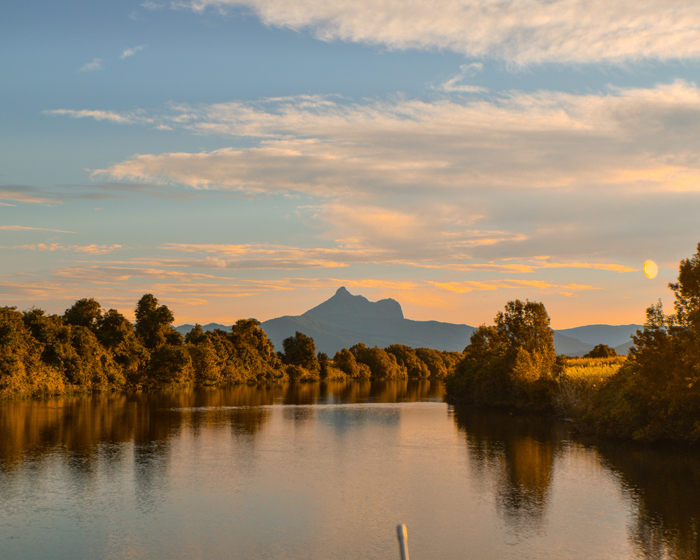 Mt Warning view from the Rous River on the Spirit of Wollumbin by Mount Warning Tours.

Trivia lovers can get their groove on at Cudgen Leagues Club on Wednesday, July 4 with a Tasty Trivia Night, while every Wednesday in July join foodies and Mount Warning Tours for a five-course degustation cruise along the Tweed River.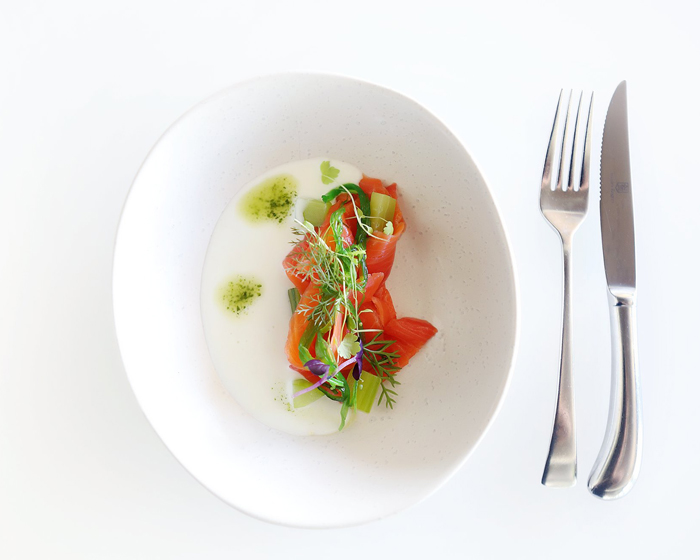 Husk Ink Gin and beetroot cured King Ora salmon at Season

Kingscliff Night Market is another great reason to visit and stay in this beautiful seaside village - bring the family to eat, shop and chill out with friends on Friday, July 6 from 4pm at Lions Park in Marine Parade. Those looking for a lazy Saturday lunch can't go past Season restaurant at Peppers Salt Resort & Spa in Salt Village on Saturday July 7, where Chef Michael Lee oversees an innovative menu featuring local produce.
Get on your bike on Sunday, July 8 and join the Taste Tweed cycle tour winding along the Kingscliff foreshore and Tweed River bank towards Fingal Head. The ride takes in a visit to the Chinderah Seafarers Museum and Fingal Head Park and Lighthouse, as well as Giants Causeway and views of Cook Island – keep an eye out for whales, dolphins and local bird life. Coffee at a local café and a tasting seafood lunch are included in the tour.
Fashionistas can celebrate with a day of food, fashion and fun from 10am on Monday, July 9 meeting at Brothers Café, Restaurant & Bar on Marine Parade for a bite to eat and beverage of choice. Delve into canapes from The Salty Beardman and Mockingbird Café, while checking out what's hot or not to wear at Maddie & Lil and Fashion at On Kliff Beach House; finishing with a light lunch and drinks overlooking the stunning seascape at Cudgen Headland Surf Life Saving Club.
Stroll along the Tweed Wharf and learn about the local fishing industry and history of the area on Wednesday, July 11 from 10am, meeting at the Tweed Endeavour Cruise office - enjoy a relaxing few hours before concluding the walk at Ray Pascoe Park with a light lunch of local fish and chips. The following day, meet at the Visitor Information Centre in Kingscliff for a Combie pick up to embark on a unique walk and drive tour to trending Tweed areas and visit popular food businesses and collectible stores, before a banquet lunch.
Ever wanted to know how to make the perfect crepe? Join Taste Tweed on Friday, July 13 for a crepe making class at 3sea Café and celebrate Bastille Day with a delightful French cooking demonstration, making traditional buckwheat crepes from the region of Bretonne. Bookings are essential for this event and places are limited, so get in quick.
Those still hungry may be tempted by Pickled Pig Brewery's Black Friday Mexican Fiesta Night from 5pm. This family owned and operated eco microbrewery brews handcrafted beer with no preservatives and chemicals, as well as a range of gluten free ale and seasonal ciders and will also host a tour and open day on Sunday, July 22.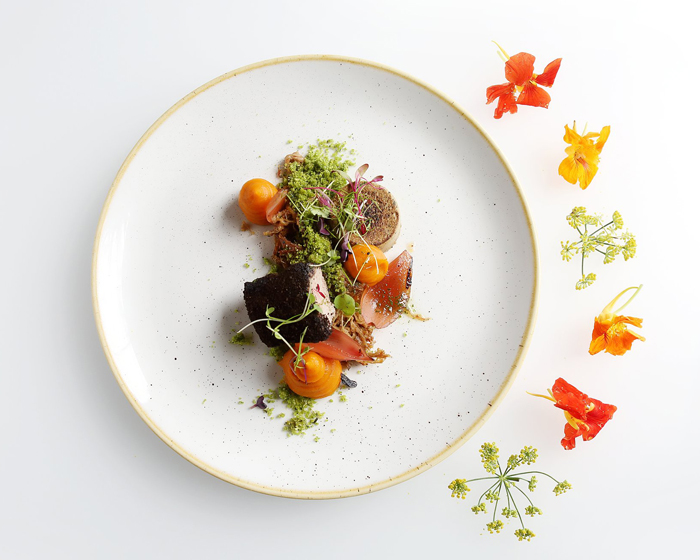 Signature Dinner. Photo: Angie Branch Photography.
The festival's signature dinner will be held at Season on Saturday, July 14 with a six-course degustation, with matching wines from Chaffey Bros Wine Co. from South Australia, showcasing the sub-regional diversity of Barossa Shiraz and Riesling. The event will be hosted by Daniel Chaffey Hartwig, who will explain each wine pairing and how the varietal is produced - once again numbers are limited, so book early.
Be transported to India with a new event, 'Goa v Tweed' festival lunch at The Bombay Cricketers Club in Salt Village on Sunday, July 15. Chef Any Melville expresses his passion for fresh seafood, organic meat and locally sourced produce in all new fusion dishes in a four-course menu, highlighting the vibrant and exotic tastes of coastal Goa.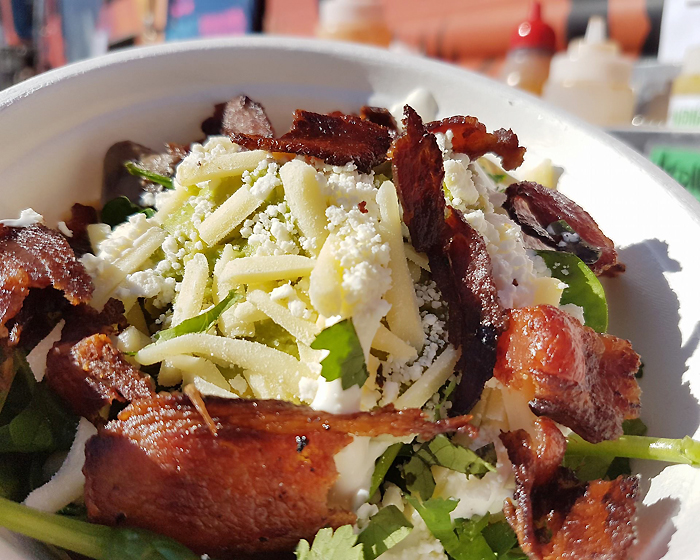 Breakfast Bowls at Salt Village Market.
After stopping by the Salt Village Market on Saturday, July 21 head to boutique seaside restaurant Taverna, for Greek inspired cuisine with awesome ocean views and indulge in a festival lunch to remember. Designed to share, each dish on the menu is constructed to take advantage of the best seasonal produce and Mediterranean flavours, as seen in plates such as charred octopus, fava bean whip and sweet pickled vegetables.
Pack a picnic basket, or enjoy food and drink on offer, at Blanc de Beach at Central Park in Salt Village on Saturday, July 28. Most importantly, wear your bright whites and soak up the sun, entertainment and atmosphere at this free event (donation on entry appreciated), which will be fully licensed. Finally, the festival will celebrate Australia National Tree Day on Sunday, July 29 with events to be announced, providing an opportunity for locals and visitors to participate in positive community activities, reconnecting with nature and the environment.
Be prepared to taste, treat and tantalise your senses this July at this ever-evolving Winter food festival on the Tweed Coast and Hinterland. For more information click here.