By John Rozentals.
The relatively slow development of Orange's Rowlee Estate, established nearly 20 years ago on the northern slopes of Mount Canobolas by Deonne and Nik Samodol, has come to fruition with the recent release of its 2016 Chardonnay, which was awarded the Wine-of-the-Show Trophy at the 2017 Orange Wine Show.
The wine also won trophies at the show for best white wine and best young chardonnay, in addition to a gold medal in the young-chardonnay class of the 2017 NSW Wine Awards.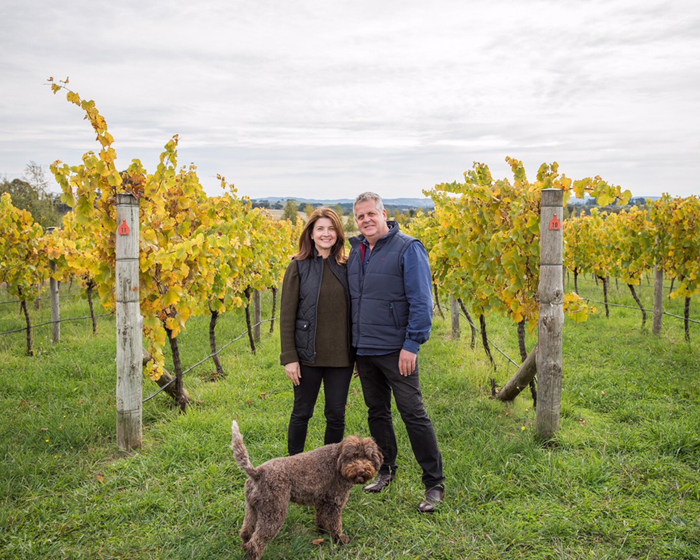 Nicole Samodol and James Manny.
The wine, made from grapes grown at 950 metres, is an outstanding chardonnay with admirable finesse (see tasting notes) and is a tribute to Nicole Samodol, Deonne's and Nik's daughter and winemaker, together with her partner James Manny.
Nicole brought a wealth of industry experience to Rowlee, having worked in some of Melbourne's leading restaurants and hotels, including the Stokehouse and the Adelphi.
"Being a member of the Victorian Sommeliers gave me the opportunity to get behind the scenes with Australia's best cool-climate chardonnay and pinot noir producers," she said.
"Our philosophy is to make small batches of single vineyard wines, with minimal winemaking intervention. From the inception, we have collaborated with an experienced and talented team including mentor winemaker PJ Charteris.
"While the property dates back to 1880, the vineyard is still relatively young, and we've learnt a lot along the way and are eager to learn more. We are lucky to be in Orange where vignerons and winemakers are harvesting their collective wisdom to make the best possible wines."
The eight-hectare vineyard includes chardonnay, nebbiolo, pinot noir, pinot gris, riesling, sauvignon blanc and arneis.
Wine Reviews:
Rowlee 2016 Nebbiolo ($40): the Samodol family's love for Italian food is obvious in the varietal selection in the Rowlee Vineyard, and this superb dry red, made from the prince of Piedmont's grape varieties, shows that the choice has plenty of merit. I love this wine's gorgeous acidity and tannin — and its complex spicy flavours. It has a long life in front of it.
Champagne Lanson Black Label Brut (about $50 but as little as $40 from Dan Murphy): creamy, yeasty and complex, this is one of my favourite Champagne styles. Currently comes packaged in a metal 'music box' that doubles as a handy loudspeaker for mobile phone and iPad.
Wine of the Week:
Rowlee 2016 Chardonnay ($40): this cool-climate dry white fully deserves its accolades from the 2017 Orange Wine Show. It's lean and complex, with magnificent flavours at the nectarine end of the fruit spectrum and definitely the sense that it rewards cellaring. Deftly handled oak complements rather than intrudes on the fruit. A top wine that's a tribute to both vineyard and winery.