By John Rozentals.
While I spend most of my beverage-writing time penning stories about wine, I'll also admit to a partiality for good beers and the occasional cider, though in the latter area I almost completely eschew the stuff churned out by the big guys.
Why? Because much of it is sweetened up and doesn't appeal to my taste. And because much of it hasn't ever sniffed an apple, let alone been made from one.
They may smell vaguely of apples because the manufacturers incorporate apple flavouring into the product, but they've got nothing to do with cider.
That's why it's so heartening to hear about an operation like the Hillbilly Cider Shed, located in the heart of Bilpin apple country, on the outskirts of Sydney along the Bells Line of Road as you start the exhilarating drive towards Lithgow.
It overlooks a working apple orchard, and the owners, Shane and Tessa McLaughlin describe themselves as hillbilly by nature and pride themselves on producing cider from nothing but pure apples.
"We don't add sugar, we don't pasteurise and wedon't add artificial flavours.
"We're all about keeping it real and honest — 100 per cent crushed fruit fermented with minimal intervention for an easy bohemian bubble," says Shane.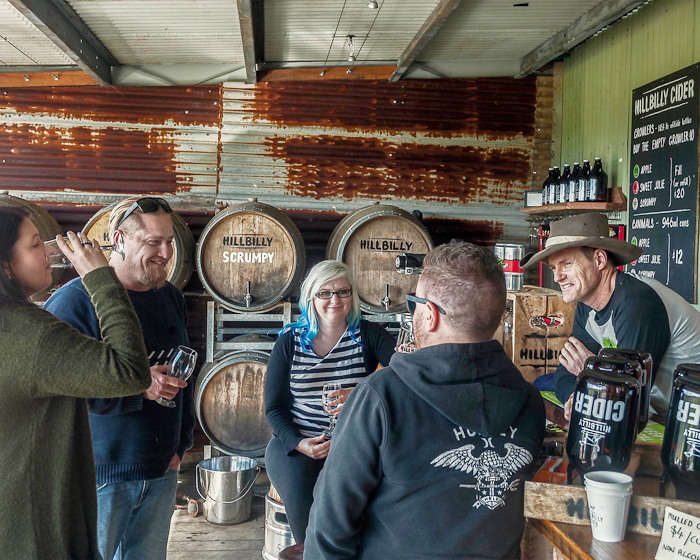 Shane McLaughlin (right) entertains a bunch of happy tasters in his Hillbilly Cider Shed, at Bilpin on the Bells Line of Road as you head West out of Sydney. Image: Deep Hill Media.
Dedicated cider-lovers can seek out the honest earthiness of Hillbilly Cider, straight out of the barrels at the new cider shed — ciders such as the traditional Scrumpy and Sweet Julie, thought to be the only cider in the world made from the Julie apple, discovered and grown at the orchard and the newest apple discovered in the area since the Granny Smith a century ago.
Visitors can also picnic under the trees in the company of cider-shed dog Star or sit on the deck, soaking up the vibes of raw hillbilly music.
The Hillbilly Cider Shed is located at Shields Orchard, 2270 Bells Line of Road, Bilpin, is open from noon to 5pm on Fridays and from 11am to 5pm on Saturdays and Sundays.
Visit www.hillbillycider.com.au for more information.
Wine Reviews:
Warburn Estate 2014 Limited-Release 1164 Lagrein: I first came across this red quite recently on a visit to Griffith, where it paired beautifully with a Sicilian-inspired meal that included some magnificent local lamb. It shows the variety's hallmark firm tannin backbone, but there's plenty of spicy, dark-fruit flavour as well.
Warburn Estate 2016 Limited-Release 1164 Montepulciano: Montepulciano is the most planted red variety in central and southern Italy, where is gets high praise for making deep-coloured wines with moderate acidity. So, it should get plenty of attention in Australian areas such as the Riverina. Plummy flavours are to the fore here and the wine has an alluring softness. Almost getting out of season, but bring on a hearty casserole.
Beverage of the Week:
Coopers Session Ale: Coopers Sparkling Ale is one of the favourite palate refreshers for wine writers and this recent addition to the South Australian company's line-up is certainly welcome. It has a pronounced perfumed fruitiness due to the generous use of galaxy and melba hops in the brew, and the expected cloudiness of an ale made that retains plenty of residual yeast in the keg or bottle.