By John Rozentals.
Back in the dim, dark days when I was studying wine science — long ago enough for the institution to be known as Riverina College of Advanced Education rather than Charles Sturt University — it was virtually blasphemous to talk about making preservative-free wine.
Sulphur dioxide — both as anti-microbial agent and as an anti-oxidant — was regarded as an essential additive in good winemaking, though advances in technology meant that it could be used in smaller doses than previously.
Sure, there had been some attempts at making preservative-free wines, but the assessment of these beverages was far from flattering. You would have had to be seriously allergic to sulphur dioxide to consider consuming them.
Fast forward some 40 years — and a few bounds in technology — and the notion of making wines without sulphur dioxide is a definite possibility.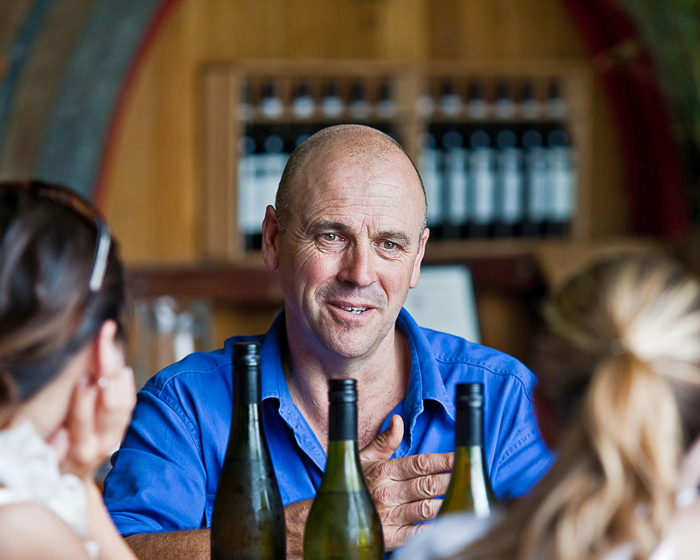 David Lowe ... "The name came about simply through the recurrence of the number 500."
Mudgee winemaker David Lowe has had more experience in this field than most have, and the Lowe 2017 PF500 Shiraz is his ninth vintage of preservative-free wine.
It's a courageous and praiseworthy effort — deep red in colour and packed with juicy flavour, and showing no sign of the oxidative character that so often dogs such attempts — and, as well as being preservative-free it's also unfiltered and unfined.
It's about as natural as wine can get, and for good measure it's made from a biodynamic vineyard. And that in itself brings an important distinction to the fore.
Quite a few growers practice organic and/or biodynamic viticulture but most of them don't go on to eschew the addition of sulphur dioxide, which is very much a winemaking step.
So, why the name PF500?
David explains: "The name came about simply through the recurrence of the number 500. The vineyard sits at an elevation of 500 metres, 500 is the name of the horn clay preparation used in biodynamic wine growing, and we've bottled a proportion of the wine in 500ml bottles."
And why the latter choice?
"Preservative-free wines tend not to last overnight once opened, so we're experimenting with 500ml bottles. It can be enjoyed in moderation with the wine in its best shape," David said.
Visit: www.lowewine.com.au.
Wine Reviews:
Tim Adams 2014 Cabernet Malbec ($25): blending cabernet sauvignon with malbec has historically been a Clare Valley specialty made famous in the 1950s and 1960s by the huge success of the Leasingham Bin 56 Cabernet Malbec. It's a lovely red, with the fullness of the malbec filling out the traditional mid-palate 'hole.'
Tyrrells 2016 Beyond Broke Road Orange Sauvignon Blanc ($19): Tyrrells winery is located on Broke Road, in the Hunter Valley, but it has long used grapes from other Australian areas as well. This new (for this scribe, anyway) label handily brings a group of those wines together. This shows plenty of the variety's noted herbaceous character and some good palate weight.
Wine of the Week:
Lowe 2017 PF500 Shiraz ($22 for 500ml): A remarkably brave and successful effort at producing a preservative-free red. It's vibrant and juicy and shows absolutely not a skerrick of the aldehydic oxidised-apple character usually seen in wines made without sulphur dioxide.