By John Rozentals.
Tannin structure is critical to the way that a red wine tastes and responds to food, yet I doubt that most winelovers understand tannins.
Tannins come mostly from the skins of red grapes and aren't bitter, they're astringent. There is a big difference.
They have a high affinity for proteins and combine with them to form long-chain insoluble molecules. That's why they dry the mouth. Saliva contains a lot of protein. Red wine combines with these proteins and hence your mouth feels dry — and you can sometimes scrape red-coloured residue off your tongue with your teeth.
It's why protein-based fining agents, such as egg-white and skimmed milk, are sometimes used to remove tannins from red wines.
Foods such as red meat contain a lot of protein, so when you consume them with red wine, the wine's drying effect on the tongue is lessened. That's one reason they go well together, and it's certainly why you should taste wine with appropriate food before buying it.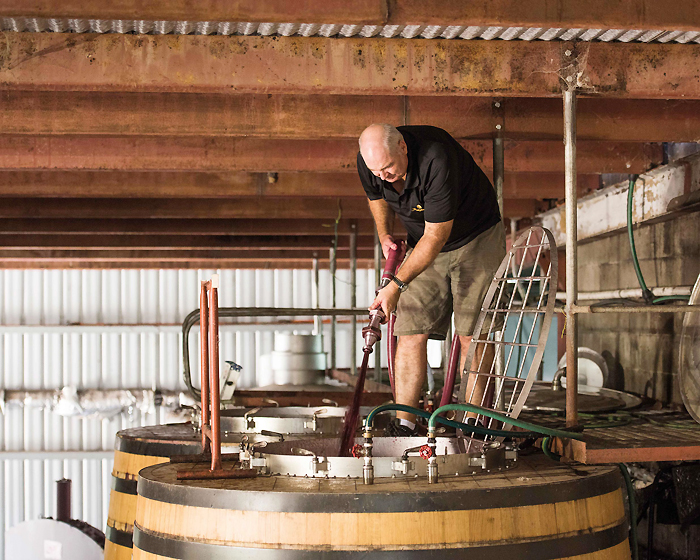 Tim Stevens working on a Huntington Estate red … "The trick is to be guided by the vineyard and intervene as little as possible."
The tannin structure of grapes — and hence of the wines they make — depends much on environment, grape variety, growing conditions, timing of harvest, etc. The extraction of that tannin, and its persistence in the wine, depends much on winemaking techniques.
It's the regionality that comes to the fore when Huntington Estate owner and winemaker Tim Stevens claims the area can produce some of the best red wines in Australia, and hence in the world.
"There is no doubt that our style of red wine is unique; we have high levels of high-quality tannin and acid that can make the wines somewhat astringent when young. I make no apologies for this, as the structure makes the wines great for ageing and great with food … In time the fruit and tannins integrate to become sublime," he said.
"Our wines are old-style and don't suit tastes where body and complexity are not important. The style of Mudgee reds is not something we can change, even if, God forbid, we wanted to. This is because of our unique climate and soils, which are what they are.
"Time and again, I have seen Mudgee winemakers (myself included) try to tame these tannins by manipulating the vineyard conditions or playing too much with the wine in the cellar. Invariably, the wine becomes stripped or dull. Handled properly, Mudgee wines are full-bodied, have loads of super-fine tannins, good acid levels, with concentrated and complex flavours that last of the palate.
"The trick is to be guided by the vineyard and intervene as little as possible. Go with the tannins, not against them."
Wine Reviews:
Angullong 2017 Fossil Hill Orange-Region Rosato ($24): this wine recently went a treat with the nibbles we grazed on before a suitably long lunch in Angullong's vineyard near the locality of Panuara, on the southern slopes of Orange's main landmark, Mt Canobolas. It may be quite a frivolous pink in colour, but this wine has some substance to it. It's made from the Italian red variety sangiovese, completely dry and packed with quite a delicious, moreish flavour.
Angullong 2016 Fossil Hill Orange-Region Sangiovese ($26): grapevines are propagated from cuttings and different source materials show variations that are known as clones. This medium-bodied dry red is made from the 'brunello' and 'piccolo' sangiovese clones, which produce smaller, more intensely flavoured berries than the 'grosso' clone, which is proving ideal for making the Angullong Rosato. I like this dry red a great deal and find it a good match for a range of red meats, especially rare beef.
Wine of the Week:
Huntington Estate 2013 Mudgee Special-Reserve Shiraz ($36): this is a fine example of Mudgee red — and exactly of what Tim Stevens is talking about. It's a richly flavoured, full-bodied dry red with a lot of earthy flavours and plenty of fine-grained tannins that are already well balanced against those flavours. It's drinking well now and will only get better. Match it with some of the best steak, char-grilled medium-rare for me.