By Leigh O'Connor.
Flexibility, stress relief, health and physical fitness – just four reasons why you should invite yoga into your life, even more so in these uncertain times when finding your inner zen can be a challenge.
Yoga offers self-reflection, the practice of kindness and self-compassion, continued growth and self-awareness; it also improves your balance, can decrease cholesterol and improve health problems. For those in Long Jetty, nurture mind, body and soul at Modern Organic Yoga Cafe on The Entrance Road. This café, housed in a yoga studio, has a cool green façade to greet guests and a calming vibe, which filters through to an alfresco dining area in a Zen garden.
At the moment a takeaway menu is in operation due to Covid-19 and yoga classes are being conducted online; but don't despair the menu still promotes clean, healthy eating using local, organic and ethically sourced produce; as seen in Chef Chris Daly's recipe for Bircher bars.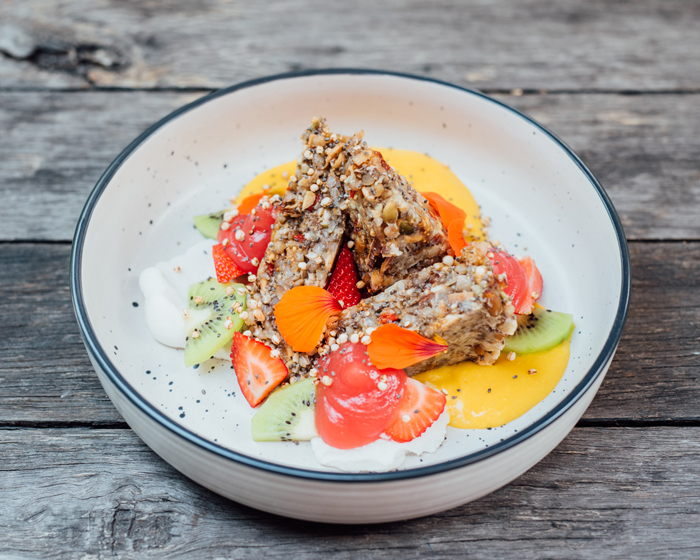 "This recipe is great for a healthy grab 'n' go option for busy people, or with all of the trimmings for a great way to start your weekend morning off," Chris says.
After starting his cooking career in London in the mid-nineties working in a classic European bistro, Chris returned to Australia and finished his credentials at TAFE; while working at Haven Beach Café in Terrigal; where he eventually graduated to Head Chef.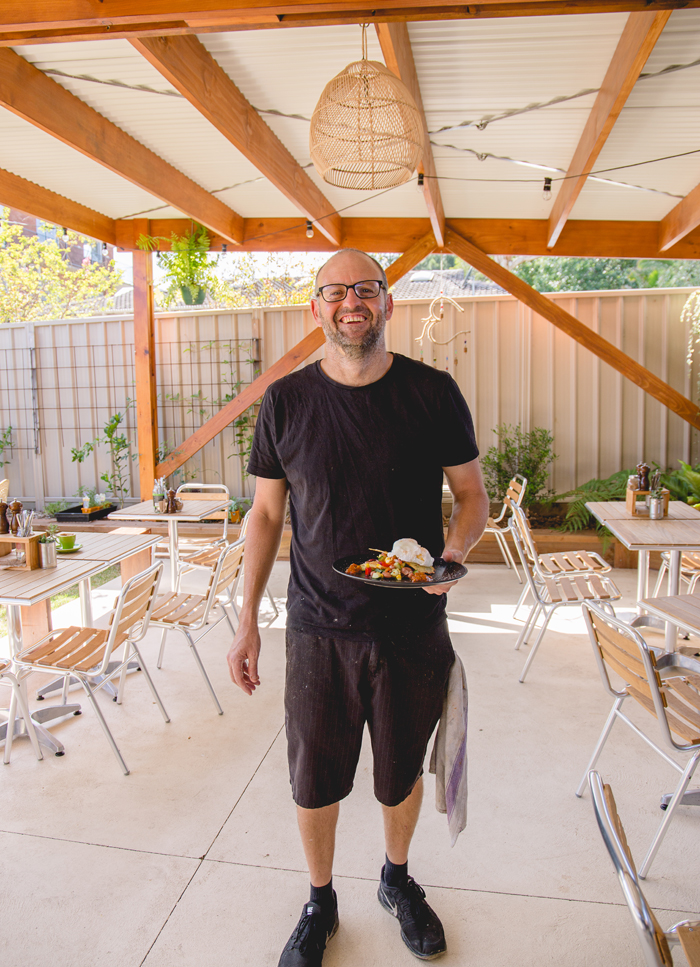 Opening his own beachfront restaurant at Shelley Beach, Chris was on the pans for five years before the business was destroyed in the 2007 June storms. While working at Pearls on the Beach as Sous Chef, the restaurant won an AGFG Chef Hat; which catapulted Chris to where he is today at Modern Organic.
Grab a signature red velvet latte or hot chocolate alongside a beetroot berry brownie, vanilla whip and chocolate drizzle, to contemplate your next yoga session to improve circulation, detoxification and activate your digestive system.
We asked Chris to recommend five poses to help us get started for the day:
Child's Pose:
From hands and knees, drop hips towards heels and reach hands forward. Rest forehead on the floor.
Cat Pose:
From hands and knees, inhale, drop the belly, lift the tailbone, roll shoulders back and look to the sky. Exhale, tuck tail, pull navel in, tuck chin and round from lower to upper back.
Boat Pose:
From a seated position with legs out in front, activate your core. Bend knees and bring them into your chest, lean back and lift feet off the floor, reaching hands out by your side.
Supine Twist:
Lying on your back, bend knees in towards your chest and let knees fall to one side, looking in the opposite direction. Breathe deeply and after 3-5 breaths, change sides.
Happy Baby:
Lying on your back, bend knees in towards the armpits and take hold of the outside of your feet. Ground tail bone and breathe deeply.