By Sean Melrose.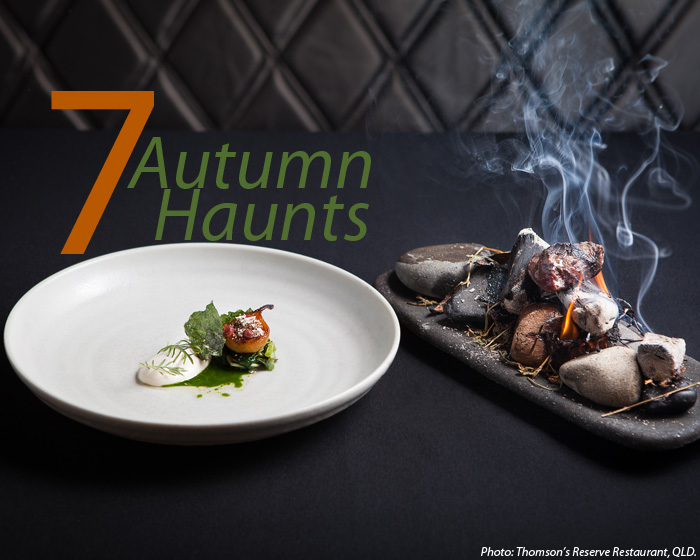 In New South Wales pecans and pears are at their best, as is the humble apple, while way out West Jerusalem artichokes and eggplants come into favour. The sunshine state is released slightly from the punishing heat of Summer and down South the air begins to turn crisp. Yep, it's Autumn again. Saving the hearty stews, one pot wonders and casseroles for Winter, Autumn brings a craving for sweet and hot spices, cinnamon and black pepper, for aromatic soups and comforting apple pie. Here's a list of Autumn haunts to make the journey through the season of burning leaves, cosy nights and crackling fires a delicious one.
Thomson's Reserve Restaurant | QLD
Thomson's Reserve boasts a versatile ambiance, smartly set with low hanging bulb lighting, textured brick walls and timber tables. Showcasing a well-balanced seasonal menu with the freshest local, sustainable and organic produce available, the plates at Thomson's are designed to complement the wine list, featuring a selection of local and international choices.
Public Dining Room | NSW
This fresh, modern restaurant reflects fine dining in a relaxed beach style atmosphere with stunning water views. Architecturally designed by Hecker, Phelan & Guthrie, Public Dining Room sits by the beach and offers a contemporary a la carte menu featuring local ingredients, incorporating global culinary influences and delicate, slow braised choices.
Host | VIC
A selection of ever-evolving dishes ebb and flow with changes in available seasonal produce, sure to delight and surprise tastebuds with curious combinations, each plated with flair. Pair this with a pick from a concise wine list celebrating boutique producers both locally and internationally for a complete palate-pleasing feast.
The Trustee fills with Perth locals soaking in the rustic bistro, sunbathing in a flourishing garden bar and exploring the Angel's Cut Rum Bar upstairs with its own life-sized angel perched above the bar in glowing red light. With a selection in hand from a diverse wine list, sample classic pub fare with an ultra-modern gourmet spin.
Red Ochre Grill | SA
North Adelaide's Red Ochre Grill showcases fresh South Australian and indigenous produce via a menu of elegant, modern choices. Located a short stroll away from the Adelaide Festival Centre, Red Ochre Grill offers a warm and idyllic setting of plush carpeted floors, linen-draped tables and wide floor-to-ceiling windows overlooking the scenic River Torrens.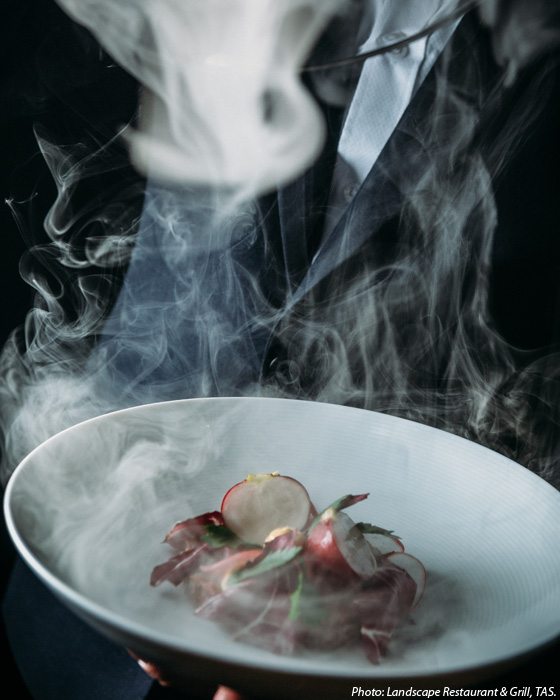 Landscape Restaurant & Grill | TAS
A mesmerising, Modern Australian culinary experience on Hobart's waterfront, indulge senses at Landscape Restaurant & Grill, inspired by the iconic art of John Glover, situated inside The Henry Jones Art Hotel on Hunter Street. Ambient is the word that comes to mind upon viewing Landscape's interior with its soft lighting, heavy timber beams and matte walls festooned in signature landscape art.
Muse | ACT
Between Kingston and Manuka in the stylish East Hotel is visionary venue, Muse. Offering dining in surrounds of new and second hand books for purchase, a contemporary décor of high ceilings, stocked bookshelves and timber floors adorned with warming rugs make for a meeting place for lovers of gourmet food and the written word. Ideal for escaping with a book on a blustery day.
For more Autumn haunts near you, search via your location.