By Freya Ensbey.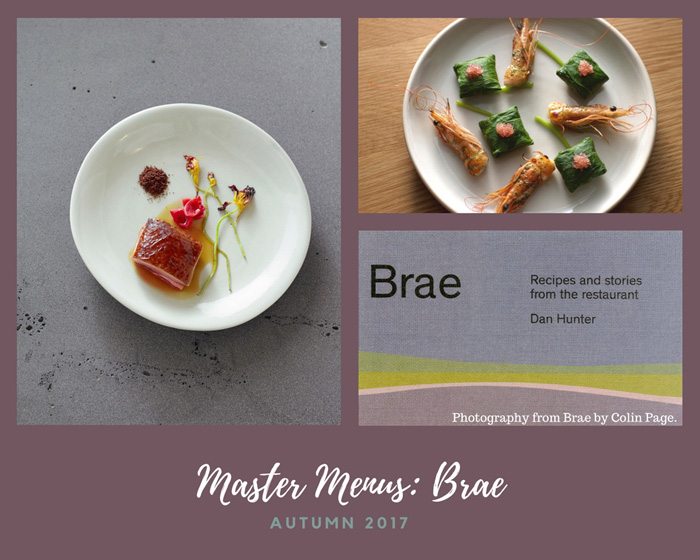 Brae | VIC
As the name suggests, Brae is situated on a sloping hillside – plump with 30 acres of lush, organic farmland. It is a holistic place, visionary with an idealistic movement of taking only what you need from the encompassing environment. Conceived in 2013, the landscape of Brae has been meticulously managed using regenerative farming techniques to heal and replenish the earth that gives back to the restaurant in abundance.
Upon the land resides six luxury guest suites constructed with sustainability in mind, using recycled materials, solar energy and harvested rainwater, encompassed with a surrounding landscape of seasonal vegetable garden beds, stone fruit and citrus orchids, nuts, berries and olives which are utilised for their housemade extra virgin olive oil; whilst chickens can be found frolicking around the property delivering a consistent supply of free range eggs.
Owner, Head Chef and the vision behind Brae, Dan Hunter has been hailed by many in the industry as anything north of spectacularly innovative and dynamic. Hunter has been known to have a meticulous eye for detail and a reputation of talent for his craft that proceeds him, which is why it is of no surprise that his most recent brainchild, 'Brae: Recipes and stories from the restaurant,' was executed in the same fashion.
Pairing up with renowned niche publishing house Phaidon and so much more than just a cook book, Hunter welcomes his readers into his mindscape throughout this book, with a refreshingly unpretentious approach to his cooking, labelling it rustic and grounded, celebrating the relationship between the produce grown and skill of his team.
"It assists my creative process in a way that can make me question if I'm in charge of the direction we're heading or merely just another force existing symbiotically with all the other energies sharing space on this hillside." ~ Dan Hunter.
With changing seasonal produce being a constant at Brae, the book highlights recipes from their acclaimed Autumn menu which was guided predominately on the direction of their farm yield, with the likes of prawn, nasturtium and finger lime, iced oyster or aged Pekin duck, wood roasted on the bone with quandong and grilled nasturtium.
"You know, this is a farm. I always come back to that. I think today more than ever I'm letting the values that we set within the business, guide the cooking more than the cooking guide the future values." ~ Dan Hunter.
So, to, what a wonderfully abundant yield it has been this season for Brae, releasing their Autumn menu full of colour, novelty and vigour. Guests may sample plates of barbequed beetroot seasoned with Brae farm honeycomb and rainbow trout roe, today's tomatoes or perhaps eggplant and salt grass lamb, washed with sweet onion juice and fragrant, acidic plants.
For a more in-depth peek into Brae, follow the 'Brae, recipes and stories from the restaurant' book tour, with Hunter preparing a stand-up tasting menu of some of Brae's most iconic dishes in conjunction with renowned local restaurants in Melbourne, Adelaide, Sydney and Brisbane.
Bookings are essential.
For Melbourne bookings at Cutler & Co with Andrew McConnell contact (03) 9419 4888.
For Adelaide bookings at Penfolds Magill Estate Restaurant with Scott Huggins contact (08) 8301 5551.
For Sydney bookings at Quay Restaurant with Peter Gilmore visit here.
For Brisbane bookings at The Euro with Alejandro Cancino contact (07) 3229 3686.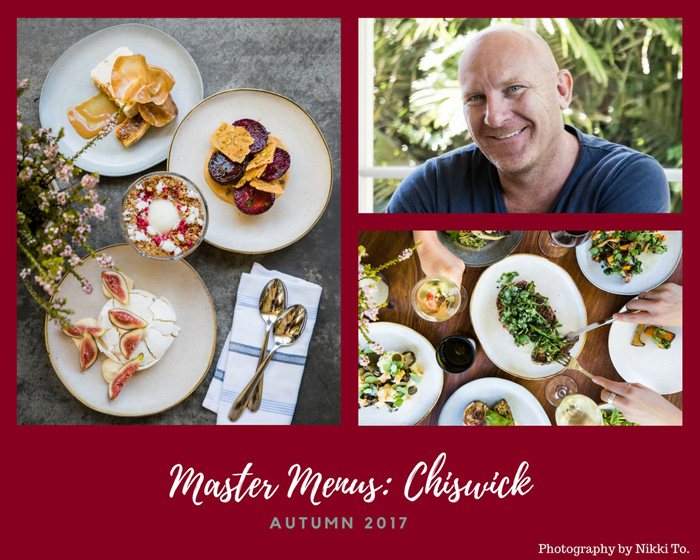 Chiswick | NSW
With two stunning Sydney venues sharing one simple ethos, Chiswick is a brand ahead of its time, spearheaded by celebrity Chef Matt Moran, with a philosophy of honest produce, artful cooking and a warm atmosphere brought to life by grower and Chef working hand in hand.
Moran is a pioneer of the now sought after 'paddock to plate' philosophy and an avid believer in the importance of consumers being connected to the source of their food. Both of his establishments at Chiswick Woollahra and Chiswick at the Gallery have a vegetable garden abundant in produce which is picked daily by the Chefs and plated up, staying true to their vision statement: 'if it's out of season it's not on the menu.'
Chiswick Woollahra sits regally amongst lush landscaped lawns, inviting guests into the glow of a light filled space with a contemporary dining room falling away to a casual bar area, and long communal seating designed to bring people together for a meal shared.
With the change of season here in Australia comes a change of menu for many restaurants around the country living true to seasonal availability. As the breeze begins to chill and the trees lose their leaves, a change should also be made with what is being served as its best to delve into produce that nature intends us to.
The Woollahra autumn menu was planted in their garden months ago, harvested the morning of and is served throughout the day.
Chiswick's Collective menu
is designed for groups of four or more and includes four courses designed for sharing. Each dish has been selected by Chiswick Head Chef Tom Haynes and Matt Moran, and features some of Chiswick's favourites with an Autumn harvest twist. Begin your culinary journey
a la carte
(or set collective) with dishes like that of the duck paté, pickles and mustard or perhaps the Moran family lamb shoulder to share, with baby eggplant and chermoula, finishing with decadent desserts like the baked plums with caramelised yoghurt, pistachio biscotti or black fig pavlova.