By Leigh O'Connor.
Turkish cuisine is honest, homely and symbolises family. It's all about sharing - eating real food made with love and spending time with people who mean the most in your life.
For Chef, Kirsty Chiaplias of Babajan on Nicholson Street in Carlton North, an appreciation of Turkish and Middle Eastern fare led to transforming a former kebab shop into a hipster haven, where locals stop by for innovative breakfast dishes and baked delights.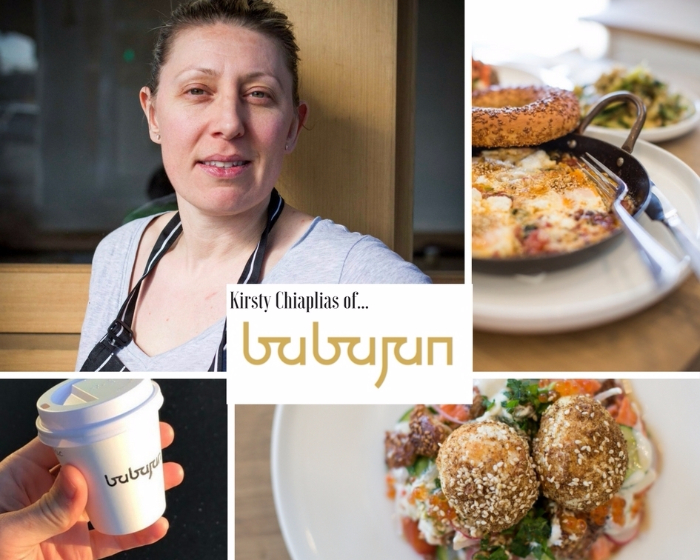 Diners can inhale the aroma of fresh baking, wafting from an open kitchen, as they take a seat on church pew-style benches in a bright, airy ambiance of polished concrete floors and custom stools, and admire a daily changing display of fresh salads at the front counter.
Capitalising on the Melbourne brunch culture, Babajan's menu puts a modern spin on traditional Turkish dishes such as baklava pain perdu, with ground walnut brioche soaked in a spiced crème anglaise, pastirmali kuru (fried eggs with pastima and cheddar) and Menemen Turkish baked eggs, a recipe Kirsty shares with us.
A signature on the menu, Menemen has been modernised for the local foodie savoir-faire and can be served straight to the table in a rustic frying pan, with the cheese still slightly bubbling and soft eggs ready to be devoured.
With a Greek background and more than 20 years' experience in professional kitchens, including working for Gordon Ramsay, Kirsty says fellow Chefs inspired her to learn to cook and work with Turkish food. Babajan - a respectful term for an elderly, kind man – is the result of this desire and Kirsty hasn't looked back since the café opened in 2016.
"I remember sitting talking to a Turkish friend of mine about names and how to find a suitable one for my creation. They offered their dictionary and I came across Babajan, when I read the meaning it resonated with me," says Kirsty.
Having lost her father earlier this year, the moniker is even more special to Kirsty.
"He was a respected and extremely kind man in my life and the lives of many others through his music and love for his family. I am truly proud to have him as my Babajan, father and so much more," she says.
Building on her last café, Workers' Food Room – where a wood oven was used to bake everything – Kirsty creates beautiful baked products made with quality ingredients, using meats and cheese from great local suppliers. She wants diners to enjoy a heart-warming experience at Babajan, to gather with family and friends and practise the Turkish culture of breaking bread together.
For those wanting to recreate the experience at home, Kirsty says it's all about the seasoning and to cook with love – don't rush it!
If you want to know more about Babajan and spend time with Kirsty, click here.