Australia is home to some of the oldest grapevines in the world, dating back to the 1850s. Our wine regions produce more than 100 different grape varieties, expressing the diversity of people who craft them and unique regional characteristics of their origins.
Vines first arrived in Australia with the First Fleet in 1788, when they brought with them vines from Brazil and the Cape of Good Hope. Today, there are estimated to be almost 2500 wineries and more than 6000 grape growers in Australia.
From cosy living room settings to grand architecturally designed structures that stand out from vineyards, Australia offers a plethora of exceptional winery experiences to cater to every taste. Let's uncork a favourite drop and say cheers to some of our favourite cellar doors.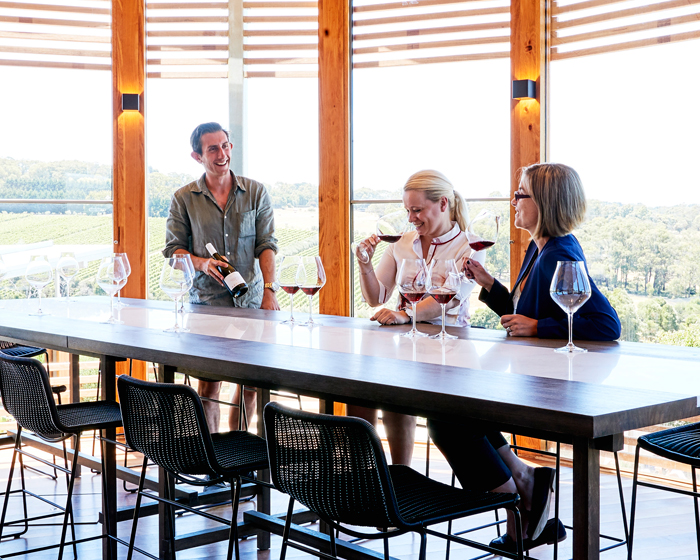 Expansive vineyard views from Montalto's Cellar Door.
A warm and welcoming cellar door team invites visitors to sample award-winning wines at Montalto on Shoreham Road in Red Hill South. Relax and enjoy a selection of wine varietals, hand-picked by the team, as they guide you through the range and impart knowledge about the unique microclimates of the Mornington Peninsula and how this affects the Montalto vineyards.
Perched high above the estate, with floor-to-ceiling windows framing panoramic views across the vineyards and beyond, Montalto Wine Room offers a contemporary space to taste test drops such as 2018 Montalto Estate Pinot Gris. Most of this wine comes from the Tuerong vineyard and shows classic primary fruit aromas of pear, apple, citrus and stone fruit with some floral, spice and mineral elements.
No visit to Montalto is complete without a memorable meal at the award-winning restaurant, where seasonal local and estate-grown produce is cooked on the wood fire grill in dishes such as Wagyu striploin and cheek, Jerusalem artichoke, finger lime and mustard flowers.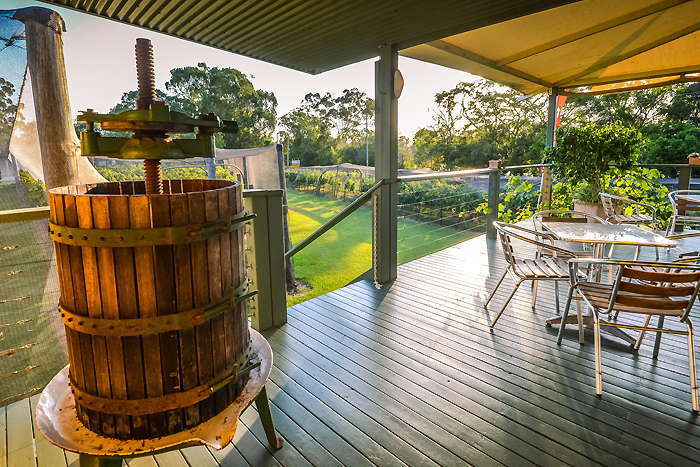 Relax on Raleigh Winery & House's deck.
Raleigh Winery & House is your Coffs Harbour destination to relax, unwind and create long-lasting memories, sitting on the deck overlooking the Bellinger River watching cheeky birds at play. Eat, stay and play at this Queen Street boutique winery set amongst the vines – laze by the pool, take a vineyard tour or go fishing, canoeing or bushwalking, before retiring to taste a glass of estate wine.
Fly in by helicopter, have the red carpet rolled out and sip Fox Gully White Villard Blanc, winner of several bronze awards from the Australian Small Winemakers Show. Pale in colour with green tinges and distinctive aromas of melon and apricot, this is a clean, fruit-driven wine with a crisp finish, particularly suited to chicken or seafood dishes.
When hunger pangs strike, head to the on-site restaurant specialising in charcuterie, housemade bread and daily specials showcasing seasonal and local produce, such as blackened prawns with saffron aioli and pimento.
Alpha Box & Dice Cellar Door.
Wines without boundaries – regional, varietal or stylistic – is what you can expect at Alpha Box & Dice on Olivers Road in McLaren Vale. In the words of Lewis Carroll: 'Why, sometimes I've believed as many as six impossible things before breakfast,' enjoy wines whose entire raison d'etre is to be delicious and express the complexity of the site and vintage conditions.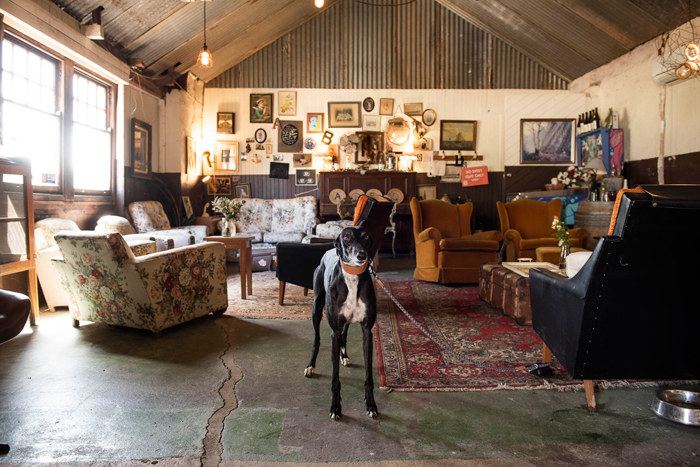 Alpha Box & Dice's Cellar Door is dog-friendly.

Expect wines that enchant, delight and leave you between a rock and a ripe grape, such as Uncle 2018 Sauvignon Blanc with aromas of grapefruit, gooseberries, fresh hops and passionfruit. Like an awkward, austere uncle you only see when you're dragged along to those unavoidable family outings, Sauvignon Blanc has always been on the Australian wine scene.
Best enjoyed with oysters, crab, shellfish and sunshine, Uncle is tight, crisp and zingy, embracing herbaceous characters and natural acidity; resulting in a tight, lean and crisp wine which is more reminiscent of a Riesling than a classic Adelaide Hills Sauv Blanc.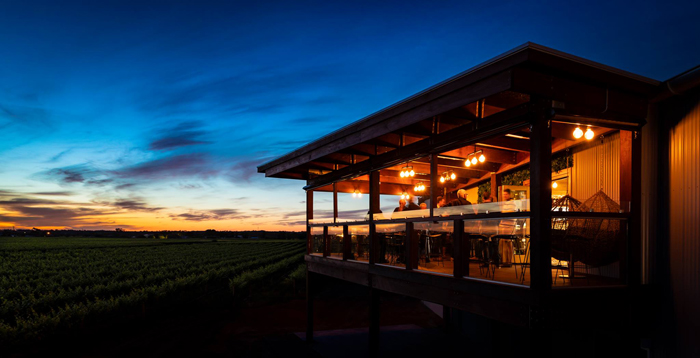 Stunning sunset views from Atze's Corner's Cellar Door.
You can see, taste, smell and feel the whole art of viticulture and winemaking when you enter the cellar door at Atze's Corner on Research Road at Nuriootpa in the Barossa Valley. Inspired to connect people to both the vineyard and cellar door, sit high on the balcony above the old vines or sample drops in the barrel hall tasting area.
Atze's Wild Rose 2019 Vermentino is a new release vintage well suited to the Barossa, where it soaks up warm Summer days to keep its fresh acidity. Vermentino is all about limey citrus and zesty, fresh tangy fruit with lingering flavours of honeysuckle and peach; dry and refreshing, this is the perfect wine to drink right through Spring and Summer.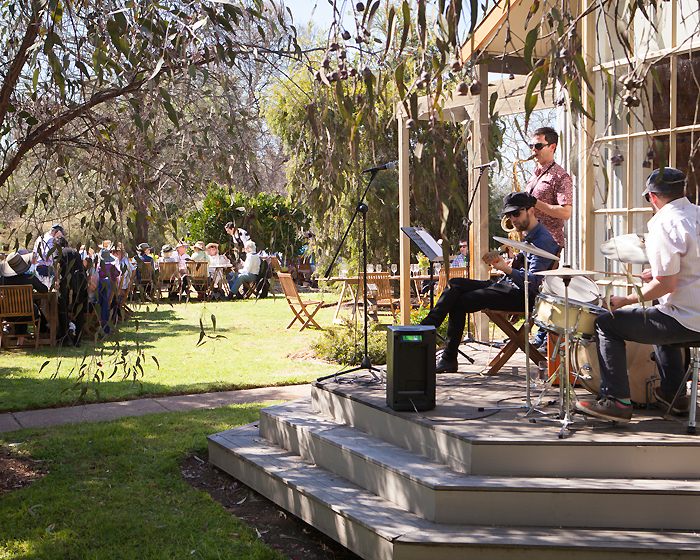 Live music at Box Grove Osteria's Cellar Door.
Box Grove Osteria owner and winemaker, Sarah Gough says a visit to the Tablik vineyard is an intimate experience and something completely different, where the person pouring the wine actually planted the vines.
"It is my passion," she says. "I know all the different varieties, their different characteristics, their little foibles. They have different personalities, like my children. I planted Vermentino because its history on the sun-drenched island of Sardinia promised it would thrive in the hot and dry Summers, we have recently experienced in Tablik."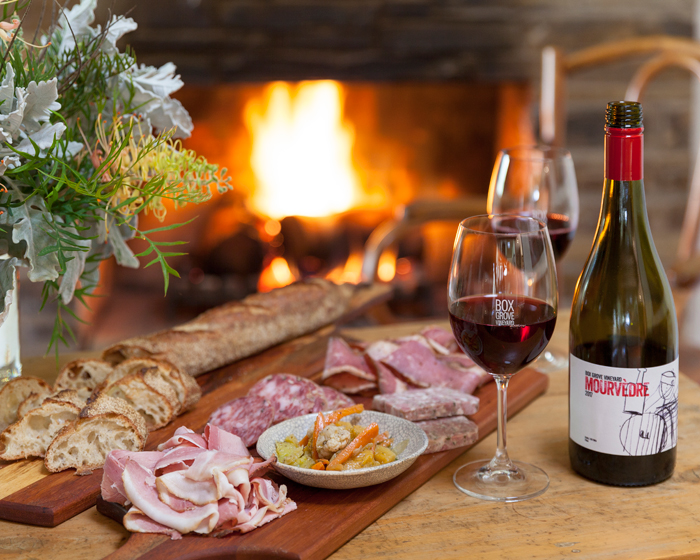 Delicious charcuterie and estate wine at Box Grove Osteria.
Box Grove 2018 Vermentino has delicious hints of zesty grapefruit and its hallmark briny complexity makes it perfect to savour with a dozen fresh oysters, or a bowl of steamed mussels; or perhaps partnering a grilled fillet of fresh flathead.
Osteria is an Italian term for a place deep in the country that serves local wine and food and that is exactly what you will get at this vineyard, where a cool and airy verandah offers the ideal spot to sip a chilled glass of Prosecco or Vermentino and take in the views through the shady River Red Gums to the creek below.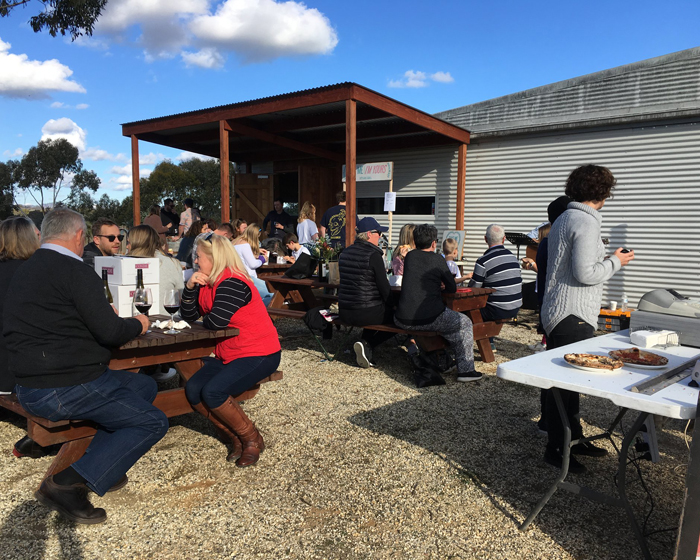 Relax outdoors with pizza and wine at Condie Estate's cellar door.
Condie Estate is a small producer of award-winning wines, situated at Wild Duck Creek, south of Heathcote. Step into the barrel room and experience tastings of new vintages straight from the barrel with winemaker and owner Richie Condie, to explore the difference between French and American oak, new and old oak and current vintage versus current release.
The premium reserve Max Shiraz has been matured in Seguin Moreau barriques for 24 months, with the fruit sourced from Condie's Lewis Road vineyard of PT23 Shiraz clones. A rich and lifted, complex yet elegant, full-bodied Shiraz with lingering spices, cherry, plum and blackberry fruit characters, this wine will reward cellaring for 5-10 years.