Compiled by Freya Ensbey.
The Amazon rainforest has provided South America for centuries with the little purple wonder package known as the acai berry.
This grape sized humble berry grows in clusters at the top of a palm tree and yields an intensive process to harvest, due to the berry itself only containing 10% fruit and pulp, the remainder being an inedible pip. Acai eventually made its way from the forest into mainstream Brazil, where it was mixed into health smoothies, causing athletes and surfers to claim that the acai was boosting their energy levels. It wasn't long until scientists began testing the berry, discovering its beneficial properties and sharing their findings with the world.
Acai has more than double the antioxidants of blueberries and an essential fatty acid profile similar to olive oil, they are a source of calcium, magnesium, zinc and are high in amino acids which help support energy production. With all of these bonus nutritional benefits combined with its sweet and chocolatey taste, and Instagram worthy presentation, it's no wonder so many of us are adding an acai bowl to our morning order of coffee at our local café. Make like the Brazilians this Summer and keep cool with our top list of acai bowls served around the country.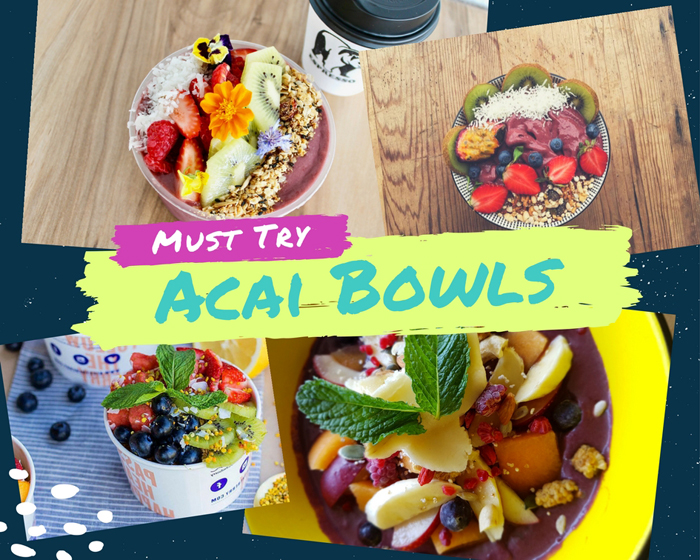 RECIPE: Born In Brunswick | TAS
Perched along Elizabeth Street in the heart of Hobart is the trendy eatery bringing brunches back, Born In Brunswick. Co-Owners Con Vailas (of MasterChef fame) and Ben Korkmaz, alongside Head Chef, Josh Retzer have created a restaurant and menu designed to bring people together to enjoy long brunches and conversation in a cheerful environment. If a full bowl of frozen fruits is not your thing, but you're still wanting the added benefits of acai, opt for their almond and citrus chia. Packed with the goodness of almond milk mixed with acai powder, chia seeds, nuts, puffed amaranth, seeds, pomegranate and fresh berries, this kick starter is the perfect way to begin your weekend brunching with friends.

RECIPE: The Boy and the Rose | NSW
When in North Avoca on the NSW Central Coast, be sure to swing by The Boy and the Rose, a charming café loved by a loyal local crowd on North Avoca Parade. The Boy and the Rose has locals flocking for their acai bowls, serving up a smooth blend of acai with banana and coconut water, topped with gluten free granola and fresh seasonal fruit. The ideal start to the day after a morning swim at picturesque Avoca Beach.
DINE IN: Kiss the Berry | QLD
Those walking straight off the white sands of Gold Coast's Burleigh Heads beach will stumble across local sweet spot, Kiss the Berry. Begin your day with a Hello Burleigh Bowl – organic acai, pitaya and seasonal fruits blended with grapefruit and topped with housemade granola, lychee coconut yoghurt and bee pollen or enjoy a refreshing Greena Colada – pineapple, banana, passionfruit, chia seeds, spinach, kale and coconut water blended into a smoothie.
RECIPE: Seed | NSW
For a nourishing meal in welcoming surrounds, visit Seed – Organic Vegetarian Café, found nestled inside Hunter Organic Foods grocer in The Junction in Newcastle. Meet friends inside or out and enjoy a chirpy neighbourhood ambiance as locals come and go to pick up specialised products that overflow timber shelves, or stay and mingle over a Sprocket Coffee Roasters' coffee and catch up on the latest news. Stop in for lunch and opt for a refreshing mixed berry acai bowl to beat the heat over these hot Summer days, topped with amaranth puffs, mulberries, sliced fruit and mint leaves, sure to leave you cool and energised for hours.
DINE IN: Satan's Secret Nutrition Bar | VIC
Mildura locals in need of a dose of healthy food, make their way to Fourteenth Street to seek out Satan's Secret Nutrition Bar. A health-focussed and organic where possible menu see's items either gluten free, dairy free, vegetarian or vegan loaded with nutrition and packed with flavour. For those wanting a guilt free treat on the run, opt for a morning glory smoothie with the addition of acai berry extract blended together with almond milk, banana, chia seeds, mixed berries, oats and raw honey.
RECIPE: Bear Espresso | QLD
A short stroll from Varsity Lakes' Lake Orr, tucked away just beside the Pacific Motorway, is the eye-catching Bear Espresso café. Students from the nearby university and visitors travelling past from the highway needing to recharge stop by to grab a bespoke coffee and fresh acai bowl, topped with raw honey, moist coconut flakes, chia seeds, crunchy granola, berries and sliced kiwi fruit.
DINE IN: Combi | VIC
Just moments away from Elwood foreshore sits Combi, a well-loved Mecca for lovers of raw and organic food in Melbourne's bayside region. Evoking a breezy beach shack atmosphere, Combi's weathered timber furniture and palm tree murals combine to create a relaxed setup for those wanting to escape the hustle and bustle of the city, making sense to have achieved our 2017 Readers' Choice Award for Vegetarian restaurant. Start the day with Combi's special house blend fair trade coffee and tuck into a guilt-free organic acai bowl topped with sliced green apple, edible petals, strawberries, orange, bukini and chia seeds.